L.A. Poker Classic - Day 5 Recap: The Final Six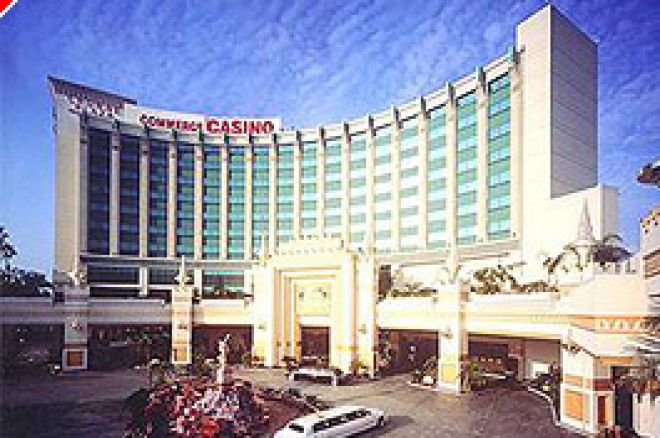 After five grueling days of poker at the Commerce Casino, six players remain in the hunt for $2.4 million at the L.A. Poker Classic. JC Tran lost a tremendous margin in chips, yet managed to end Day 5 as the chipleader for the second day in a row with $3.47M. 2006 World Series of Poker runner-up Paul Wasicka ($3.39M) closed the gap along with local Jacobo Fernandez ($3.37M). They both only trail Tran by a few thousand. David Bach, Eric Hershler, and Chau Giang also advanced to the final TV table.
18 players began Day 5 with five short-stacked players and JC Tran as the chipleader. He had 2.5 times more chips than Jacobo Fernandez in second place and amassed 21% of the total chips in play. Everyone in the ballroom wondered if Tran could make the final table at the L.A. Poker classic in consecutive years. He also bubbled off the final TV table in 2004.
On the very first hand of the day, Rick Munro's
lost a race against Jacobo Fernandez's
. Munro busted out in 18th place and won $58,470. Shan Jing headed to the rail in 17th place after he lost a race to Paul Wasicka. His
was outflopped by Wasicka's Big Slick when a King fell. Jing won $58,470 for 17th place.
Kristy Gazes ended her stellar run when she was eliminated in 16th place. She has already made three final tables in 2007 including a 7th place finish at the Aussie Millions last month. She started the day as one of the short stacks and when David Bach raised from the cut off, Gazes moved all in with
. Bach called and flipped over
. Gazes led through the turn on a board of
, but Bach rivered the
to send gazes to the rail. She won $58,470 for 16th place.
Jason Strasser started the day third in chips. His stack took two big hits early on when he doubled up Vinny Procopio and Jay Chang. Strasser raised preflop and Chang pushed all in with his shortstack of 210K. Strasser called with
and turned a straight on a board of
. Chang rivered a bigger straight with
,as the
fell, and he doubled through Strasser.
Ben Johnson added to his stack when he woke up with
and Juan Alvarado moved all in with
. Alvarado's hand did not improve. He finished in 15th place and won $72,140. Joe Cordi was the next payer out in 14th place when his
lost to JC Tran's
. He took home $72,140.
Short stacked Chris Bell headed to the rail in 13th place when his
lost to Jason Strasser's
after Strasser rivered a 5. Chris Bell won $72,140. Strasser would get eliminated on the very next hand. Jacobo Fernandez raised on the button for 100K and Strasser moved all in from the small blind for 615K. As he had been doing for the majority of the tournament, the deliberate Fernandez went into the tank for several minutes before he eventually called with
. Strasser flipped over
. He flopped a gutshot, but his hand did not improve. The young gun from Duke University collected $91,125 for 12th place.
With 11 players remaining, action slowed down considerably. JC Tran walked over to Chau Giang's table and encouraged them to loosen up a bit.
"You guys gotta stop playing limit hold'em over there, it's no limit baby," Tran joked.
Tad Jurgens busted out in 11th place when he lost a race with
against Eric Hershler's
. Jurgens, who was down to just three big blinds at the start of Day 2, won $91,125.
The final ten players formed one table and redrew for seats. JC Tran's stack was over $4 million with Ben Johnson sneaking into second in chips. Jay Chang was low on chips with 385K.
Vinny Procopio picked up a big pot off of Jacobo Fernandez to jump into the Top 4 in chips with $1.7 million. Fernandez got revenge when he cracked Procopio's
. He rivered a flush with
as Procopio was crippled to 400K.
Just before the dinner break, Eric Hershler won a race with
against JC Tran's
. Hershler turned an Ace to double up. After dinner, Hershler won a couple of hands including another big pot worth over $1.2 million off of JC Tran after he turned two pair. Hershler ran his stack to over $2.8 million as he jumped into third place in chips.
Jay Chang was eliminated in 10th place when he lost a race against JC Tran. Chang flipped over
and Tran had
. Tran flopped a set but Chang redrew a gutshot straight draw. The turn and river did not help him and Chang picked up $91,125 for 10th place.
Ben Johnson was crippled when his pocket Queens was outdrawn by David Bach's flush. He was left with only one chip and busted out on the next hand. Johnson won $121,500 for 9th place.
Paul Wasicka made a run when he won two pots worth $2 million each. In the first hand, Wasicka doubled up against Bill Edler. When he raised pre-flop, Edler moved all in. Wasicka called with
, which held up against Edler's
. Edler's stack slipped to under 500K. A few hands later, Wasicka busted Vinny Procopio after he won a race with
against Procopio's
. Wasicka flopped a King and Procopio promptly headed to the rail in 8th place. The New Jersey native won $151,870.
Bill Edler busted out on the TV bubble in 7th place. He was shortstacked and moved all in with
. JC Tran called with
and flopped the nut flush. Edler won $189,840. That hand helped Tran maintain the chiplead. With the final six players set, play ended or Day 5.
Here's the chip counts for the final six players:
1. JC Tran $3.47M
2. Paul Wasicka $3.39M
3. Jacobo Fernandez $3.37M
4. David Bach $2.27M
5. Eric Hershler $2.16M
6. Chau Giang $1.37M
Here are the Final Table payouts:
1st Place: $2,429,970
2nd Place: $1,177,010
3rd Place: $607,490
4th Place: $455,615
5th Place: $341,710
6th Place: $257,425
The final table at the L.A. Poker Classic will begin at 5pm local time in the ballroom at the Commerce Casino. Stop by and check out our live reporting updates to see who will be the lucky player to win $2.4 million. And don't forget to peek at our extensive photo gallery and Poker News videos.
Ed note: Get ready for the WSOP by playing all the satellites at Ultimate Bet.