Online Poker Weekend: 'skattman' Wins War of Attrition in Full Tilt Tourney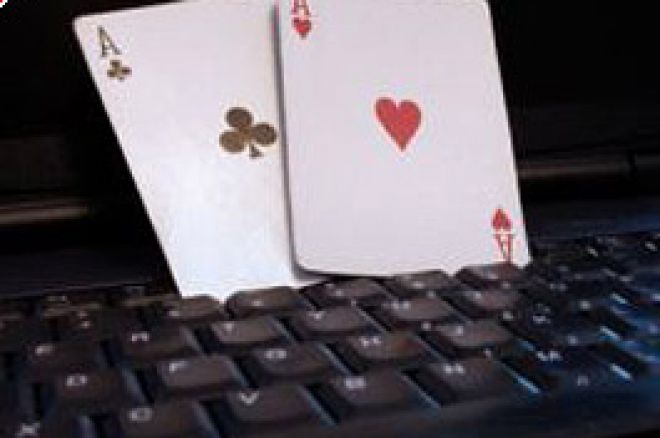 A longer than usually night for the major Sunday events cam to an end in the pre-dawn hours of Monday, following a final table in the Full Tilt $750,000 Guarantee that lasted nearly three hours. skattman took down the triumph in the event, surging from the middle of the final-table pack. Over at Poker Stars, another great night of attendance marked the Sunday Million, with 'power2prut' making a steady push to the win.
Poker Stars Sunday Million
Poker Stars returned to its normal Sunday Million offering with an event that drew "only" 6,964 hopefuls, generating a solid prize pool of $1,392,800. 1,080 players cashed, with $196,384 on the line for first. 'Vorcirion' and 'renassence' led the way to the final nine, each with a bit over $10 million chips as the last table began.
'dontriverme2' had a brief final-table stay, exiting when his
lost up against the
of 'power2prut,' flopping a set but losing to a turned flush as the board showed
. Out soon after was 'espnman,' whose
couldn't hold on against 'kuparinen's
when the board completed with
.
Seventh place went to a crippled 'matlik,' bounced out when his
couldn't connect against 'Round42,' who called for not much more from the big blind, with
. The board arrived
, narrowing the field to six. It went to five when Voicirion bounced 'geotico;' Voicirion had
to geotico's
, and they watched as
was displayed.
power2prut padded his lead through the middle part of the final table, but stayed out of the knockout hands. The next all-in collison pitted kuparinen, with
, against Round42, with
. Round42 was outchipped and dominated, and watched as the
board gave kuparinen a winning flush. kuparinen picked up the next knockout as well when his
held up over renassence's
, the board bringing a status-preserving
. power2prut then notched his own knockout, finishing off a desperately short Vorcirion. On that hand, power2prut's
held on over Vorcirion's
when the board showed
.
At this point, kuparinen, and power2prut agreed to a chop for most of the money, and played on for $30,000 and the title. On the final hand, power2prut started with
, kuparinen with
. The board came
, giving power2prut two pairs and the win.
Final standings:
* 1st ($180,000): power2prut
* 2nd ($115,273): kuparinen
3rd ($69,640): Vorcirion
4th ($55,712): renassence
5th ($41,784): Round42
6th ($30,641.60): geotico
7th ($21,588.40): matlik
8th ($12,535.20): espnman
9th ($8,217.52): dontriverme2
* --- two-way deal for remaining prize money; $30,000 to eventual winner
Full Tilt $750,000 Guarantee
Full Tilt's once-a-month $500+30 event drew 1,573 runners and generated a purse of $786,500, comfortably topping its guarantee. 216 places paid, with first place worth $147,862 and five-figure paydays awarded to everyone at the final table. 'skattman' amassed over $1.7 million in chips to lead the way to the final table.
Ninth place went to 'Howdoiplayxx,' who now knows how not to play
--- at least not to run it into
. 'foshio' (noted online player Josh Klehr) held that and picked up the knockout when the board arrived
. A few hands later, 'livb112' sent 'Cancer' to the rail in eighth; livb112 had
to Cancer's
, and won out when a
board appeared.
Over fifty hands elapsed before the next knockout, when 'jpmetalfan's
fell to the
of 'andre07,' the board showing
. A bizarre hand then sent foshio to the rail, when he and andre07 mixed it up. andre07 had tried to steal from the cutoff, but foshio, with
, made the call. The flop of
seemed safe enough, and foshio bet $180,000, andre07 raised another $180,000, foshio pushed, and andre07 called, with a steal gone very right ---
for top pair and the lead. A
turn and
river completed the big knockout, although virtually all those chips went to 'titantom32' on a huge double-through moments later.
Another long period elapsed before livb112 fell in fifth, his
topped by andre07's
as the board came
. Fourth place went to 'fsoyars,' the shortest remaining stack; he made a move from the button with
, but found a ready caller in 'skattmann,' with
. The board came
, and the field was three.
skattmann finally finished off andre07 by getting the chips in ahead and flopping a flush to boot; on that hand skattmann held
, andre07
, and the board arrived
. After another 20 hands of see-saw play, skattman finally took down the win over titantom32. On the final hand, titantom pushed all-in after a turn jack had the board reading
. titantom32 had
for two pair, but skattmann had an easy call, holding
for made trips and a draw to a flush. A
river filled that flush and completed the victory.
Final standings:
1st ($147,862): skattmann
2nd ($91,627.25): titantom32
3rd ($63,313.25): andre07
4th ($48,763): fsoyars
5th ($36,965.60): livb112
6th ($26,426.40): foshio
7th ($19,269.25): jpmetalfan
8th ($14,943.50): Cancer
9th ($11,482.90): Howdoiplayxx
Party Poker $300,000 Guaranteed
Maybe Party Poker's largely European player base has a fondness for American NCAA basketball? Who knows what was up, but attendance was off a good bit at the Party Poker $300,000 Guaranteed. 1,224 entrants were on hand, well shy of the 1,500 needed to cover the guarantee. As a result, the players that were there had the chance to carve up over $55,000 in overlay. 150 players cashed, with first prize bumped up to $63,000 due to the narrowed player pool. 'lotharpo' and 'ddaylee' were the leaders as the final table commenced play.
First out was 'DalconOpeaN,' whose
couldn't connect against 'miamivice80's
, the board bringing
. Then, 'HB8073' picked a bad moment to go to war with
, running into lotharpo's
and getting no reprieve from the
board. A short-stacked 'FaetterD' was third to exit, forced in with a
holding that was outclassed by miamivice80's
, with a board of
. And then by far the wildest player at the table, 'BIG_BEAR_123,' made a last push with
that found a caller in 'RoyNibbles,' with
. The board came
, and the field was six.
Another desperate stack, 'partyjohan,' then found
worth a try, but lotharpo had an easy call with
and triumphed as the board provided
. With the blinds putting everyone in peril, miamivice80 first dropped a large pot, then bounced out in fifth when his ace-high hand ran into 'Immorttall's aces, the board bringing
. At this point the four survivors agreed on a chop to split up the remaining money, with RoyNibbles having a tiny chip lead but settling for an easy-to-figure deal.
Final standings:
** 1st ($40,000): RoyNibbles
** 2nd ($40,000): Immorttall
** 3rd ($30,000): ddaylee
** 4th ($28,000): lotharpo
5th ($14,250): miamivice80
6th ($11,250): partyjohan
7th ($8,550): BIG_BEAR_123
8th ($5,700): FaetterD
9th ($4,350): HB8073
10th ($3,000): DalconOpeaN
** --- four-way deal for remaining prize money
Ultimate Bet $200,000 Guaranteed
952 players made it to the weekly Ultimate Bet $200,000 Guaranteed, providing an overlay of just under 10% to the players. 100 players cashed and first prize was the expected $45,000, also guaranteed. 'TheMasterJ33' led a tightly packed bunch to the final table, with just under $400,000 in chips. 'bassman64' departed quickly, first losing a race for two-thirds of his chips, then making a stand with
, which ran into the
of 'Maria Nuccia' (a.k.a. Brock 't soprano' Parker) and found no help when the board came
.
'Froggy_06' picked up the next two knockouts, first sending 'Buckohfive' to the rail in ninth. On that hand, Froggy_06 had
to Buckohfive's
, and the board showed
. Following that, 'bad_egg' found
unlucky against Froggy_06's
, as the
board brought the king. Soon after, 'Kingdan23' departed, his
losing a race to 'Fish991's
as the board delivered
.
Froggy_06 croaked when he got all-in with
against 'spiker123,' who held
; the
board changed nothing. A couple of dozen hands elapsed before TheMasterJ33 bowed out in fifth, his
overtaken by the
of 'One Above All,' the board offering
. spiker123 departed in two stages, ultimately finishing fourth; he lost most of his chips on a questionable call with a middle-pair holding on a J-high board (Fish991 had pushed with an overpair, queens), then ran
into Fish991's
and watching helplessly as the
board played out.
Fish991 continued his surge to the win with knockouts on consecutive hands. First, his
hand dominated One Above All's
, with the chips in the middle before the flop. The
board meant two players remained. That lasted exactly one hand, with Fish991 and Maria Nuccia again all-in before the flop; this time Fish991 held
to Maria Nuccia's
. The board of
gave Maria Nuccia plenty of outs, but none of them arrived and Fish991 had his win.
Final standings:
1st ($45,000): Fish991
2nd ($26,500): Maria Nuccia
3rd ($18,000): One Above All
4th ($13,100): spiker123
5th ($10,500): TheMasterJ33
6th ($8,500): Froggy_06
7th ($6,500): Kingdan23
8th ($4,500): bad_egg
9th ($3,400): Buckohfive
10th: ($2,000): bassman64