Poker Room Review: Commerce Casino, Los Angeles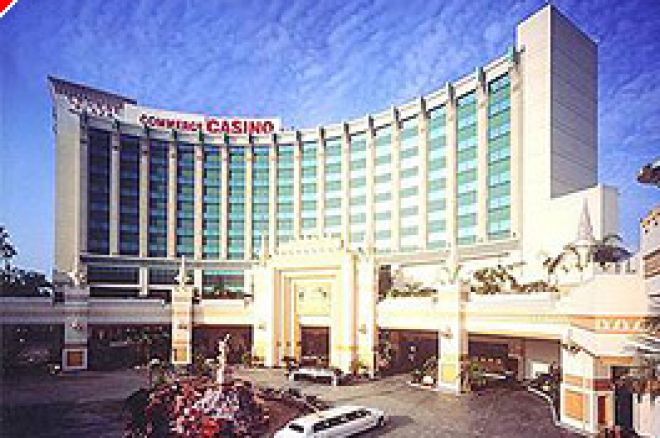 If you have never been in a California card room then the first experience of the Commerce Casino might just overwhelm you. If there is one word that describes the Commerce that word would be - Huge! Is the Commerce bigger than, say Foxwoods? No. Bigger than MGM Grand? No. However, this is a card room not a full fledged Vegas-style casino. There are no slot machines, no Keno room, and no Craps pit at the Commerce. There are, however, 160 poker tables, including over 100 spread out in the "Big Room." Imagine walking into typical tournament room of 100+ tables; well wait just how many tournament rooms can actually seat 1,000+ players for a tournament? The answer is one, the Amazon room at the Rio when it is set-up for the World Series of Poker. This room at the Commerce is 'permanent' and is not a just a tournament room; cash games are often being spread, especially on weekends.
On a recent Tuesday evening, I took a walk around the outside rim of the big room at the Commerce and pasted by the five different brush boards to check out the games. The room is so big that different games are assigned to different areas and each has its own sign-up board and floor staff. Around 7 o'clock this particular Tuesday evening the following games were up and running in the "Big Room" at the Commerce.
$3/$6 and $4/$8 Omaha 8 or better
$4/$8 Stud, $1/$2 Stud and $2/$4 Stud
$1/$2 Hold'em, $2/$4 Hold'em, $3/$6 and $4/$8 Hold'em, $9/$18 and $20/$40 Hold'em
$2/$3 NLHE $100 buy-in and $3/$5 NLHE $200 buy-in plus several $40 buy-in NLHE tables.
There were also interest lists for Razz and Pineapple but I was told these games generally only go on the weekends. For the games that were being spread, there were at least dozen $4/$8 Hold'em tables in action and any game with a full waiting list got a new table opened.
But wait, that's not all because this is the "Low Limit" room at the Commerce. A short walk past the Pai Gow tables will take you to the 40+ tables in the "High Limit" poker room of the Commerce Casino. Here you will find Chinese Poker at $100 or $200 a point; the 'regular' $400/$800 Hold'em game and Stud being spread at $200/$400. There are also combo games of Hold'em and Stud at both $100/$200 and $200/$400; lowball starts at $30/$60. Of course, any game at any limit can be requested and I am told several "weekly" games convene on a regular basis at table stakes.
You often hear that the top three gambling sites in the USA are Las Vegas, Atlantic City and Tunica, Mississippi. That may be true if you are talking about casino floor square footage but when you talk only about poker, the list is quite different. Las Vegas remains the leader in terms of number of poker rooms and number of tables. The Commerce casino alone, however, has more tables in just one building than all of the Tunica poker rooms combined and just the three larger casinos in the LA basin (Commerce, Hollywood Park & The Bicycle) have more tables (405) than all of Atlantic City (303).
Los Angeles is the largest metropolitan area in the world that has legal 'brick & mortar' casinos or card rooms dealing poker. I will have reviews of many other poker rooms in greater LA in the near future but it goes without saying that the Queen of Poker in Los Angeles right now is the Commerce Casino.
Commerce Casino
6131 East Telegraph Road
Commerce, CA 90040