Poker Room Review: Mandalay Bay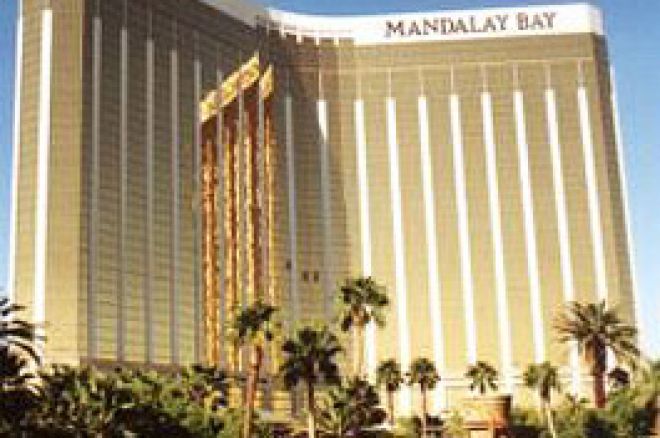 Let's just start this review off with a resounding two thumbs up for the Mandalay Bay poker room. This is a great room, well run and just full of action. In the interest of full disclosure, I have recently played Mandalay Bay and although my winnings will not be sending my first born to Harvard, the change in my lifestyle due to my success there may actually increase the chances of my having a first born.
All of the buzz in other rooms about town about Mandalay Bay is centered on the action. I have heard several local rocks at neighborhood casinos complain that they would never play the Bay again because of all the loose calls.
"They just don't know how to play solid poker there" was one comment I heard.
On the other hand, several dealers at other casinos tell me that Mandalay Bay is the house they choose to play in for exactly the same reason.
"I know you hear a lot about no limit action" one Sahara dealer told me "but I am a limit cash game player and the action at those Mandalay Bay $4/$8 and $6/$12 tables is great."
First, a little about the room itself. Ten tables at Mandalay Bay, the room itself is next to a big sports book with nice little deli tucked in between. The room is very comfortable, well lit, good constant temperature, very knowledgeable staff, briskly run tournaments and……. The Mandalay Bay seems to cater to a young, upper middle class clientele who seem to like to play poker and have a working knowledge of the game but few have made the commitment of time and energy to master poker at an intermediate/advanced level. The games are generally fun to play and profitable. I am told by many players that the limit cash games tend to have a high turnover of hotel guests who come in to play with a couple of hundred and do indeed play a couple of hundred.
I myself favor the no limit hold'em games at Mandalay Bay. They spread both $1/$2 and $2/$4 and I must tell you the games are different. The $1/$2 game, which is nearly always going and can be up to 4 tables on a good weekend evening, is a variable game. I do not mean that the game is not always good, it invariably is. However, it can go from solid but profitable to outrageously loose (not aggressive) and very profitable table make-up with just the change of a couple of players. Of course, the games are faster and looser on the weekends and later in the evening. It does pay to watch the $1/$2 tables before you take your seat and either pick the table that is right for you or request a table change when you are seated. The staff is very attentive to table change requests and will move you to your desired table efficiently as soon as a seat comes open. Table change requests are one of my pet peeves in poker rooms, I never fail to note when the floor staff handle or mishandle these relatively simple requests. The staff at Mandalay Bay are good on this count and overall a highly efficient staff. It was here that I made my one and only accusation of a player for collusion and the floor manager had no problem hearing the complaint and first warning the players and then, after checking the surveillance tapes, asking both players to leave the property.
My final comment on the Mandalay Bay will be on the $2/$4 no limit table. I would encourage anyone who wants to "step-up" in stack and blinds from $1/$2 to try the two-four game at Mandalay Bay. Yes, the competition is stronger but this is not a $500 or $1,000 buy-in at one of the bigger houses in town. This is a slightly more experienced game than the one-two but it is also the table where any "high roller" coming to the room will take a seat.
They have a great Aquarium exhibit at Mandalay Bay but those are not the only fish on display there.
Mandalay Bay Resort & Casino
3950 Las Vegas Blvd. South
Las Vegas, NV 89119