PokerNews Columnist Dennis Waterman Makes Poker Dome Final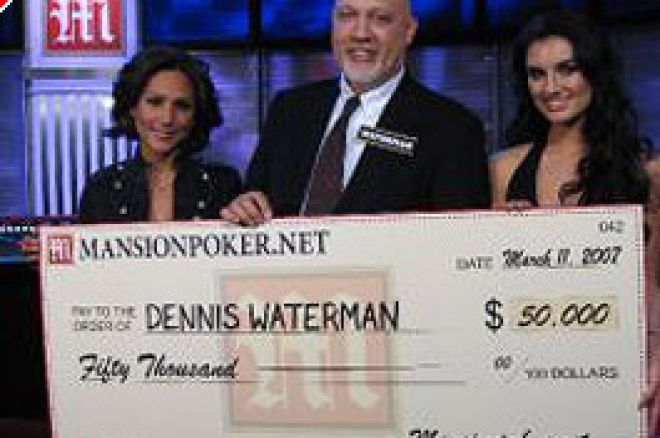 For the last nine months, over 200 players worked their way through the Mansion Poker 'Poker Dome', all in search of the $1,000,000 first prize. The final table is now set, and last night PokerNews.com columnist Dennis Waterman won the final seat at the $1,000,000 winner take all final table. Six players will square off this Saturday in the Poker Dome, and battle for the $1,000,000.
Dennis has been playing tournament poker professionally for nearly 20 years, and has written his Inside The Poker Tour column for us here at PokerNews for over two years.
In addition to Dennis, top player Carl 'colson10' Olson had also made the semi-final, but finished fifth. Once Olson was out, Dennis put the pedal to the metal, and pushed the table around, at one point winning 7 of 8 hands.
"I considered Carl to be the most serious threat, especially considering he had position on me." Waterman said "I thought Mozdzen was more of a threat in the six handed game – I didn't know how well he would play heads up, but he wound up playing quite well."
One hand that really told the tale of the match for Dennis was Olson's final hand. Carl opened under the gun for his last 16,000. Young Canadian player Clayton Mozdzen just called from the button, which priced Waterman in to see a flop from the big blind. The flop came Q 9 4, and Waterman bet out. Mozdzen folded, and showed 8 8. Carl flipped up 8 6 offsuit, and was essentially dead. "[Clayton] was out of position on the hand, so it wasn't necessarily wrong for him not to re-raise, but the fact he just called worked out really well for me." Waterman noted
That hand allowed Waterman to get up to near the chip lead, and he never looked back.
"I like the fact that I came late to the party, but since I came in so late, I didn't TIVO the shows, and I will be coming in blind. The people who came in first have been able to watch all the shows, and study their opponents"
This weekend is the Poker Dome Grand Final. The broadcast will air on FSN this Sunday. Check your local listings for times. Tune in, and cheer Dennis on.