'The Portable Poker Pro' Delivers At Less Cost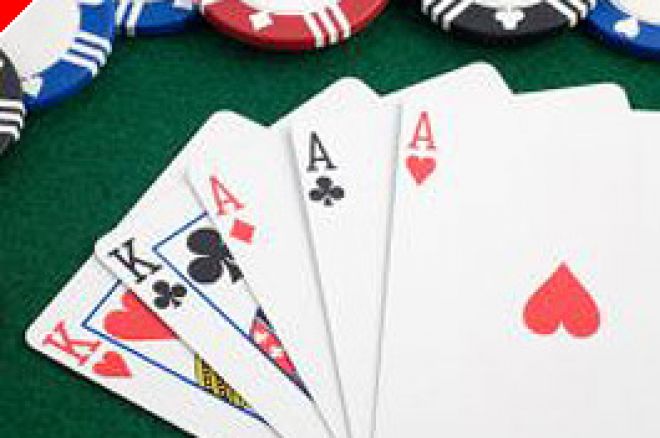 There are many ways to obtain the information regarding the skill of the game of poker. From high cost methods, such as poker camps and tutorial training from accomplished players, to less costly measures, such as DVDs or other poker books, there is plenty of information out there that players can find. What seems to be missing, though, is a poker book that encompasses a basic tutorial for a low cost. This has been cured by prolific poker writer Lou Krieger and his co-writer, Sheree Bykofsky.
With the book "The Portable Poker Pro" (available from Kensington Publishing now at all bookstores for the shockingly low price of $6.99 U. S. and $9.99 Canadian), Krieger and Bykofsky have brought out an effort that provides the same information that longer, more costly books offer. This is good because it allows people to learn more about the game of poker in a cheaper manner, rather than spending large amounts of money that could be potentially used to play and learn the game further. With this said, however, there is some information in the 186 pages of the book that any player can take some advice from.
I was quite surprised by how much the writers were able to cram in between the pages. Not only do Krieger and Bykofsky give a basic tutorial on the game, they are able to stuff information in playing live games in casinos (or home games), cash game strategy, tournament strategy and even dabble a bit into some pot limit Hold 'Em (this isn't a very large section, but they do give some mention and suggestions for bettering your game). They finish off the book with some more advanced strategies to move away from the basic play of the book, which is critical for success for any player to improve their game.
There were three things that especially stood out regarding "The Portable Poker Pro". While the book is very basic in its approach, it still offers information that is broken down between "Amateur Alert" and "Expert Extras". The "Amateur Alert" segments of the book offer information for newcomers to the game so that they don't look like newcomers when they sit down at the felt, while the "Expert Extras" definitively offer information that is used by people who make a living at the game (such as where to sit for maximum table visibility, aggressive betting strategy, etc.). These additional tidbits of information on top of what is already offered can be used by anyone.
The final thing about this book that anyone would have to like is the price. Many poker books can cross the $15 range and even can go upwards of $35 or more in some cases. This can dissuade newcomers from learning more about the game. At $6.99, however, a player that purchases and reads "The Portable Poker Pro" can fill in a much needed gap by providing some poker information for a very low price.
Some may look at "The Portable Poker Pro" and let is go because it isn't an in-depth book that will unlock the mysteries of advanced poker. But Lou and Sheree have provided a book that gives the reader exactly what is advertised: a small, pocket sized book that someone can use on a trip or even take with them to the casino to provide some useful insight on their first journey. For people that are coming to the game of poker with a bit of knowledge (but not a tremendous amount) or heading for their first casino adventure, "The Portable Poker Pro" is well worth having.