Carlos Mortensen Wins the 2007 WPT Championship
Paul McGuire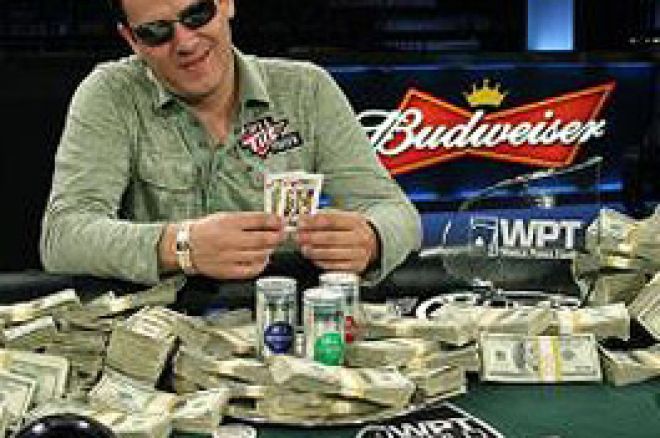 Who said that nice guys don't finish first? Carlos Mortensen is living proof after he won the 2007 WPT Championship at Bellagio in Las Vegas. He collected almost $4 million for first place and made history in the process by shattering a few records and setting new ones. He accomplished what Mike Sexton called, "an impossible feat that might never be matched."
Mortensen became the first and only player to have won a WPT World Championship and a WSOP Main Event.
Mortensen also became the first player to collect over $5 million in career tournament earnings at Bellagio.
Mortensen also won the richest prize in the largest prize pool in the five year history of the WPT.
Mortensen completed one of the most amazing final table comebacks in all of televised tournament poker.
Mortensen also won the fourth largest first place prize in the history of poker. Only Jamie Gold, Joe Hachem, and Greg Raymer have won more.
In addition to the accolades, Mortensen played some of the best poker of his life. Held over seven days, the WPT Championships featured 639 entrants that included the biggest and brightest names in poker. When it was finally over, Mortensen outlasted 638 players, all of whom desperately wanted to win the juicy first place prize of $3,970,415.
The Final Table (with chip counts):
1. Paul Lee (Los Angeles, CA) 11.8M
2. Carlos Mortensen (Las Vegas, NV) 6.5M
3. Guy Laliberte (Beverly Hills, CA) 4.69M
4. Kirk Morrison (Topeka, KS) 4.194M
5. Mike Wattel (Phoenix, AZ) 2.887M
6. Tim Phan (Westminster, CA) 2.162M
Paul Lee started the final table as the chipleader but his passive play cost him the lead. The entire table played soft during the first half hour. The first eliminated occurred on Hand #21 when Mike Wattel busted out in 6th place. Kirk Morrison raised from the cutoff to 420K and Wattel went in the tank for several minutes before he moved all in for 852K. Morrison quickly called with
dominating Wattel's
. The flop was
and Wattel was in trouble. The turn card was the
and Wattel picked up more ours with an open-ended draw. He missed when the
spiked on the river. Wattel won $309,405 for 6th place.
Tim Phan was the next player to go. On Hand #21, he pushed all in from the button for 1.72M and was called by Kirk Morrison. Phan showed
and Morrison happily flipped over
. Morrison's pocket Rockets held up as Phan busted out in 5th place. He won $464,110.
Mortensen played aggressive and took advantage of his passive table. He snatched the chiplead away from Lee but that reign only last ten hands. Mortensen was crippled after he doubled up Morrison. On Hand #52, and Morrison raised UTG to 300K and Mortensen reraised from the small blind to 2.7M. Morrison called. The flop was
, and Mortensen quickly moved all in for 6.6M. Morrison went into the tank before he called with
. Mortensen flipped over
for top pair. Morrison's set held up as his stack increased to 16M while Mortensen was crippled and left with only 1.15M.
Mortensen picked up a few pots and slowly built his stack. Luckily for him, Guy Laliberte was the next player eliminated in 4th place.
On Hand #73 Laliberte raised under the gun to 1.3M and Morrison called from the big blind. The flop was
and Morrison checked. Laliberte bet 2M and Morrison moved all in. Laliberte called with
. He had an over card and a flush draw. Morrison flipped over
. He was in the lead but Laliberte picked up more outs when the
fell on the turn. The river was
and Morrison's pocket deuces won the pot. Guy Laliberte won $696,220 for 4th place.
Morrison's chiplead swelled to 22M. He had more than twice as many chips as Mortensen and Lee combined. Mortensen would get some of Morrison's chips after doubling trough him with Qd-8d versus Morrison's 10c-6h.
On Hand #86, Paul Lee moved all in for 3M and Mortensen called from the big blind. The flop was
and Mortensen bet 1.1M. Lee moved all in as Mortensen immediately called. Lee showed
for a pair of tens, but Mortensen tabled
for a pair of aces. The turn card was the
, and the river card was the
. Mortensen's pair of aces held up as he doubled through Paul Lee.
On Hand #87, Paul Lee busted out. Kirk Morrison raised to 1.2M, Lee moved all in from the big blind for 1.225M, and Morrison immediately called. Morrison showed
and was the favorite over Lee's
. The flop was
and Morrison retained the lead. The turn card was the
, and Lee was drawing dead. Paul Lee won $1,082,920 for third place.
When heads up play began, Morrison led Mortensen by 19.45M to 12.8M. Even though he was outchipped, most of the pros in the room still considered Mortensen the favorite.
"Carlos is one of the Top 3 heads-up players in the world. Behind myself of course," mentioned Gavin Smith. "He's got the edge. There's nobody in the world that I'd less rather play than Carlos Mortensen heads-up."
Mortensen got himself in trouble by the seventh hand of heads-up play. Morrison raised preflop to 1M. Mortensen called. The flop was
and both players checked. The turn was
and Mortensen fired out 1.6M Morrison called. The river card was the
and Mortensen bet 4 million. Morrison called showing A-J for trip tens with an ace kicker. Mortensen showed K-2 for trip tens and a weaker kicker. Morrison won the pot and made the call of the tournament with that hand.
On Hand #106, Carlos Mortensen moved all in for 4.35M and Morrison called with
. He trailed Mortensen's
. The flop was
. The turn was
, giving Mortensen two pair and Morrison a gutshot straight draw. The river was the
and Mortensen doubled up. Mortensen trailed 22M to 9.8M but he did not let having a shortstack discourage him.
The two traded pots back and forth until Hand #134 when both players limped in. The flop was
and both players checked. The turn card was the
and Morrison bet 1M. Mortensen immediately raised to 2M. Morrison thought for a moment and finally moved all in for 9.4M. Mortensen called. Morrison showed
for a pair of aces, but Carlos Mortensen flipped over
for two pair. The
spiked on the river as Morrison's better two pair won the pot. He picked up a tremendous chiplead as his stack swelled to 24.5M while Mortensen slipped to 7M.
Like a heavyweight boxing match, both players exchanged vicious blows. Just when one player knocks down the other to the canvas, that player jumps up and is ready to fight. Mortensen was ready to die on several instances but Morrison could not put him away. Mortensen had a few chances himself to knock out Morrison but two river saves stood in the way of Mortensen making history. I'm positive that Carlos Mortensen will be having nightmares about the
.
Then the blinds got ridiculous. Linda Johnson mentioned that the blinds had never gotten that higher before. There was over 3M in the pot before any action.
On the 95th hand of heads-up play and Hand #182 overall, Mortensen raised to about 5M. Morrison moved all in and Mortensen called with
. Morrison tabled
. The flop was
, and Mortensen still trailed. The turn card was
and Mortensen makes a pair of jacks to take the lead. He was one card away from making history until the
fell on the river. Mortensen won the pot as Kirk Morrison finished in second place. He won $2,011,135. With that hand, Carlos Mortensen won the 2007 WPT World Championship and took home close to $3.93M Congrats to Mortensen for the victory and for making history.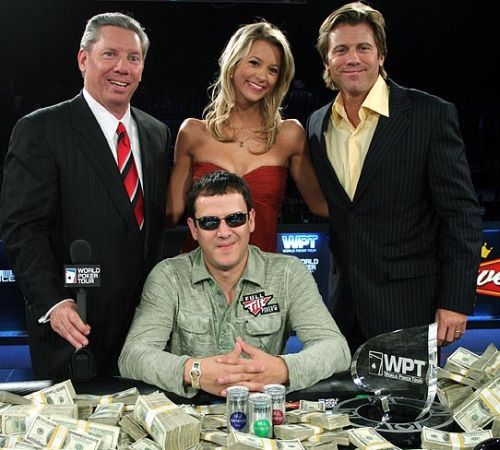 Final Table Results:
1. Carlos Mortensen $3,970,415
2. Kirk Morrison $2,011,135
3. Paul Lee $1,082,920
4.Guy Laliberte $696,220
5. Tim Phan $464,110
6. Mike Wattel $309,405
For years Carlos Mortensen was known as the best player from Spain and from Europe. And now he'll go down in the poker books as one of the best tournament players of all time.