EPT Grand Finale – Gavin Griffin Leads Into The Final Table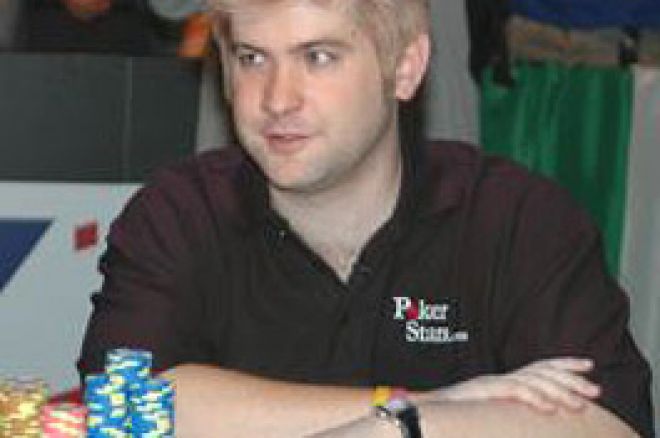 After a couple of days of overcast and rainy weather, magnificent rays sunshine finally pierced its way through the grey and gloomy clouds over the principality of Monaco. For eight poker players, their lives could not be any sunnier in Monte Carlo after they battled it out over four extremely long and grueling days at the EPT Grand Finale Championships at the Bay Casino. When Day 4 started, there were 32 players hoping to survive the session and advance to the final TV table. And when it was over, those eight players found themselves in a position to win €1.8 million first place prize in the most prestigious and richest tournament outside of the United States.
Ireland's Andy Black began the day as the chipleader with 709,500. He had a huge margin the day before, but Dean Sanders (UK), Antony Lellocuhe (France), and Gavin Griffin (USA) closed the gap late on Day 3. At the start of Day 4, Black found himself seated under the bright lights at the feature TV table. He had Josh Arieh (USA) and Marc Karam (Canada) at his table along with PokerStars online qualifier David Kim (USA) who had close to 500K in chips.
Arieh took a big hit early on when he tried to bluff-raise a pot and ran into Philip Hilm's pocket Aces. The Danish player busted Arieh five minutes later. All the money went in preflop. Hilm shoved with
while Arieh tabled
. Arieh took the lead after he flopped a set on a board of
. Hilm picked up an open ended straight draw and got there on the turn when the
fell. The river did not help Arieh. He was eliminated and won €26,550 for 29th place.
Andy Black lost the chiplead after he doubled up Roi Elmaliah (Israel). With a short stack, Elmaliah moved all in pre-flop with A-10. Black called with A-6 and his hand failed to improve. Black's bleeding continued when he lost a coin flip and doubled up Marc Karam. Both players were all in pre-flop as Karam's J-J held up against Black's Big Slick.
Carlos Mortensen went to work and took some chips off of Antony Lellouche as he snatched away the chiplead from Black. Erik Van der Berg (Holland) also bullied Lellouche as he doubled through the Frenchman. Van der Berg jumped out to the chiplead as he passed the 1 million chip mark and raced past Mortensen.
Black's bleeding finally stopped when he was down to less then 300K. He doubled through Alex Kim with A-10. Black's trip aces prevented him from elimination and that hand seemed to breathe life into his lackluster game.
When it got down to the final three tables, Marc Karam won a decisive pot against Dean Sanders (UK). Karam had been making a run and started to accumulate chips after he busted Ben Callinan. He and Sanders were involved in one of the biggest pots of the day. Sitting at the feature table, Sanders was all in with 8-7 after flopping a straight on a board of 10-9-6. Karam could not get away from his hand after he flopped two pair with 10-9. That's when all the money got into the pot. Karam trailed Sanders but he caught two runners to scoop the pot. The turn was a 6 and the river was a 6 which meant that Sanders' straight was no good because Karam rivered a boat. A visibly disgusted Sanders stormed off the stage as Karam collected a pot worth over 1 million. Sanders won €33,000 for 18th place.
Andy Black's rollercoaster of a day continued as he regained more chips that he lost earlier in the day. Perhaps sitting at a non-feature table helped settle the Irishman's nerves. Black found
and raised. Hendon Mob's Ram Vaswani called and Philip Hilm (Denmark) re-raised with
. Black moved all in and Vaswani folded. Hilm made a questionable move when he quickly called with
. The flop was
. The turn was
and Black rivered trips when the
fell.
"That's poker," said Black, "He's been making those kind of moves all day."
"Nice hand," said a dejected Hilm as Black gleefully stacked up his chips.
"Thanks," said an ecstatic Black.
Black's tremendous rush continued as he was moved back to the feature TV table. He doubled up with
against Eric Van der Berg's 8-8. Everyone folded to Black in the small blind and he raised to 35K. From the big blind, Van der Berg popped him back for 100K. Without hesitation, Black pushed all in for 450K total. Van der Berg had Black covered by 150K or more and after several minutes of deliberation, he eventually called. The Dutchman was not happy to see with Black with Aces and grimaced as he tabled his pocket 8s. Black stood up and paced around the TV table as the dealer spread out the flop cards. He let out a small sigh of relief when the flop was
. Black thrust his arms in the air when he picked up a set on the turn after the
fell. Eric Van der Berg was drawing dead and an elated Black jumped past the 1 million mark for the first time. Van der Berg was crippled and had less than 200K.
With two tables remaining, Black joined Gavin Griffin and Marc Karam as all three players hovered around 1.1 million as the players went to dinner.
The bad beat of the day recipient was Christian Neirinck (Belgium) when his
were outrun by Steve Jelinek's
. Jelinek turned a set when the
spiked. Jelinek scooped up a monster pot as a bewildered Neirinck won €39,820 for 16th place.
Gavin Griffin took control of the tournament after winning two hands which propelled him past the 2 million chip mark. On the first hand, Griffin raised pre-flop and Eric Van der Berg called. The flop was
. Van der Berg checked-called Griffin's 65K flop bet. The turn was the
and Van der Berg checked-called Griffin's 95K. The river was the
and Van der Berg checked again. Griffin bet 225K and Van der Berg folded. Griffin dragged a monster pot worth close to 500K after Van der Berg missed what Griffin thought was a flush draw.
Griffin's next victim was Ram Vaswani after he limped with A-A. On a board of Q-10-4-4, Griffin check-raised Vaswani for close to 300K. Vaswani eventually called after thinking about his decision for several minutes. When a King fell on the river and Griffin bet 250K. Vaswani made a crying call as Griffin flipped over his carefully disguised pocket rockets. Vaswani tossed his cards into the muck.
Action slowed down as the players reached a big jump in money. Gavin Griffin still held the chiplead with 2.35M, while three players were tied for second with 1.1M each including Andy Black, Kristian Kjondal (Norway), and Marc Karam. Alex Kim was the short stack with 335K.
Pete "The Beat" Giordano busted out in 13th place when The Beat took a bad beat. Fellow American Josh Prager raised as Giordano re-raised to 110K. Prager moved all-in with the
as Giordano called with the
. The flop was
giving Prager top pair and the nut flush draw. The turn was the
, but the river was the
which filled in Prager's flush. Pete "The Beat" Giordano headed to the rail in 13th place. He won €49,770.
Carlos Mortensen had been quiet for most of the day ever since he lost the chip lead. He had been experiencing a cold deck as his stack dwindled away. Sitting at the feature TV table, Mortensen doubled up with
against Kristian Kjondal, who called his all-in bet with
. Members of the Spanish media were rooting for their fellow countryman as they kept calling for an Ace which promptly spiked on the river. Mortensen let out a smile as he thrust his hands up in celebration.
Mortensen won his coinflip and avoided elimination. His luck would run out when he ran into Josh Prager. After everyone folded to Prager, he opened up with a raise. Mortensen still had a relative short stack and moved all-in with the
. Prager thought about what to do for several minutes before he eventually called with the
. The flop was the
and Mortensen hit the flop with a pair, but Prager picked up a flush draw. The turn was
and the river was
. Prager rivered the flush as Mortensen was eliminated. "El Matador" won €66,360 for 11th place.
Another shortstack bit the dust when Alex Kim had less than 150K and moved all-in with
. Marc Karam and Gavin Griffin called. The flop was
and both players checked. When the
fell on the turn, Karam bet and Griffin folded. Karam flipped over
for top pair. The river was a blank and Kim was out. The American won €99,550 for 10th place.
With nine players remaining, play reached the elusive TV bubble. The final TV tables on the EPT are eight-handed which meant that there had to be one more elimination before play would stop. The final two tables were consolidated into one as the remaining nine players were seated at the feature table.
It did not take too long to determine the final TV table when Eric Van der Berg busted out on the first hand. The Dutchman who once held the chiplead on Day 4 was super-shortstacked and pushed with
against Soren Kongsgaard's
. The flop was
. Van der Berg flopped a pair and was ahead, but Denmark's Kongsgaard picked up the nut flush draw. The turn was
but the
spiked on the river to give Kongsgaard his flush as Van der Berg headed to the rail. Van der Berg won €99,550 for 9th place.
The final table of the EPT Grand Finale was set and the final eight players let out a collective sigh of relief. They each survived a field of 709 players and were on the cusp of winning €1.8 million.
Final Table Chip Counts:
Gavin Griffin (USA) 2,597,000
Marc Karam (Canada) 1,742,000
Soren Kongsgaard (Denmark) 1,612,000
Josh Prager (USA) 1,593,000
AVERAGE STACK 1,323,750
Kristian Kjondal (Norway) 1,203,000
Steve Jelinek (UK) 758,000
Andy Black (Ireland) 683,000
Ram Vaswani (UK) 432,000
Day 4 Money Winners:
9 Eric Van der Berg (Holland) €99,550
10 Alex Kim (USA) €99,550
11 Carlos Mortensen (Spain) €66,360
12 Chris Peters (USA) €66,360
13 Pete Giordano (USA) €49,770
14 Jan Viet (Germany) €49,770
15 Philip Hilm (Denmark) €39,820
16 Christian Neirinck (Belgium) €39,820
17 Kristof de Smedt (Belgium) €33,180
18 Dean Sanders (UK) €33,180
19 Roi Elmaliah (Israel) €33,180
20 Lars Eidissen (Norway) €33,180
21 Anthony Lellouche (France) €33,180
22 Shane Reihill (Ireland) €33,180
23 Simon Johansson (Sweden) €33,180
24 Johanes Strassmann (Germany) €33,180
25 Christopher Ulsrud (Norway) €26,550
26 Ben Callinan (UK) €26,550
27 Jacob Larsson (Sweden) €26,550
28 Herman Zango (Costa Rica) €26,550
29 Josh Arieh (USA) €26,550
30 Richard Waters (UK) €26,550
31 Cristinel Dumitru (Romania) €26,550
32 Dave Mobbs (UK) €26,550
Action will resume at 4pm local time (or 10pm ET) in the Salle des Etoiles room at the Bay Casino in Monte Carlo. To find out who wins the 2007 EPT Championship, stop by Poker News and follow along with our live updates, which includes photos and videos.