Online Poker Weekend: 'BrainGuy' Minds His Sunday Million Winnings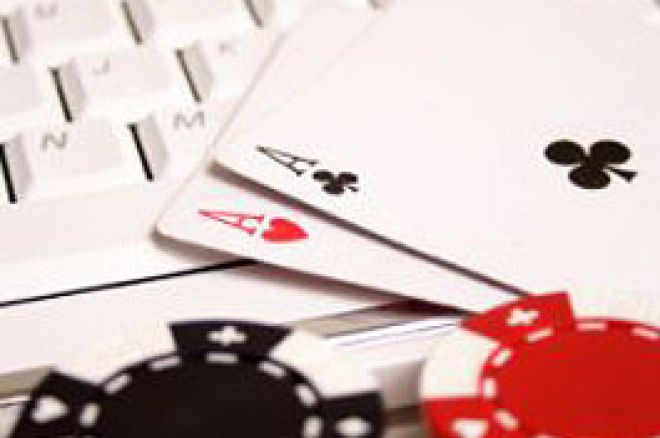 Easter Sunday meant an expected dip in attendance in all of the major online events, but the downturn in player volume was made up for by exciting play and an unusual occurrence as online player 'IBluffUOut4' notched a rare double in final-tabling the largest two events of the night, at Poker Stars and Full Tilt.
Poker Stars Sunday Million
6,637 players sounds huge --- and it is --- but the massive number of players in the Poker Stars Sunday Million still represented a mild, holiday-caused attendance dip from recent weeks. The top 900 players made the money, and first place was scheduled to receive $190,880.12, well worth a celebration by anyone's standards. 'IBluffUOut4,' with over $16 million in chips, held a narrow lead as final-table play began.
Ninth place went to 'SuperTommy,' whose pre-flop push with
was called by 'amichaiKK' with
, and lost when the board showed
. Then a crippled 'toetagU, down to just an ante's worth of chips, exited when his
found no help against 'Stimpy444's
, the board showing
. A short while later, amichaiKK took down a huge pot, moving into the lead and eliminating 'rdtedm' when his
dominated and stayed ahead of rdtedm's
, the board arriving
.
section2006 was the next player whose stack dipped into the danger zone, and he was bounced when his last stand with
went nowhere against 'arulx's
; the field was down to four after the
board played out. Then amichaiKK picked up another victim, this time IBluffUOut4, who found his
dominated by amichaiKK's
and received no reprieve from the
board. Moments later 'Stimpy444' found spot #4 to be as high as he would go; he exited when his
was topped by 'BrainGuy's
and the board displayed
.
BrainGuy continued his late rush by taking down several key pots to move into a wide lead. He sent arulx to the rail in third in a $34 million-chip showdown. The two raised and re-raised each other all-in before the flop, with BrainGuy showing
to arulx's
. The board brought
, and only BrainGuy and amichaiKK remained. BrainGuy started heads-up play with a 6:1 margin but amichaiKK doubled through to a stronger spot, and the two decided on a chip-count chop for most of the prize money. The end came quickly, post-deal. BrainGuy moved in after a
flop, and was called by amichaiKK, who showed
. BrainGuy offered
and needed help, finding it in the
turn, filling the straight. A meaningless
river completed the action.
Poker Stars Sunday Millon - Final standings:
* 1st ($170,302.38): BrainGuy
* 2nd ($120,000): amichaiKK
3rd ($71,546.86): arulx
4th ($55,750.80): Stimpy444
5th ($42,609.54): IBluffUOut4
6th ($30,530.20): section2006
7th ($21,902.10): rdtedm
8th ($13,274): toetagU
9th ($8,229.88): SuperTommy
* --- two-way deal for remaining prize money; $30,000 to eventual winner
Full Tilt $400,000 Guarantee
For the first time in many weeks (and due to the holiday weekend), the attendance at Full Tilt's $400,000 Guarantee fell short of that guaranteed amount. 1,962 runners vied for the $73,600 first-place prize, with the cash running 306 places deep.
'McShove' was the first player bounced from this event's final table, his
run down by 'Gaelic800's
on a board of
. 'mcmarkrazz' soon followed when his
didn't find help against the
of 'I_shivagit,' the board bringing
. Then 'ChipSteela' had
cracked by 'IBluffUOut4's
when the board arrived
for the flush.
Gaelic800 used
to pick up another knockout, with 'SirGutshot' the victim. SirGutShot held
and pushed after the
flop, and saw the rest of the bad news unfold with the
turn and
river. Next, 'SDPOKERSTUD' flopped an unlucky two pair on the way to departing in fifth. Gaelic800 made a preflop raise with
and SDPOKERSTUD tried a resteal with
, which found two callers, with 'Antoshka' also along for the ride. The flop came
, and Gaelic800's and SDPOKERSTUD's chips quickly went in, with SDPOKERSTUD counterfeited to the rail when the turn and river arrived
.
I_shivagit climbed to fourth before departing, finally risking the last of his chips with
, only to find Gaelic800 waiting one seat behind with
. the board arrived
, narrowing the field to three. IBluffUOut4 then lost a huge race for most his chips to Antoshka, pocket sevens bowing to Q-9 when a queen flopped, and exited one hand later when Antoshka made a king-high flush on the river, with IBluffYouOut4's hole cards mucked. Gaelic800 and Antoshka battled for a brief period before all the chips went in on a hand where Antoshka started ahead, with
to Gaelic800's
, but the board brought
, giving Gaelic800 a pair of jacks and the win.
Full Tilt $400k - Final standings:
1st ($73,600): Gaelic800
2nd ($45,200): Antoshka
3rd ($29,600): IBluffUOut4
4th ($23,600): I_shivagit
5th ($18,000): SDPOKERSTUD
6th ($12,880): SirGutShot
7th ($9,400): ChipSteela
8th ($7,400): mcmarkrazz
9th ($5,600): McShove
Party Poker $300,000 Guaranteed
1,373 entrants made it to the $300,000 Guarantee at Party Poker. The cash ran 200 places deep, with first prize scheduled to be $60,000. 'DroppedtheFly,' with over 41.4 million in chips, led the table early on, with 'Bernti' and 'nuggi77' in hot pursuit. 'jyvotnoe' was the first player booted from final-table action, his
out of luck against 'cskcsk's
, the board of
(2s}
bringing no relief.
Next out was 'ppfucncheets,' gone when his
couldn't hold up against DroppedtheFly's
on a board of
. Eighth went to 'galmann' when he pushed with
into DroppedtheFly's waiting
, the board of
leaving things unchanged. DroppedtheFly notched his third final-table knockout moments later, sending 'Cyberdot' off when his
stayed ahead of Cyberdot's
with a board of
.
'Swim_Wizz___' finished in sixth when a last push with
found action in cskcsk, whose modest
won with ease when the board arrived
. Bernti went next, unable to gain ground at the final table; he tried to steal with
but ran up against nuggi77's
, which won on a board of
. Meanwhile, 'lucol' executed a key double-through along with several well-timed re-steals to move into the lead. Then lucol dispatched DroppedtheFlop, winning a
vs.
race when the board showed
. At this point, the three surviving players hammered out a chop for the remaining prize money.
Party Poker $300k - Final standings:
** 1st ($45,000): lucol
** 2nd ($40,000): cskcsk
** 3rd ($28,700): nuggi77
4th ($16,350): DroppedtheFlop
5th ($13,800): Bernti
6th ($10,350): Swim_Wizz___
7th: ($7,950): Cyberdot
8th ($5,250): galmann
9th ($4,050): ppfucncheets
10th ($2,850): jyvotnoe
** --- three-way chop for remaining prize money
Ultimate Bet $200,000 Guaranteed
Ultimate Bet saw 808 players show up for its weekly $200 Guarantee, meaning that over $38,000 in overlay was up for grabs. 90 players cashed, and first prize was again worth $45,000. 'blur5f6' had nearly $370,000 in chips to lead the way to the final table. 'wsu79' picked up the first knockout honors when he caught a river ace to send 'skrue' to the rail in tenth; on that hand, wsu79 held
, skrue
, and the board showed
.
Ninth place went to ''P0ker H0,' whose last push with
was unsuccessful against 'AussieTodd's
, the board bringing
. wsu79 fell next, his
(3c} outflopped against the
of 'classyploppy,' with the entire board reading
. Then 'OaktownRaider,' down to barely the blinds, departed in a three-way pot; OaktownRaider held
, 'circuslover' had
, but AussieTodd had
and flopped a set, with the board finally showing
.
Sixth place went to 'Lobster Fork,' whose
couldn't stay ahead of classyploppy's
, which turned into a straight courtesy of the
board. Then, a lengthy stretch of play elapsed before classyploppy bowed out in fifth; on the last hand, his
couldn't connect against AussieTodd's
, the board bringing
. circuslover was sent to the rail in fourth moments after, at the hands of 'dlperrio;' on that hand, circuslover's
was dominated by dlperrio's
, which stayed ahead after the
board's arrival.
blur5f6's run came to end in third place when he flopped a big draw but failed to connect. On that hand, he held
to dlperrio's
, and the board unfolded
with the last of the chips going in on the turn. dlperrio began heads-up play slightly ahead of AussieTodd, but AussieTodd pulled ahead before missing on a flush-draw-plus-overcards hand that went awry. dlperrio soon closed out the tournament when AussieTodd bluffed from the button with
. dlperrio made the easy call with
and watched as the board unfolded with
6s}
, sealing the win.
Ultimate Bet $200k - Final standings:
1st ($45,000): dlperrio
2nd ($27,000): AussieTodd
3rd ($18,500): blur5f6
4th ($13,000): circuslover
5th ($11,000): classyploppy
6th ($9,000): Lobster Fork
7th ($7,000): OaktownRaider
8th ($5,000): wsu79
9th ($3,500): P0ker H0
10th: ($2,000): skrue