Online Poker Weekend: James 'jcamby33' Campbell Breaks Through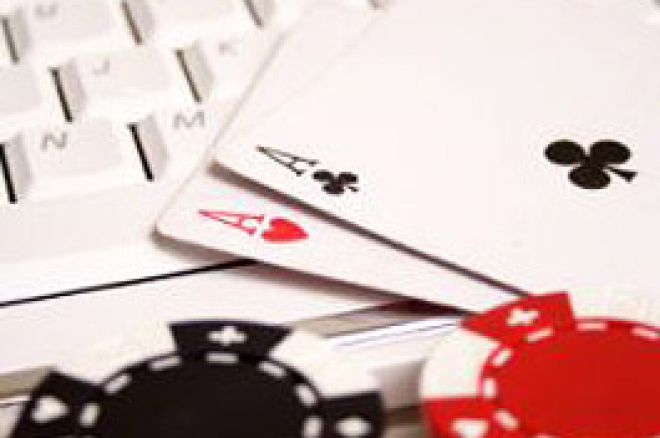 Strong turnouts across the board marked the night's major online poker events. Over 7,000 players came to the virtual felt for the Poker Stars Sunday Million, and the winner was a name that is becoming very familiar to online poker fans. James 'jcamby33' Campbell rode the momentum from some smaller wins recently to take down the event, and a cool $180,000 pay day. Campbell, who had won two Stars $109 + Rebuys in the last month, parlayed that success into his first Sunday Million Final Table, and win.
Poker Stars Sunday Million
Poker Stars enjoyed a solid turnout as 7,109 players generated a $1,421,800 prize pool, with 1,080 players cashing and first place worth just over $200,000. 'cpfactor' led the way to a tightly packed final table with just over $12.4 million in chips. As fondly remembered former room manager Lee Jones returned for cameo commentary duties, cpfactor picked up the final table's first knockout his
beating the
of a short-stacked 'CalBandGreat' when the board came
.
Eighth went to 'htd112' who pushed with
and was called by 'cjwill33' with
, the board of
leaving things unchanged. Soon, after, 'ValuePlay' fell in seventh, his last few chips spent in defense of a
that had little chance against 'SurreyStud's
, the complete board reading
. Sixth went to 'cjwill33' when his
couldn't connect against 'chick x's
, with a board of
giving chick x the easy win. And 'jonnybsting' suffered a bad beat his
cracked by 'jcamby33's
when the
board completed with runner-runner tens.
SurreyStud was bounced in fourth by cpfactor, whose
easily held up over SurreyStud's
when the board brought
. But cpfactor then went cold and dropped several smaller pots, and was eliminated by jcamby33 on a hand where the chips went in pre-flop, with cpfactor's
reeled in by jcamby33's
on a
board.
jcamby33 and chick x decided on a chop for most of the remaining money, with jcamby33 in the lead and getting the larger share. $30,000 remained to be claimed and the end came quick. jcamby made an opening raise, and chick x, with
, moved over the top and all-in. However, jcamby held
and made the easy call. The board unfolded
, not threatening the conclusion to jcamby33's $180,000 win.
Final standings:
* 1st ($180,000): jcamby33
* 2nd ($121,421.60): chick x
3rd ($71,090): cpfactor
4th ($56,872): SurreyStud
5th ($42,654): jonnybsting
6th ($31,279.60): cjwill33
7th ($22,037.90): ValuePlay
8th ($12,796.20): htd112
9th ($8,388.62): CalBandGreat
* --- two-way deal for remaining prize money; $30,000 to eventual winner
Full Tilt $750,000 Guarantee
The middle of the month meant it was $500+30 time for the big event at Full Tilt, a $750,000 Guarantee that actually became $823,500 when all the entries were in.
1,647 players joined the fun and 261 made the money, with first worth $152,347.50. The final table was a tightly packed affair early on with several players jockeying near the million-chip mark.
First one out here was 'Mizrachi' (no idea if it was a famous one), whose
couldn't catch against the
of DuckU, with an all-low board of
leaving both of DuckU's cards in play. Maximoss went out on the next hand, his
overtaken by 'RANGER_173D's
when the
board filled a straight. Seventh went to 'phat_cat1,' whose
caught a piece of a
flop, but found 'Frymealiver' waiting with
and saw the turn and river come
and
.
Suck-and-resuck marked the next knockout. DuckU and RANGER_173D got the chips in with DuckU holding
to RANGER_173D's
, but a
flop put RANGER_173D ahead until the
arrived on the turn. The
river meant RANGER_173D went to the rail in sixth. Then 'mattg1983,' who had slowly built into the lead, padded it by using
to send 'knivar3n' to the rail in fifth. knivar3n made a stand with
, but went unrewarded when the board came
. Soon after, DuckU, caught a five-outer to eliminate 'Jubbley' in fourth. Jubbley held
to DuckU's
and the chips went in after a
flop, but DuckU caught an
on the turn and watched the
river miss the thin redraw chance.
DuckU moved well ahead with another big knockout, this time of Frymealiver. With the blinds growing, DuckU made a button raise and Frymealiver, with
, made the re-reraise. DuckU had
and made the push, and Frymealiver, with more than half his chips already committed, was priced into the call. The
board gave Frymealiver initial hope but failed to deliver, and two players remained to duel for the money.
DuckU started out well ahead before mattg1983 doubled through to move into the lead, which he held for a dozen or more hands before DuckU pulled ahead once again. The end came when both player saw a flop and caught top pair. DuckU held
to mattg1983's
, and the flop came
. mattg1983 turned out to be drawing thin, and his hopes went unfulfilled as the board completed with
and
, giving DuckU the $152,000 victory.
Final standings:
1st ($152,347.50): DuckU
2nd ($93,879): mattg1983
3rd ($61,762.50): Frymealiver
4th ($49,410): Jubbley
5th ($37,881): knivar3n
6th ($27,175.50): RANGER_173D
7th ($19,764): phat_cat1
8th ($15,399.45): Maximoss
9th ($11,858.40): Mizrachi
Party Poker $300,000 Guaranteed
Sunday's $300,000 Guaranteed at Party Poker saw 1,486 players vying for the money. 200 of those players cashed, with a first prize of $60,000 up for grabs. 'silverfang' had topped $1.3 million in chips to lead the ten players left as the final table assembled, and the ten played on as a complete table for some time, with a couple of early suckouts allowing shorter stacks to remain in the mix.
silverfang notched the first elimination when he bested 'FIVEJOKER,' silverfang's
besting FIVEJOKER's
on a board of
. Another short stack, 'stefang222,' exited soon after, followed by 'OXOTHuK,' whose
seemed strong after the turn on a board that eventually read
, but he was always behind 'bajen1999' in the hand, who started with
.
Next out was silverfang, whose earlier moves at pots were both ill-timed and unlucky. He was forced to make a stand with
, and 'sERvERfr00G' looked him up with a
holding that won when the board arrived
. After a bit more parrying, the six survivors then agreed to a chip-count deal for the remaining prize money.
Final standings:
** 1st ($37,924.51): sERvERfr00G
** 2nd ($35,753.35): bajen1999
** 3rd ($22,340.51): TapMyToe
** 4th ($21,064.84): jimslim
** 5th ($20,451.45): mingebag
** 6th ($16,665.36): JOSHUAJACKS
7th: ($7,950): silverfang
8th ($5,250): OXOTHuK
9th ($4,050): stefang222
10th ($2,850): FIVEJOKER
** --- six-way deal for remaining prize money
Ultimate Bet $200,000 Guaranteed
973 players attended the Ultimate Bet $200,000 Guarantee, leaving a small overlay in place. 100 players cashed and $45,000 was on the line for first. 'lamp3122' had built up over $800,000 in chips as the final table assembled, more than the double the total of the nearest competitor. First to fall was 'TranquilChaos' who ran
into 'kinglouie's
, and watched the board display
.
kinglouie found the red version,
, moments later, and it was good enough to send 'zymurgist17' and his
to the rail in ninth as the board arrived
. Then lamp3122 picked off 'kdogpenny1,' lamp3122's
dominating kdogpenny1's
, and winning when
showed. Soon after, 'GfcukinBecks's
topped the
of 'The Big Don' on a board of
, to trim the field to six.
'dallasjoe' bowed out in sixth after a lengthy battle, his
unable to best lamp3122's priced-in
when the board came
. Then lamp3122 used
to pick off 'moneydraws,' whose
fell victim on a
offering. kinglouie made it to fourth before exiting, his strong
finally running into GfcukinBecks's stronger
--- the board coming
--- to end his night.
'Fajzher,' down to a big blind's worth of chips at one point, then finished a huge run to the lead by taking down a $1.6 million pot that left lamp3122 on the ropes, but lamp3122 and GfcukinBecks both made their own surges as well. Finally, lamp3122 eliminated Fajzher on a hand where Fajzher started with
, lamp3122
, and the board came
; the chips went in on the river and lamp3122's flush took the hand. The end came after a huge pot where GfcukinBecks double through behind a pair of jacks that held up against A-K. On the final hand, GfcukinBecks held
to lamp3122's
and the board arrived (Kd}
. The winning pair of sevens made GfcukinBecks $45,000 richer.
Final standings:
1st ($45,000): GfcukinBecks
2nd ($26,500): lamp3122
3rd ($18,000): Fajzher
4th ($13,100): kinglouie
5th ($10,500): moneydraws
6th ($8,500): dallasjoe
7th ($6,500): The Big Don
8th ($4,500): kdogpenny1
9th ($3,400): zymurgist17
10th: ($2,000): TranquilChaos