Poker by the Book: Barry Greenstein Wins His 4th WPT Title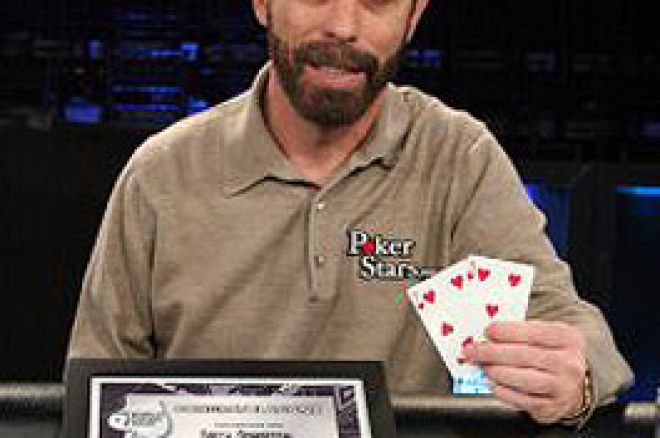 The World Poker Tour taped its 100th episode Friday night in dramatic fashion, as Carlos Mortensen won nearly $4 million and made history as the only player to win both major poker championships.
The WPT was back to work Saturday, taping episode #101. The lineup was incredible, featuring three former WPT winners (Daniel Negreanu, Barry Greenstein, and Antonio Esfandiari) and three former WSOP champions (Tom McEvoy '83, Johnny Chan '87-88, and Dan Harrington '95).
It was a WPT special invitational episode — Poker by the Book, Chapter II. Each of these players was also a poker author.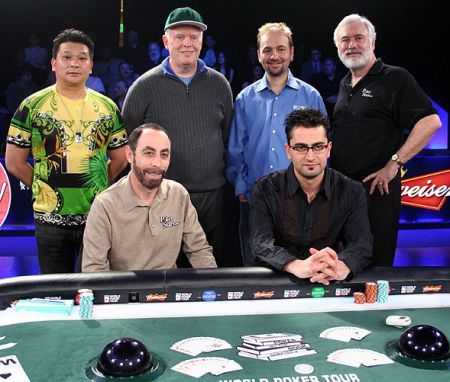 The WPT single-table specials don't attract much attention, even with a star-studded lineup. Instead of playing for millions of dollars, there is just a single prize — the winner gets a $25,500 entry into next season's WPT World Championship. With minimal stakes, there's much less drama — but no shortage of fun. Be sure to check out our video from the set at the bottom of this story, complete with interviews of many of the players involved.
During the first level, the atmosphere was reminiscent of the popular show High Stakes Poker. The WPT will be joining HSP on the Game Show Network for season 6, when this episode will likely air.
Keeping with the literary theme, there were plenty of book references. In hand #4, Greenstein flopped a full house in a three-way pot, winning a small pot in a showdown against Negreanu. As Greenstein showed his lucky cards, Esfandiari asked, "Which chapter is that, Barry?"
In hand #26, Negreanu was in a tough situation against Chan, so he asked WPT host Vince Van Patten for some help. "Vince, what does [Johnny Chan's] book say when someone calls from the small blind, the big blind raises, and the small blind reraises?" Van Patten played along, flipping through Chan's book before saying, "Panic!" Negreanu quickly folded as the audience roared with laughter.
If the show were scripted, Greenstein would have won the tournament in hand #88, when he was heads up against McEvoy. All in preflop, McEvoy had
against Greenstein's
. The first four cards were
, and McEvoy retained the lead. The title of Greenstein's book is Ace on the River, and that's what he needed to win the tournament. (He would also win with a queen, but where's the literary reference?) The deck failed to cooperate, and the last card was the
. McEvoy doubled up to take the chip lead.
How did they get to that point?
Negreanu took a big hit in hand #27, when McEvoy moved all in on a board of
. Negreanu called with A-J (top pair), but McEvoy had him dominated with A-10 (two pair). The last card was the
, and McEvoy doubled as Negreanu dropped to just 30,000 in chips. (Each player started with 250,000.)
Negreanu got some of his chips back in hand #32, when he moved in from the big blind with
, and McEvoy called with
. McEvoy was a huge favorite — but not on a board of
. Negreanu doubled up with a full house, and someone asked, "Daniel, is that in your book?" Negreanu replied, "Of course. Try to play good, but when all else fails, get lucky."
Chan had Greenstein on the ropes in the next hand (#33), with top pair against Greenstein's flush draw. A spade on the river saved Greenstein and doubled him into the chip lead, with twice as many chips as anyone else at the table. Chan had become the short stack, slightly below Negreanu.
After that hand, there was a short break as the blinds increased, and the table became more serious. But as the verbal sparring stalled, the poker action accelerated.
In what was perhaps a WPT first, three players were eliminated on three consecutive hands (#40-42). Johnny Chan was out in sixth place when his
was outkicked by Greenstein's
. Daniel Negreanu followed him to the rail in fifth when his
failed to improve, and McEvoy turned a set and rivered a full house with
.
In hand #42, Esfandiari was all in preflop with
, dominating Greenstein's
. Esfandiari was poised to take the chip lead — until the board came
, and Greenstein won with a club flush. That bad beat ended Antonio Esfandiari's day in fourth place.
Greenstein had a sizable lead over McEvoy and Harrington, and over the next 23 hands, Harrington became the short stack.
In hand #66, Harrington moved all in with
, but he was dominated by Greenstein's
. The board came
, and "Action" Dan Harrington was out in third place.
It wasn't long before hand #88, mentioned earlier because Greenstein missed his "Ace on the River" to win the tournament. But it wasn't over yet.
In hand #104, both players checked a flop of
. The turn card was the
, Greenstein bet, McEvoy moved all in, and Greenstein called. McEvoy was bluffing with
, while Greenstein had
for two pair. McEvoy was almost drawing dead, and Barry Greenstein had won the tournament.
In the post-game interviews, McEvoy said, "I made two big moves against Barry, and he picked them both off." Greenstein replied, "Most people don't know that Tom has that move in him." Greenstein also mentioned that he had a side bet with Chan and Negreanu — and implied that it was worth more than the $25,500 seat that was the official prize.
With 101 WPT episodes complete, Greenstein has won four of them, though he is quick to point out that two were "real" victories (Tunica 2004 and Celebrity Invitational 2006) and two were minor (this one and the 2006 Fathers & Sons special).
There was a final bit of literary justice on this day. In the last hand, McEvoy was nearly drawing dead on the turn, and the tournament was effectively over. The meaningless last card? An ace on the river.
Check out the video from the event:
<object width="425" height="350"><param name="movie" value=" http://www.youtube.com/v/3x-u-T2ug7o"></param><embed src="http://www.youtube.com/v/3x-u-T2ug7o" type="application/x-shockwave-flash" width="425" height="350"></embed></object>