PokerProForAYear Update - Ilja Smid Interview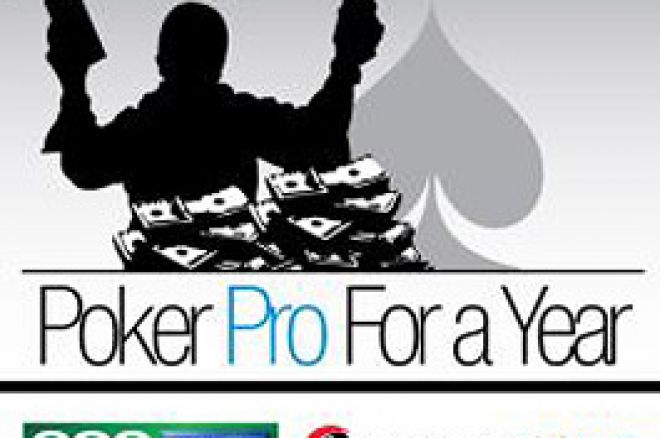 With our Series 2 Final approaching, we decided to catch up with our Series 1 winner Ilja Smid to find out a bit more about our first player to reach the PokerProForAYear Final Table.
Playing under the screenname BGOOD2me, Ilja Smid won the Series 1 Final and became the first player to qualify for the PokerProForAYear Final Table. Ilja is now in the running to win the Grand Prize - a package including sponsorship from PokerNews and Pacific Poker to four major poker tournaments in 2008, worth over $50,000. PokerNews spoke to Ilja after his big win.
PN: Ilja, tell our readers a bit about yourself
Ilja: I was born in the ex-Soviet Republic of Kazakhstan and my parents are Russian. I then lived in Siberia for 2 years, and at the age of 7 I moved to Lithuania. When I was 19 I moved to London where I lived for 8 years. Now I am married to my wife Angelique and settled in Germany. We have the most beautiful child in the world - Colin, who is one and a half years old.
PN: How long have you been playing poker and why did you start?
Ilja: I have been playing poker for 1 year and 1 month. I saw some poker tournaments on TV and decided to try it for myself.
PN: What sorts of games do you prefer to play?
Ilja: I play mostly online – No Limit Texas Holdem sit-n-gos and tournaments.
PN: What is your biggest poker success to date?
Ilja: Making the PokerProForAYear Final I guess! I also won $2,000 in an online limit tournament, and made about 40 final tables in the last year.
PN: How did you feel when you won the Series 1 Final?
Ilja: I felt great. I started the Final badly and was shortstacked for more than an hour, but once I got close to the chip lead I believed I could win. To be honest, I was not surprised at all that I won it. I have come very close to qualifying for some big events so many times, and I knew this just had to happen for me very soon.
PN: How did you celebrate?
Ilja: It was pretty late at night but I felt so good that I could not resist having a bottle of wine with my wife Angelique.
PN: What are your hobbies?
Ilja: Cycling, Football (Soccer) - I am a big Arsenal fan, Running – I completed the London Flora Marathon in 2003, and playing poker of course.
PN: Have you ever played in a major live poker tournament before?
Ilja: No, but I do believe that I will very soon.
With two rounds to go in Series 2, there are six players that have already reserved their place in the Series 2 Final. If you would like to join PokerProForAYear and have your chance to share in over $150,000 worth of prizes, head to www.pokerproforayear.com and sign up!
PokerProForAYear is an exclusive promotion with Pacific Poker that is only available to players that sign up to Pacific Poker through PokerNews or PokerProForAYear. It is free to join and there are still plenty of great prizes including freerolls to the WSOP, EPT and Aussie Millions, plus the big one – our Grand Prize – sponsorship to four major poker tournaments in 2008 worth over $50,000!
Ed Note: Would you like to be a Poker Pro For A Year? Sign up to Pacific Poker today.