Poker Room Review: Caesar's Palace, Las Vegas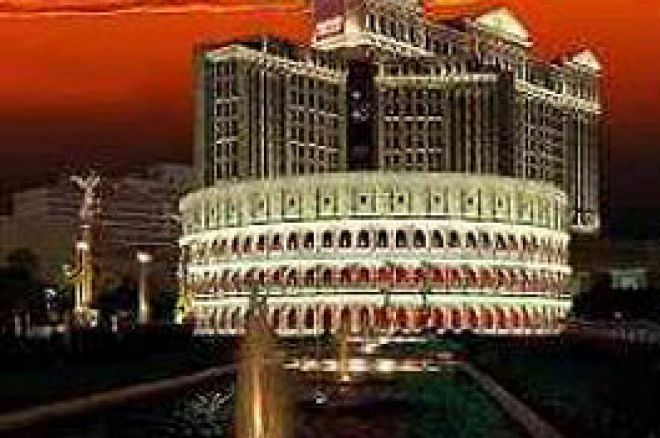 Which is the biggest poker room in Las Vegas? Well by square footage the clear answer is Caesar's Palace at over 14,000 square feet. If you simply were to walk into every poker room in the city and count the number of poker tables, again your answer would be Caesar's Palace with over 60 tables. However, there are those purists who would argue that only 30 of those tables are in the main poker room and all the rest are 'tournament' tables.
This inevitably leads to the next question: Does any poker room in Las Vegas have a separate, dedicated tournament room? Answer: Yes! Caesar's Palace.
So take your pick but either way Caesar's is a big room and a big, well run poker room. The first great feature you will notice is that this poker room really is a completely separate room from the casino. You enter the Caesar's poker room to the right of the sports book and walk down a 100 foot hallway to reach the brush desk. This means that smokers are more than 200 feet away from your table way back there in the casino proper. It also means that the sound, temperature, indeed all aspects of your poker experience are under the control of the poker room staff. This is a great room for poker.
The low-limit hold'em tables here are $3/$6; while the no-limit starts at $1/$3, there is nearly always at least one $2/$5 game being spread. The $4/$8 mixed game is popular and they will change the "mix" if the table requests it. In fact, if you and your poker buddies are in town and want to play some particular game or limit or mix of games, call Caesar's because with very short notice they will set up a table for you and if you have a full table they will even make it a private game and provide dealers who know all the variations you wish to play.
About that tournament room---there are three NLHE tournaments held everyday at Caesar's: At noon there is a $80 buy-in with a single $50 rebuy. You should know that all of these events give more chips for the rebuy or add-on than the starting chips, in this case 1500 starting and 3000 for the rebuy, so this is essentially a $130 tournament with 4500 chips. At 7 PM, it's $120 plus $100, again for the total of 4500 chips. The rounds are 40 minutes in both and a very fair structure. At 11 PM the tournament is $60+$10 for 2500 chips and 30 minute rounds. These three tournaments run seven days a week and have been the staples of the Caesar's tournament room for some time.
Right now there are two additional tournaments being featured. On Saturday at 3:30 PM there is a $330 NLHE event with no add-ons or re-buys and 7500 starting chips with 40 minute rounds and a very good structure, even better then the daily events. This tournament has been attracting good numbers, and good players. Finally, Caesar's is offering a Ladies Nite Tournament every Tuesday at 6 PM; NLHE with a $80 buy-in.
The idea of the stand alone tournament room is to assure that the cash games do not go down when tournaments are run. Most of the year this is exactly what the huge Caesar's facility accomplishes. Even the big WSOP Circuit events that come to town soon (April 22nd – May 2nd) have little effect on the availability of the constant ring games here.
Three final points on the Caesar's poker room: the table side menu is fast and good; the room is so large that there is ample room between tables to move around; and finally, the only complaint I have heard about the room at Caesar's is the distance from the parking structure to the poker room. One of my poker groups has a really big bug about access to the room from your car; so to satisfy them--yes if you are too cheap to valet, it can take 7 minutes or more to walk from your parking spot to the poker room and – most poker players aren't exactly athletes.