Poker Room Review: The Plaza, Las Vegas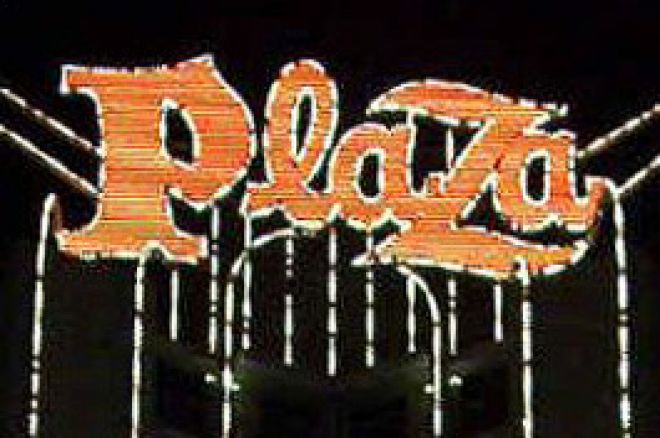 There is good news and bad news about the poker room at the Plaza Hotel and Casino. First, there is location and then there is location. The room is tucked away in the back of the casino, which is good news. There is lots of floor space for the nine poker tables and half a dozen Pan tables. The room is well ventilated, well lit and well away from the smokers. Unfortunately, the Plaza is not only in downtown Las Vegas, it is also not centrally located downtown. If you are walking around the Fremont Street corridor in downtown you are more likely to wander into Binion's or the Golden Nugget to play poker but right down there at the East End of the Fremont Street Experience is the Plaza Hotel and Casino and a very nice poker room.
The Plaza has always been a well run casino with a good poker room but lately the action downtown has turned away from poker or at least away from the Plaza. The great midnight tournament that was famous for nearly a decade has recently been taken off the Plaza schedule, so has the morning tournament. These changes are so recent the events still shows on the Plaza webpage, don't we fooled the Midnight Madness and the Lucky Seven Tournaments are no more. In its place the Plaza has instituted an interesting move.
They now run Sit-n-Go single table satellites all day every day. These are $40 buy-in tournaments, paying $240 to 1st and $90 for 2nd. And yes you can bring in a gang and all play at the same table. In fact, you can play single tables or cash games with a group. I have seen several bunches of buddies walk in and do exactly that. In fact one gang told me they had played all three days last weekend. Now you might ask why come to Las Vegas and play a home game? Well for these folks it was simple, they did not all come from the same hometown but they meet up each year in Las Vegas for a weekend and as Jeff from Chicago told me: "They give you a professional dealer, they bring you free drinks and they bought us dinner!"
A bit more sad news, the Plaza now closes its poker room at 2 AM each night. There simply is not enough business for the room to justify a graveyard shift. The much touted 'Downtown Renaissance' seems to not be helping the Plaza Poker Room much.
The low-end cash game at the Plaza is $2/$4 Hold'em, they do spread $3/$6 and $4/$8 and $1/$2 No-Limit. They also have a freeroll every two weeks for 25 hours of play, there are bounties on every player in the freeroll. I think everyone knew each other the when I checked it out this past week.
One more interesting item about the Plaza, they deal Panguingue (Pan) here and I don't just mean they have an interest list. Pan is a rummy-type game played with eight standard 52-card decks with the 8's, 9's, 10's and one of the remaining suit of Spades removed, leaving a total of 310 cards. If you want to give Pan a try - head over to the Plaza Poker Room. It is one of the last places anywhere to offer the game in Las Vegas. They regularly spread Pan but be careful those are not tourists in those seats. I learned to play right here at the Plaza but I learned from a dealer and two players while they waited for a game to start. Do not learn cold with your own cash!
Plaza Hotel & Casino
1 Main Street
Las Vegas, NV 89101