PokerNews, BLUFF Magazine Offer 'Lucky You' Premiere Trip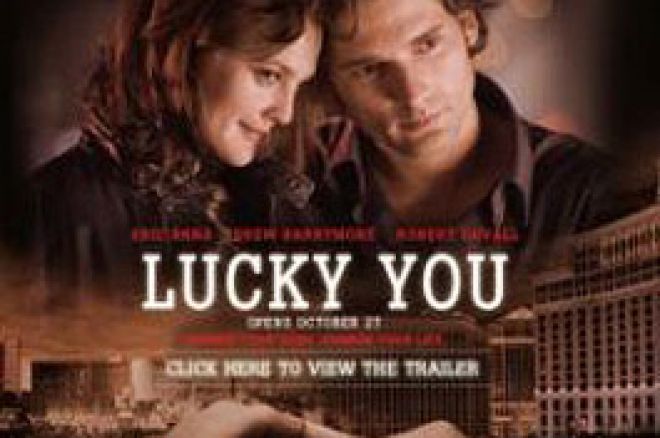 PokerNews.com has teamed up with BLUFF Magazine for a special giveaway to the premiere of 'Lucky You', the long-anticipated poker film starring Eric Bana and Drew Barrymore. One lucky winner (and guest) will be flown to New York for the official premiere screening of 'Lucky You,' which will be held May 1 as part of the Tribeca Film Festival.
'Lucky You' centers around the life of Huck Cheever (Bana), whose aggressive poker style is the opposite of his reserved, arms-length approach to making emotional commitments. Cheever begins a relationship with Billie Offer (Barrymore) at the same time he struggles to come to terms with the legacy of his father, poker champ L.C. Cheever (Robert Duvall). Father and son struggle for poker supremacy in a plot including a fictional climax at the 2003 World Series of Poker.
The giveaway is free to all who sign up at Sportsbook.com poker, before the contest giveaway freeroll on Sunday, April 22 at 10:15 pm EST. The winner's prize package also includes airfare and two nights of hotel accommodations. Second- through sixth-place finishers in the freeroll will receive an autographed movie poster and CD soundtrack.
The winner's prize has no assigned cash value and is not transferable, and will be awarded to the runner-up in the event that the winner can not attend. Players must be 18 years or older to participate in this unique giveaway promotion.
To play in this freeroll, simply download Sportsbook Poker and create a new account. Go to the tournament lobby, find the "Lucky You Movie Premier Tickets" Freeroll and use the password 'luckymovie' to enter - no deposit or raked hands required! Note - This promotion is only open to players from the USA.
And when we say 'sign up today,' we really mean it --- the freeroll is Sunday evening, and it's a not-to-be-repeated chance for some poker fun, done the Hollywood way.