WPT Championships Day 1a: The Phil Hellmuth and Jamie Gold Show
Paul McGuire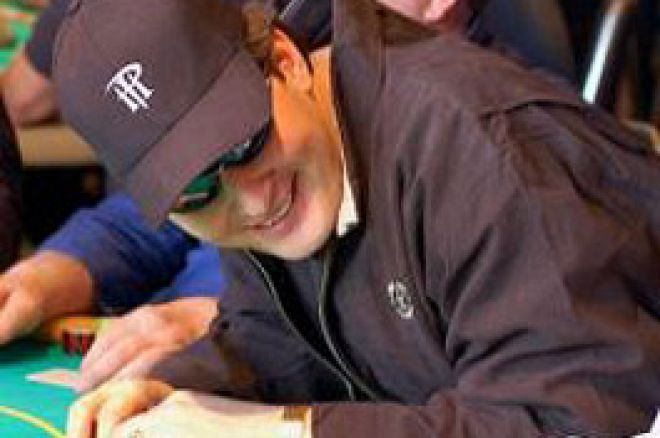 For the next week, the center of the poker universe is at the Bellagio Casino in Las Vegas as it plays host to the $25,000 buy-in WPT Championship event. Some of the preeminent poker players on the planet showed up for battle in a grueling test of poker acumen, metal toughness, and testicular fortitude. And when it's all over and the dust settles, the WPT will crown a new world champion as the winner will pocket over $4 million. That will be the richest prize ever awarded in a non-WSOP Main Event.
The biggest names in poker all converged on the Bellagio Casino in Las Vegas in hopes of making history. The structure included ninety minute levels and a starting stack of 50,000. The 304 person field on Day 1a was star-studded. Among those spotted were Phil Ivey, Phil Hellmuth, Jamie Gold, defending champion Joe Bartholdi, Victor Ramdin, Men "The Master" Nguyen, Jeff Madsen, Dan Harrington, Vinny Procopio, Fabrice Soulier, Gavin Smith, Josh "Billy Madison" Arieh, Barny Boatman, Brad Berman, T.J. Cloutier, Kristy Gazes, Rehne Pedersen, David Plastik, Haralabos Voulgaris, Harry Demetriou, Hoyt Corkins, Steve Brecher, Padraig Parkinson, Maureen Feduniak, Jason Lester, Dan Alspach, Joe Sebok, Ralph Perry, David Grey, John Gale, Scott Fischman, John Duthie, Davidson Matthew, Barry Shulman, John Bonetti, David Levi, Ben Roberts, Amnon Filippi, Doug Lee, Juha Helppi, Johnny Lodden, Roland de Wolfe, Jordan Morgan, David Williams, Rene Angelil, Marcel Luske, Cliff "JohnnyBax" Josephy, Mike Woo, Kenna James, Ross Boatman, Shane "Shaniac" Schleger, Jen Harman, John Myung, Barry Greenstein, David "The Dragon" Pham, ZeeJustin, Noah Boeken, Tuan Le, Andy Black, Brian "sbrugby" Townsend, JJ Lui, Chad Brown, "Miami" John Cernuto, Dustin "NeverWin" Woolf, Raj Patel, Danny Alaei, Ted Lawson, Eli Elezra, Capt. Tom Franklin, Robert Mizrachi, Joe Tehan, James Van Alstyne, Liz Lieu, Alan Goehring, Eric Hershler, Cyndy Violette, Jesse Jones, Johnny "World" Hennigan, Thor Hansen, David "Devilfish" Ulliott, David Sklansky, Jon Little, Vanessa Rousso, and Alex Jacob.
By far the toughest table in the room had to be table #58. It was nicknamed "The Champions Table."
Table #58
Seat 1: Tony Cousineau
Seat 2: Abe Mosseri
Seat 3: Hoyt Corkins (2003 WPT Foxwoods Champion)
Seat 4: Maureen Feduniak
Seat 5: Adam Weinraub (2007 WPT Invitational Champion)
Seat 6: Tuan Le (2005 WPT World Champion)
Seat 7: Jamie Gold (2006 WSOP Champion)
Seat 8: Francois Safieddine
Seat 10: Scott Clements (2006 WSOP bracelet winner)
Later in the afternoon, EPT creator John Duthie and Martin de Knijff (2004 WPT World Champion) were both moved to the table. By the end of the session, Adam Weinraub and Tuan Le would both get eliminated.
Tuan Le had a tough time against Jamie Gold who dominated Le the entire day. During the first hour of the tournament, Gold badgered the table with his usual verbal bombardment, including the former WPT World Champion. Gold promptly put Le on tilt after he displayed a masterful bluff. On a board of
, Le checked to Gold who moved all in. Le sat and stared at the flop for several minutes. He obviously had a mediocre hand as he went into the tank and Gold stood up. Tournament reporters and photographers all raced over to the table to capture the first big all-in hand of the day. Gold walked back and forth and asked the press if he'd be the first player eliminated if he lost the hand. When he found out that it indeed was the case he turned to Le and said, "I've got a huge hand. I don't know, if it's taking you this long maybe you have a huge hand, too. If you do have me beat it'll be an amazing call."
Le mucked as Gold tabled 6c-3s for a complete bluff. Le looked stunned as Gold mentioned, "He was about a minute away from sending me home. It wasn't looking good."
Phil Hellmuth, who had arrived late, heard about the amazing bluff and began talking smack with Gold who barked right back. The two eventually settled on a prop bet where Hellmuth bet Gold $5K that he would not make it to Day 2. Gold agreed and ended up winning that prop bet. Hellmuth also promised Gold $500 in cash every time that he bluffed Le. Gold did it twice and picked up an additional $1,000.
Gold continued his run towards 100K after he busted Adam Weinraub. On a board of
, Weinraub bet 5K and Gold re-raised to 12K.
"I could be lying," Gold said as he stood up and goaded Weinraub to call his bet. "I'm not going to tell you if I'm bluffing."
Weinraub moved all-in and Gold quickly called as he shouted, "Yes!"
He flipped over
for the nuts as Weinraub showed
for a set. That hand put Gold past 100K as Weinraub headed to the rail.
The big story of Day 1a involved Anna Wroblewski who ended the day as the chip leader with over 211K. She was the first player to jump past the 100K and 200K mark. No one in the Fontana Room could stop the 21-year old who won a 3K event at the Bellagio earlier in the week. She won a satellite to get in, and turned an initial $300 investment into a $337K first place prize.
At the WPT Championships, she quickly built up her stack when she picked off a bluff with just Ace high. She also sent two-time WSOP bracelet winner Jeff Madsen to the rail early. Wroblewski flopped a set of 2s as she stacked Madsen. By the end of the night, everyone in the room wanted to know more about the new wunderkind.
When played ended for the night, about 220 players remain with Wroblewski as the chipleader.
Noteworthy eliminations on Day 1a included Jeff Madsen, Alex Jacob, Brian "sbrugby" Townsend, Tuan Le, Chad Brown, Shane "Shaniac" Schleger, T.J. Cloutier, David "The Dragon" Pham, John Gale, Doug Lee, Davidson Matthew, John Juanda, Raj Patel, Johnny "World" Hennigan, Men "The Master" Nguyen, Barry Shulman, Mike Woo, Jon Friedberg, Jordan Morgan, and Cyndy Violette.
Day 1b will begin at noon on Sunday. The remaining players in both starting fields will combine on Monday. Check back in with Poker News for live updates, photos, videos, and don't forget about out Feature Hands section.