Cory Carroll Wins Caesar's Palace WSOP Circuit Main Event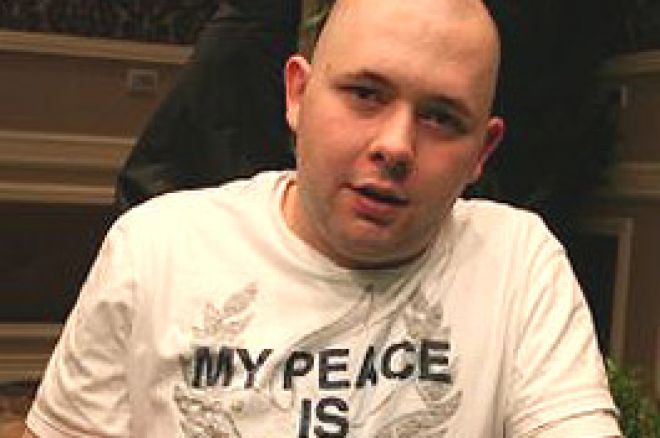 Not too many people have heard of Cory Carroll. Those that know him, like Gavin Smith, have tremendous respect for his game.
"He's the best player you've never heard of," said Shane 'Shaniac' Schleger.
Maybe Carroll will finally get the recognition he deserves after winning the WSOP Circuit event at Caesar's Palace. He won $506,176 along with a seat into the WSOP Main Event in July at the Rio.
The $5,000 buy-in event drew over 336 players and featured a prize pool of over $1.6 million. Some of the biggest names in poker were in the field such as Greg Raymer, Chris Jesus Ferguson, Scotty Nguyen, Men the Master, Erick Lindgren, Barry Greenstein, David Williams, Max Pescatori, and two time Circuit event winner Peter "Nordberg" Feldman. After thee days of poker Cory Carroll emerged as the winner.
Chad Brown and David "The Dragon" Pham were the two biggest named pros remaining in the tournament when the final table began on Wednesday. For the majority of the tournament, Carroll flew under the radar was a virtual unknown to everyone in Las Vegas, even though he entered the day as the chipleader.
Final Table Chip Counts:
Cory Carroll 713K
Steve Wong 573K
David "The Dragon" Pham 491K
Vasile Buboi 349K
Paul Kitsos 327K
Justin Pechie 307K
Eric Davis 272K
Michelle Law 192K
Chad Brown 136K
Chad Brown entered the final table as the short stack. He waited until Hand #15 to make a move when he pushed all in with
He was quickly called by Vasile Buboi who tabled
. Brown was completely dominated and needed a miracle to double up. It appeared that he got one when he flopped a set on a board of
. However, the
fell on the turn as Buboi regained the lead with a set. Brown was down to one card in the deck that would help him. The
on the river did not help Brown as he headed to the rail in 9th place. He won $32,592.
Eric Davis doubled up on the very next hand against Steve Wong. Davis flopped a set with 3h-3s and turned a boat. Davis pushed all in and Wong called with
. The case 3 on the river was useless since Wong was already drawing dead. Wong slipped to around 300K, while Davis jumped up to 500K.
On Hand #18, the last remaining female in the tournament headed to the rail. Cory Carroll raised UTG and Michelle Law re-raised. Carroll re-raised back and put her all in. Law was pot committed and called with
. Carroll flipped over
. Carroll won the coin flip as Law was eliminated. She won $48,888 for 8th place.
At that point, the two shortest stacks entering the final table had been eliminated. Chad Brown and Michelle Law both busted out in the first hour of play while the other shortstack, Eric Davis, doubled through Steve Wong.
Wong was the next player to go on Hand #23. Buboi raised to 31K and Wong reraised to 91K. Buboi called. The flop was
and Buboi checked. Wong pushed all in for 171K and Buboi immediately called with
. Wong flipped over
. The turn and river did not help Wong as he busted out in 7th place. He won $65,184.
Cory Carroll added more chips to his stack as he became the first player past the 1M mark. He had a clear lead over Vasile Buboi in second place. Eric Davis was in a distant third until he went on a rush. He'd eventually catch Carroll and take the lead after he crippled David "The Dragon" Pham.
On Hand #28, the Dragon raised 34K UTG and Davis called from his big blind. The flop was
and both players checked. The turn was
and Davis fired out 95K. The Dragon called. The river was the
and Davis bet 200K. The Dragon went into the tank for several minutes and tried to get a read on Davis by talking to him. Davis didn't flinch and kept silent. The Dragon eventually called and Davis flipped over
for a set of Jacks. The Dragon mucked his cards. That hand cost him over 90% of his stack.
Down to 37K, The Dragon pushed all in on the next hand with
. He was called by Justin Pechie's
. Pechie's hand held up as The Dragon was knocked out in 6th place. He won $81,840.
Davis jumped into the chiplead as Cory Carroll slipped over a span of a dozen or so hands. It looked like those two were ready to slug it out for the championship as soon as they disposed of the other players. Davis, a local from Henderson, NV, had his friends and family in the crowd, which is always helpful for any player who makes a final table. Ever since he doubled up against Steve Wong, he played with extreme confidence. While the rest of his tablemates seemed quiet and docile, Davis' confidence factor rapidly rose higher and higher with every hand. If there was a player who had a shot at chipleader Cory Carroll, Davis was poised for the challenge.
On Hand #59, Carroll raised 38K from the cutoff and Kitsos moved all in for 183K. Carroll called with
while Kitsos showed
. Kitsos' hand did not improve and he finished in 5th place. He took home $97,776.
With four players remaining, Carroll regained the chiplead with a stack over 1.5M as Davis slipped to 962K. Buboi had 706K and Pechie was the shortest stack with 176K.
Then on the brink of elimination, Pechie picked up momentum and made a run. He doubled up twice inside of four hands. His
beat Carroll's
. Then Pechie's
outflopped Buboi's pocket jacks and doubled up with a pair of Aces. He pushed his stack past 700K while Buboi slipped to last place in chips.
Then Pechie made an amazing call that pushed him into second place in chips. Pechie opened up for a raise of 45K and Davis called from the small blind. The flop was
and Davis fired out 120K. Pechie called. The turn was
and both players checked. The river was the
and Davis bet 110K. Pechie went into the tank before eventually calling with
. His pair of fives were good enough to win as Davis mucked. That pot propelled Pechie past the 1M mark.
Action slowed down over the next thirty-five hands until Eric Davis busted out on the 100th hand of the final table.
On a flop of
, Carroll checked, Davis bet 65K and Carroll moved all in. Davis called with
for TPTK, while Carroll tabled
for the nut flush draw. The turn was the
and Carroll filled in his flush. The river was the
and Davis busted out in 3rd place. He won $130,368.
When heads up play began, Justin Pechie trailed Cory Carroll 2.167M to 1.193M. After a brief money presentation involving two Roman centurions along with Caesar and Cleopatra, action resumed.
On the seventh hand of heads-up play, Carroll took down the largest pot of the tournament worth 1.4M. Carroll raised on the button to 60K and Pechie called. The flop was
. Pechie checked, Carroll bet 85K, and Pechie called. The turn was
. Pechie checked and Carroll bet 180K. Pechie check-raised to 550K and Carroll went into the tank for several minutes. He moved all in and Pechie quickly mucked.
Five hands later Pechie doubled through Carroll. On a flop of
, Carroll checked, Pechie bet 85K and Carroll check-raised to 485K. Pechie moved all in for 825K and Carroll called with
for a open-ended straight draw. Pechie tabled
for top pair, with top kicker. The turn was
and the river was the
. Pechie doubled up to over 1.7M in chips as he took a slight lead.
On the 14th hand of heads-up play, Carroll crippled Pechie. From the button Pechie raised to 60K and Carroll popped him back for 200K. Pechie reraised to800K and Carroll moved all in. Pechie went into the tank for two minutes and called with
. Carroll flipped over
. Carroll's pocket nines held up as Pechie was down to 100K.
On the very next hand, (Hand #115 overall and the 15th hand of heads-up play) Pechie busted out when his
lost to Carroll's
. The flop was
. The turn was
and the river was
. Cory Carroll's hand held up and he won $506,176 for first place, while Justin Pechie took home $260,736 for second place.
Here's the final table results:
1 Corey Carroll $506,176
2 Justin Pechie $260,736
3 Eric Davis $130,368
4 Vasile Buboi $114,072
5 Paul Kitsos $97,776
6 David "The Dragon" Pham $81,840
7 Steve Wong $65,184
8 Michelle Law $48,888
9 Chad Brown $32,592
Ever since Carroll busted Mikael Thuritz late in Day 2, he held onto the chiplead for all but two brief moments.
"I felt good the whole final table, especially after David (Pham) exited," explained Carroll moments after his victory. "I stayed confident. I was crippled on the first day with a coin toss and down to 800 in chips. I won a second toss and never looked back."
Maybe now, the poker world will finally take notice of the deft skill of Cory Carroll, the latest WSOP Circuit winner.