Online Poker Weekend: 'RikkiTikki' Denies 'Legato' Third Stars Sunday Million Win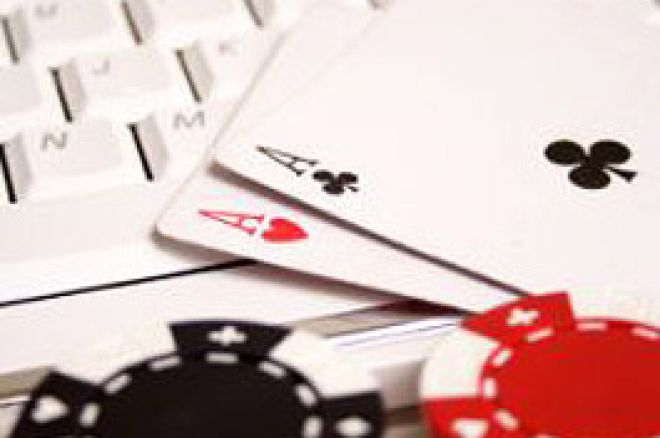 One of the best nights in recent online-tournament memory saw distinctive results across the board. A heads-up war between 'RikkiTikki' and Bo 'Legato' Sehlstedt stretched deep into the night... or morning for the European fans. Elsewhere, a star-packed final table at the Full Tilt $400,000 Guaranteed drew the railbirds by the droves, and a most unusual end to the Ultimate Bet $200,000 Guaranteed left an odd cap on a strong come-from-behind effort.
Poker Stars Sunday Million
The monthly $500+30 version of the Sunday Million ran last night, with 2,919 of the best players at Poker Stars on hand for the fun. The top 414 finishers received a payday of some sort, on up to the $268,402.05 available for first. The final table for this event had a taut bubble, and by the time it burst 'RikkiTikki' had built his stack to nearly $10 million in chips, more than twice his nearest competitor.
The first final-table player to depart was 'Suck My Ace,' who found an
holding worthless against the
of 'bigbrain2005.' The board came
, and the field was trimmed to eight. Next to the rail was 'timkrank,' whose
found trouble in 'Luiga da BP's
, with a board of
changing nothing. Seventh went to 'JJJanet,' whose final stand with
was topped by bigbrain2005's
when the board brought
.
Several dozen hands elapsed before the next knockout occurred, and that was of 'Pwnasaurus,' whose
was in trouble against RikkiTikki's
and out after the board offered
. Soon after, 'Jovial Gent's run ended in fifth when his
proved unlucky against Luigi da BP's
; the board arrived
and the field was narrowed again.
bigbrain2005's run ended when his short-stacked
ran into RikkiTikki's
; the board delivered
and the field was three. At this point, the three remaining players --- RikkiTikki, Luigi da BP, and Legato (this being Sehlstedt, who had nursed an early short stack through a couple of key double-throughs --- agreed on a deal for most of the remaining prize money. Legato picked off Luigi da BP on a hand where the chips again went in before the flop, Luigi da BP with
and Legato with
. The board arrived
, giving Legato a pair of kings and leaving him almost even with RikkiTikki entering head-to-head play, in addition to that third Sunday Million title.
Legato pulled ahead early in the matchup, only to see RikkiTikki double through to the lead with pocket queens. The lead would swap several times in the battle. The end finally came when the chips went in after a
flop. Legato held
for middle pair, but RikkiTikki showed
for top pair. The turn and river were the
and
, sealing RikkiTikki's win.
Final standings:
* 1st ($226,142): RikkiTikki
* 2nd ($135,431): Legato
* 3rd ($133,634): Luigi da BP
4th ($74,434.50): bigbrain2005
5th ($59,839.50): Jovial Gent
6th ($45,244.50): Pwnasaurus
7th ($31,817.10): JJJanet
8th ($20,141.10): timkrank
9th ($11,676): Suck My Ace
* --- three-way deal for remaining prize money; $30,000 to eventual winner
Full Tilt $400,000 Guaranteed
It was back to normal at Full Tilt, following the highly successful FTOPS series, if 'normal' means 2,597 players and a $519,400 prize purse. The cash ran 351 places deep and first was scheduled to receive $95,283.93. Two players were elimated on the same final-table bubble hand, meaning eight players made the last table, instead of the normal nine. Brady 'vegan213' Shepard topped $2.5 million in chips to hold a commanding early lead over a final table full of big online names, with Cliff 'JohnnyBax' Josephy surging late to move into second.
'cane3418' was bounced in eighth by 'thescarecrow13' early in the action. On that hand, cane3418 started ahead with
to thescarecrow13's
, but the
board gave thescarecrow13 the higher pair. Next, 'Tutnik' had
crushed by vegan213's
when the board brought
. Then 'magikstick8' made a big move forward, first by doubling through JohnnyBax by rivering a club flush, then picking off 'unknown4noww' in a three-way pot also including thescarecrow13. On that hand, with everyone's chips in pre-flop, magikstick8 started with
, thescarecrow13 had
, unknown4noww held
, and the board brought
.
After dropping a couple of big pots, 'russbuster' was forced all-in with a modest
; thescarecrow13 played
against him, and picked up the knockout when the board arrived
. Meanwhile, JohnnyBax took two large pots from vegan213 to move well into the lead, only to see magikstick8 go on an extended run that gave her a commanding edge. Four-way action continued until thescarecrow13 used
to eliminate vegan213, who held
and couldn't catch up when the board delivered
.
thescarecrow13 was bounced in a hand where he picked off magikstick8's buff after a
flop, only to be counterfeited to the rail. thescarecrow made that call with
and caught magikstick8 with
, but a
turn and
river made magikstick8's K kicker play, and gave her a 2:1 margin entering heads-up play against JohnnyBax.
The end came only seven hands later, when JohnnyBax pushed all-in with
and magikstick8 made the call with
. The board played out with
, giving magikstick8 the hard-fought triumph.
Final standings:
1st ($95,283.93): magikstick8
2nd ($58,484.44): JohnnyBax
3rd ($38,279.78): thescarecrow13
4th ($30,540.72): vegan213
5th ($23,113.30): russbuster
6th ($16,620.80): unknown4noww
7th ($12,205.90): Tutnik
8th ($9,556.96): cane3418
** 9th ($7,271.60): Sh00terTSN [** not at final table]
Party Poker $300,000 Guaranteed
Last night's edition of the Party Poker $300K found 1,445 players battling for the cash, with 200 making the payout structure and first worth $60,000. 'derdings' and 'Jukkie911' each had amassed about $1.5 million in chips to lead the way to the final table, and it was Jukkie911 who picked off several of the remaining opponents to steamroll his way to a relatively easy win.
First to fall was 'Stonygolf,' whose
found no help against Jukkie911's
on a
board. Next out was 'jogandumuito,' who had
cracked by Jukkie911's
when the board arrived
. 'macclaud' exited in eighth when his
ran afoul of 'MrAppleforce's
with a board of
. And seventh went 'sklansky18' --- no, not that one --- whose
couldn't overtake derdings'
when the board brought
.
Six-way play lasted for a longish stretch, before MrAppleforce himself departed, his
having 'Addicted2McD's
but falling when the board arrived
. That took most of MrAppleforce's chips, with the last few disappearing to Addicted2McD as well, who found pocket aces the very next hand. Fifth went to 'evs70,' a short stack who doubled through twice from the brink before exiting in a hand where Jukkie911 made a K-high straight. derdings' run came to an end in fourth, his last push with
foiled by Jukkie911's
when the board delivered
.
From there the rout was on. Jukkie911 next won a race with
against 'seiuchi's
, the board serving up
. And lastly, Addicted2McD got his remaining chips in with the best of it, with
to Jukkie911's
, but finished as the runner-up regardless when the board brought
.
Final standings:
1st ($60,000): Jukkie911
2nd ($33,000): Addicted2McD
3rd ($20,700): seiuchi
4th ($16,350): derdings
5th ($13,800): evs70
6th ($10,350): MrAppleforce
7th: ($7,950): sklansky18
8th ($5,250): macclaud
9th ($4,050): jogandumuito
10th ($2,850): Stonygolf
Ultimate Bet $200,000 Guaranteed
867 players joined the fun at the Ultimate Bet $200,000 Guaranteed, meaning that a generous overlay of nearly $30,000 was available to the players. 'KAZAG' led the way to a tightly packed final table with just over $400,000 in chips. 'clcktower's bell tolled midnight just a few hands in, when his push with
ran into 'FeedMEMunE's waiting
, after a
flop. A turn
and river
gave FeedMEMunE the full boat and the knockout.
Ninth place went to 'Phil X,' whose
looked solid against 'giboman's
, but departed when the board played out
. 'AudiA3' finished in eighth, a last push with
doomed against the
of 'winnAA' when the board brought
. Next, giboman went to the rail in seventh when he pushed all-in with
and found FeedMEMunE waiting with
; the board brought
, and the field was down to six.
winnAA claimed another victim when he used
to dispatch 'EL DEDO,' who held
and found no help on a
board. winnAA made it back-to-back sendoffs with the departure of 'ParManN' in fifth, who rolled the dice with
against winnAA's
and came up empty on a
offering. Then it was FeedMEMunE's turn, using
to top KAZAG's all-in
with a board that arrived
. Then winnAA dropped two straight huge pots to 'raaazib' to bow out in third; the second of those saw a push with
that met raaazib's waiting
, and was dead after the turn on a board that eventually read
.
While raaazib and FeedMEMunE started heads-up play nearly equal, raaazib took down a couple of small pots to inch ahead. Then, FeedMEMunE suffered a disconnection, and raaazib speed-raised for a couple of dozen hands to consume most of FeedMEMunE's chips. When FeedMEMunE reestablished contact, it was roughly an 85/15 ratio in chips between the two. The last hand saw FeedMEMunE push with
, and raaazib make the call with
. The board arrived
, giving raaazib a pair of kings and a somewhat anticlimactic win.
Final standings:
1st ($45,000): raaazib
2nd ($27,000): FeedMEMunE
3rd ($18,500): winnAA
4th ($13,000): KAZAG
5th ($11,000): ParManD
6th ($9,000): EL DEDO
7th ($7,000): giboman
8th ($5,000): AudiA3
9th ($3,500): Phil X
10th: ($2,000): clcktower