Online Poker Weekend: 'tanbai' Rides Pocket Jacks to Stars Triumph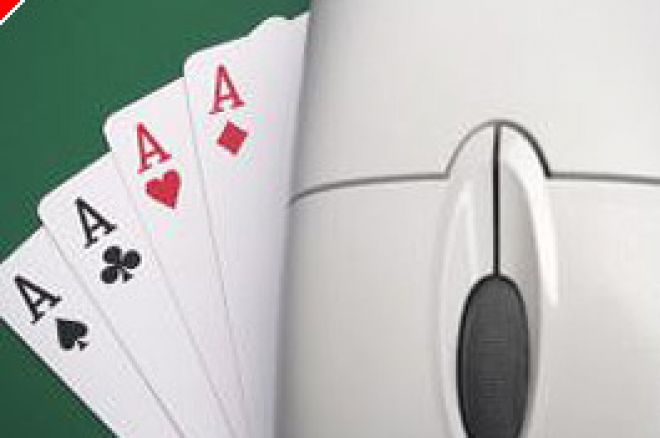 A record turnout at Poker Stars for the '10 Billionth Hand' version of the Sunday Million led the way on a busy online night. Not counting the FTOPS Main Event (covered in a separate story), the word of the day was 'chop' --- the biggest events at Stars, Party Poker and Ultimate Bet all saw deals made late at the final table.
Poker Stars Sunday Million
Poker Stars 10-Billionth Hand Special featured an extra $250,000 added to the prize fund, and it drew huge numbers --- 10,894 players ponied up the $200+15 entry fee, which added with the Stars donation swelled the overall pool to $2,428,800. An incredible 2,619 places paid, with the top nine players receiving five-digit paydays and first scheduled at $229,764.48. 'rf11527' had amassed over $21 million in chips to lead the way to the final table, and picked up the first knockout at it as well, using
to top 'schulle1's
on a board of
.
After 'tanbai' moved to the lead by doubling through rf1157, 'oldschool043' exited in eighth, his
topped by 'uncpeej's
when the board came
. Next to fall was 'rushcezar,' whose
was no good against the
of '011180' on a
board. A long stretch of six-way play then ensued before uncpeej was bounced in sixth, his
topped by tanbai's
when the board brought
.
It was 011180, however, who moved into and began building the lead, aggressively picking up numerous smaller pots. 011180 finally sent rf11527 to the rail, defending from the big blind with
, and ultimately outracing rf11527's
when the board arrived
. 'jeffbeesdat' nursed a short stack to fourth place but could climb no higher, finally committing with a
holding that went nowhere against 'PiMaster's
; the board delivered
and the field was down to three.
011180 held a huge lead entering three-handed play, but PiMaster filled a straight on the turn after an all-in push against 011180 to narrow the margin. 011180 kept the pressure on, and PiMaster ended up dropping most of his chips after pushing pocket eights into tanbai's waiting pocket kings; a king on then turn assured PiMaster would be on the brink. tanbai completed the knockout on the next hand, using
to top PiMaster's
on a
board.
011180 and tanbai tried but failed to work out a chop with 011180 well ahead in chips, then played on. Fortune shifted, though, when tanbai caught pocket jacks the same hand that 011180 held nines, and tanbai's jacks held up. The hand brought the two almost even in chips, where they agreed to a chip-count deal for most of the remaining money. In the end it was tanbai who made the late rush to the win. The final hand saw 011180 run a huge bluff with the board reading
after the turn, with 011180 making big bets on both the flop and turn rounds. tanbai, however, held
for two pairs, meaning 011180 was drawing dead before the
river arrived.
Final standings:
* 1st ($187,901): tanbai
* 2nd ($160,875): 011180
3rd ($85,736.64): PiMaster
4th ($59,991.36): jeffbeesdat
5th ($45,661.44): rf11527
6th ($34,974.72): uncpeej
7th ($24,530.88): rushcezar
8th ($17,244.48): oldschool043
9th ($12,144.00): schulle1
* --- two-way chop; $30,000 to eventual winner
Party Poker $300,000 Guaranteed
Party Poker enjoyed a surge in attendance for last night's $300,000 Guaranteed. 1,547 players were on hand, producing a total purse of $309,400. 200 places paid, with first worth $61,880. 'STRUPICIO' had topped the two-million chip mark as the final table came together, to hold an early lead.
Tenth went to 'kongetoa' whose
was trounced by STRUPICIU's
when the board brought
. Ninth went to 'nfladdict,' who lost all but a few thousand chips after pushing
into 'WA_THO_HUCK's
, the board arriving
. nfladdict08 bowed out on the next hand, to 'andromida111's pocket kings. A short-stacked 'tpnkl' exited next, forced in from the small blind with
, only to find WA_THO_HUCK waiting with
and an unforgiving board of
.
Seventh place went to 'Jeanocyde,' whose
was run down by the modest
of '|__MCMK__|' as the board delivered
. 'skodko' finished sixth after his
was dominated by andromida111's
, the board showing
. Then 'NatoBelo's run ended in fifth, her
outraced by |__MCMK__|'s
when the board came
. andromida111's big knockout pot had given him the lead, and with four players left the survivors quickly accepted a chip-count deal to divvy up the remaining money.
Final standings:
** 1st ($43,871.37): andromida111
** 2nd ($32,821.01): STRUPICIU
** 3rd ($30,331.02): |__MCMK__|
** 4th ($27,102.52): WA_THO_HUCK
5th ($14,232.40): NatoBelo
6th ($10,674.30): skodko
7th: ($8,199.10): Jeanocyde
8th ($5,414.50): tpnkl
9th ($4,176.90): nfladdict08
10th ($2,939.30): kongetoa
** --- four-way chop for remaining prize money
Ultimate Bet $200,000 Guaranteed
1,010 players signed up for the $200,000 Guaranteed at Ultimate Bet, exceeding the pre-tourney guarantee by a narrow margin. The total prize pool was $202,000, 110 players made the money, and first-place money came to $44,440. 'dougr2,' 'bigegypt,' and 'HurricaneDK27' each had between $500,000 and $600,000 in chips as the final table began. No other player had more than $200,000.
The first knockout came on the first hand of final-table play, when 'HB_HITMAN' pushed with
, in front of dougr2, who called with
and picked up the knockout when the board arrived
. 'USCTrojans08' departed next, his
outclassed by the
of 'simoneb73,' and unlucky as the board of
unfolded. simoneb73 then won a huge showdown against bigegypt, picking up the knockout and moving well out in front. On that hand, simoneb73 held
to bigegypt's
, with the chips going in after a
flop. A
turn and
river completed the hand's action.
HurricaneDK27 also went from the top of the pack to the rail, finally exiting when his
couldn't connect against 'fiveaceswins'
, the board of
giving fiveaceswins the knockout. labuska survived several all-in showdowns but suffered a bad beat to depart in sixth, his
rivered by simoneb73's
when the board brought
. Fifth went to 'JBlaze20, who was forced to push with
; fiveacewins made the call with
and won when the board came
.
fiveaceswins' run came to an end in fourth. He departed after losing a race with
against dougr2's
, dougr2 getting the knockout on the river when the board completed
.
simonb73 used
to send 'Biggies05' to the rail in third. Biggies05 had the shortest remaining stack and risked it all with
, but came up on the short end of a wild
board. This left simoneb73 with a narrow lead over dougr2 entered head-to-head play. The two then agreed to an even chop, allowing the hands to be auto-folded as they tried to e-mail a site manager to stop the action. After over a half-hour of watching their hands auto-folded, they realized that UB does not respond to requests for chops, and decided to arrange an uneasy split on their own.
Final standings:
*** 1st ($35,228.80): simoneb73
*** 2nd ($35,228.80): dougr2
3rd ($17,978): Biggies05
4th ($13,130): fiveaceswins
5th ($10,605): JBlaze20
6th ($8,484): labuska
7th ($6,464): HurricaneDK27
8th ($4,545): bigegypt
9th ($3,434): USCTrojans08
10th ($2,020): HB_HITMAN
*** --- two-way chop for remaining prize money