Poker Room Review: Paris, Las Vegas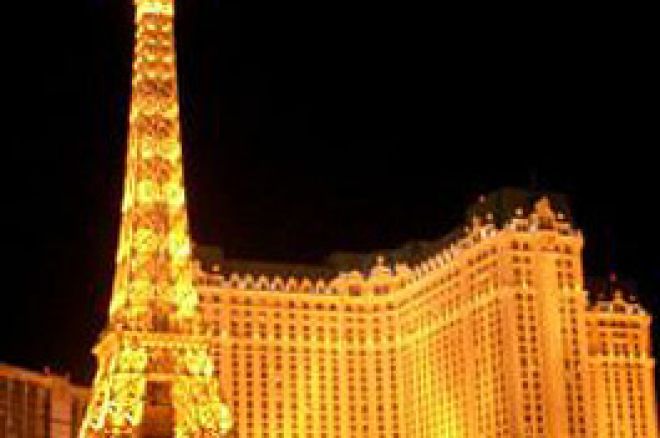 If you have ever been in Paris (the casino in Las Vegas, not the City in France) you know the legs of the pseudo-Eiffel Tower are part of the casino. The entire décor of the Paris casino always seemed to me to be dark and a bit cramped under all that metal. The new poker room in Paris has changed my mind.
A new poker room in Las Vegas opens about as often as a new lounge act. Thinking of new designs and new gimmicks is always on the mind of casino management. I like what they have done in Paris. The poker room almost is an extension of the sports book; in fact, the big odds board actually stretches across the main wall of the poker room. This means no cell phones are allowed in the room, which I really like. The poker room is long and narrow and is elevated a few steps above the sports book; a few more steps up to a really nice and secluded bar. In fact the trio: book, bar and poker are sequestered in their own corner of the casino, away from the noise and traffic.
The poker room in Paris has seven tables and spreads mainly $3/$6 and $4/$8 Hold'em and $1/$2 No Limit with a $100 to $300 buy-in. Other games and higher limits are available but like most low limit houses there is seldom action for those games. The weekends do often see a $2/$5 No Limit table with $200-$500 buy-ins.
The highlights of the Paris card room are the 24-Hour Rolling Poker Tournaments. The buy-in is $65 for a 2,000 chip No Limit Hold'em event with 20 minute levels and a fairly quick structure. The key to this great tournament is that they run the event every two hours, all day, every day. A tournament starts on the half hour every odd hour: 1:30, 3:30, 5:30, 7:30, 9:30, 11:30 and repeat. AM and PM; morning, noon and night; weekdays and weekends. You may enter the tournament during the first 20 minute level and you may reenter if you bust during that first level. You may enter multiple back-to-back tournaments and get a refund if you are still in the earlier event when the next start time rolls around. Basically, you can sit in Paris and play tournament poker all day long.
There is a High Hand Jackpot at Paris for all straight flushes and four of a kind. Starting May 1st there is a new Mega-Bad Beat Hold'em Jackpot that is really worth looking at. First of all, the new Mega Bad Beat is a multiple casino Jackpot including in Las Vegas: Paris, Harrah's, Flamingo, O'Sheas, Bally's and also Harrah's in Laughlin. The MBB starts at $50,000 and goes up each morning until it is won. The qualifying hand starts at Four 10's and goes down every week until it reaches Four 2's. The split is 30% to the losing bad beat hand, 20% to the winning hand and 50% divided among all other seated players in all six poker rooms in any Hold'em game.
These six participating casinos may be joined in the future by other Harrah's properties both in Las Vegas and elsewhere. The Mega Bad Beat is the only multi-room Jackpot that is currently being played at Vegas Strip based poker rooms.
Paris Las Vegas
3655 Las Vegas Boulevard South
Las Vegas, NV 89109