WSOP Circuit Event at Caesar's Palace - Day 1 Recap
Paul McGuire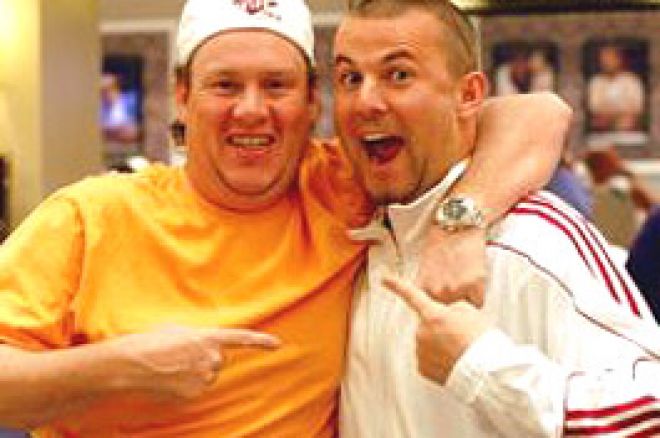 The WSOP Circuit series continued with their latest stop at Caesar's Palace in Las Vegas. The $5,000 + $150 buy-in NL Hold'em tournament attracted 336 entrants which exceeded initial expectations by tournament staff. The total prize pool is an impressive $1,629,600 and the top 36 places will make the money. First place will take home $506,176 and a seat in the WSOP Main Event championship. With 75 minute levels, the tournament progressed at a rapid pace as over 77% or over 260 players busted out on the first day. David "The Dragon" Pham ended Day 1 as the chipleader with over 143K.
Plenty of the biggest names in poker were in the starting field of the three-day tournament such as Greg Raymer, Chris Jesus Ferguson, Scotty Nguyen, Men the Master, Erick Lindgren, Barry Greenstein, David Williams, Max Pescatori, Amir Vahedi, Chris Ferguson, Jeff Madsen, Lee Watkinson, Billy Baxter, Rene Angelil, Huck Seed, Peter "Nordberg" Feldman, J.J. Liu, Gavin Smith, Kathy Liebert, Joe Sebok, Harry Demetriou, CK Hua, J.C. Alvarado, David Sklansky, Daniel Alaei, David "The Dragon" Pham, Joe Bartholdi, Anna Wroblewski, Evelyn Ng, Dan Alspach, and Barry Shulman.
Aside from few unintelligible jokes from Men the Master and Layne Flack's wine binge at the tables, action was relatively quiet compared to other tournaments.
"Everyone is trying to make it to tomorrow. Everyone is folding, folding, folding. It's kinda boring," explained Joe Bartholdi.
The most adorable couple in poker, Erica Schoenberg and David Benyamine, found themselves sitting at the same starting table. Fortunately, their table was one of the first to break. Schoenberg was down to 3.5K in chips before she doubled through Brandon Adams with K-K shortly after the dinner break. Her rush continued when she flopped a full house against Adams and busted him.
In another decisive hand, Schoenberg limped under the gun in a five-way pot. The flop was
, and all five players checked. The turn card was the
and one player bet 1,200. Schoenberg and another player called. The river was the
and Schoenberg fired out 4,000. One opponent folded while another called. She turned over
for a full house. That hand propelled her to over 32K.
Schoenberg added more chips to her stack when she found A-A and busted an opponent with K-K. She pushed her stack past 40K. After she took a small hit, she bounced right back when she cracked pocket Aces with 3-3 after she flopped a set.
David "The Dragon" Pham jumped out to a big lead late in the evening and was among the chipleaders along with Steve Wong, Layne Flack, Brock "tsoprano" Parker, and Nick Schulman. By the time Day 1 completed, there were 75 players left. Day 2 will begin at noon and will not stop until nine players remain. The final table will take place on Wednesday at 2PM local time.
Top 10 Day 1 Chip Counts:
David "The Dragon" Pham 143,800
Steve Wong 125,000
Vasile Buboi 117,400
Justin Pechie 113,100
Brock "tsoprano" Parker 100,000
Fred Berger 99,100
Layne Flack 97,900
Nick Schulman 96,800
Justin "ZeeJustin" Bonomo 88,800
Roland Isra 83,600
Notable Chip Counts:
Peter "Nordberg" Feldman 72,500
Mikael Thuritz 65,000
Shannon Shorr 62,700
Erica Schoenberg 56,600
Chad Brown 48,100
Arnold Spee 44,400
Eugene Todd 26,700
Rhett Butler 24,500
David Plastik 22,900
Jordan Morgan 21,300
Toto Leonidas 19,700
Erick Lindgren 16,300
Miami John Cernuto 10,200
Pros advancing to Day 2 included David "The Dragon" Pham, Erick Lindgren, Layne Flack, Chad Brown, Erica Schoenberg, Mikael Thuritz, Nick Schulman, Shannon Shorr, Peter "Nordberg" Feldman, Justin "ZeeJustin" Bonomo, Steve Wong, Justin Pechie, Frederick Berger, Arnold Spee, Jordan Morgan, Miami John Cernuto, Kosta Sangos, Eugene Todd, Brock "tsoprano" Parker, David Plastik, Can Kim Hua, Raymond Davis, and Toto Leonidas.
Pros and noteworthy bustouts included Chris "Jesus" Ferguson, Alex Jacob, Allen Kessler, Amir Vahedi, Anna Wroblewski, Barry Greenstein, Barry Shulman, Bill Edler, Billy Baxter, Blair Rodman, Brandon Adams, Bryan Devonshire, Burt Boutin, Cory Zeidman, Dan Alspach, Daniel Alaei, David Benyamine, David Levi, David Singer, David Sklansky, David Williams, Davidson Matthew, Eli Elezra, Eric Mizrachi, Evelyn Ng, Gavin Smith, Greg Raymer, Harry Demetriou, Huckleberry Seed, J.C. Alvarado, J.J. Liu, James Van Alstyne, Jared Hamby, Jason Stern, Jean Gaspard, Jeff Madsen, Jimmy Tran, Joe Bartholdi, Joe Sebok, John Phan, John Spadavecchia, Jon Friedberg, Kathy Liebert, Kenna James, Lee Watkinson, Leif Force, Mark Seif, Max Pescatori, Men "The Master" Nguyen, Michael Binger, Mimi Tran, Nam Le, O'Neil Longson, Paul Wasicka, Peter Costa, Rene Angelil, Robert Mizrachi, Scott Fischman, Scotty Nguyen, Shane Schleger, Shawn Rice, Steve Dannenmann, Surinder Sunar, Ted Lawson, and Todd Witteless.
Action will resume at noon in the tournament room at Caesar's Palace for Day 2 of the WSOP Circuit event. Check in with PokerNews for live tournament updates, photos, chip counts, and videos.