WSOP Circuit Championship, Caesars Palace: Day 2 Recap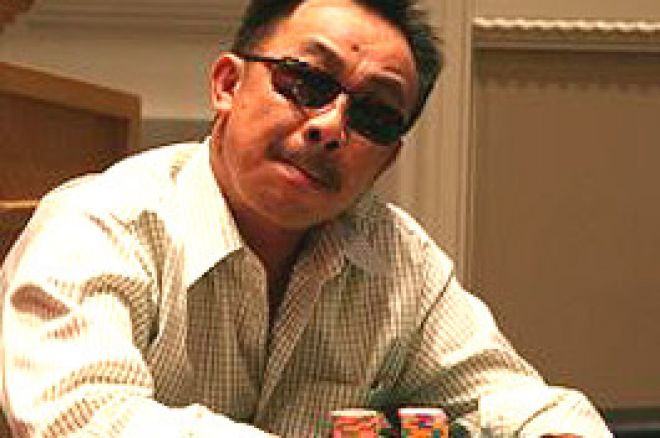 The WSOP Circuit Championship at Caesars Palace in Las Vegas returned for Day 2 on Tuesday with 75 players still in the hunt. Only 36 would finish in the money, and only 9 would make it to Wednesday's final table, where the big prize money was waiting (including over $500,000 for first place).
As the middle of a three-day tournament, Day 2 filled multiple roles — it was moving day, the money day, and the homestretch to the final table.
MOVING DAY
There were quite a few big names among the 75 players who started the day shortly after 12:00 noon, including Erick Lindgren, Layne Flack, Nick "The Takeover" Schulman, Justin "ZeeJustin" Bonomo, Chad Brown, Gene Todd, and Day 1 chipleader David "The Dragon" Pham. But when the tournament director announced "Shuffle up and deal," one seat was still empty — belonging to Adam Zinn.
Erick Lindgren started the day with a short stack, so his first step to the final table would be to double up. Unfortunately, his all-in move didn't work out, and he was quickly eliminated on the third hand of the day.
After an hour of play, Layne Flack was his usual happy-go-lucky self, sitting behind a big stack of chips. Then he got too aggressive with a diamond flush draw, and tried to push Chad Brown out of a pot by reraising all in after the flop. But it's near impossible to chase a player who has the nuts — Brown flopped a ten-high straight with
. Flack missed his flush draw, and his day was suddenly over.
Adam Zinn's chip stack was originally 26,900, but it was quickly getting eaten up by the blinds. As the field thinned, there was still no sign of him.
Erica Schoenberg appeared to have used up her luck after the dinner break on Day 1. Running low on chips, she moved all in from early position with A-2, and was in pretty good shape against her opponent's Q-8 — until her opponent flopped a pair of eights. Schoenberg's hand never improved, and she was sent home.
Zinn finally showed up about 2:00 pm, claiming he had been told it was a 2:00 pm start. It's a tough argument to sell, considering the other 74 players showed up on time at noon. He had lost over 70% of his chips to blinds and antes, and was down below 4,500 — leaving him little room to maneuver. He may have arrived late, but he left early; Adam Zinn was eliminated less than ten minutes after he sat down.
Altogether, it took less than 2 1/2 hours to lose half the players in the field and reach the money bubble. That's when the tournament entered the next phase.
MONEY DAY
When "ZeeJustin" Bonomo was eliminated in 38th place, the tournament switched to hand-for-hand play. It can sometimes take a couple hours to bust the money bubble, but this was a quick one — 35 minutes. (And that includes a 15-minute break.) Brock "tsoprano" Parker was all in with pocket jacks against David Pham's A-4, but Pham paired his ace on the flop. Parker was the unfortunate 37th place finisher, the last person to go home with nothing.
The eliminations continued to come quickly, and in the span of one 75-minute level, the field dwindled from four tables to three. Toto Leonidas busted in 27th, Peter "Nordberg" Feldman was out in 25th, and Arnold Spee was bounced in 23rd. Mikael Thuritz, who reached the final three tables of the WPT World Championship last week, accomplished the same feat here, finishing 22nd.
Shannon Shorr, the youngster who has won over $1.5 million in the last 14 months, moved his short stack all in with A-9, but he was dominated by Sonny Lee's A-J suited. Lee would turn a diamond flush to win the hand and send Shorr home in 21st place with just $9,778 for his two days of work.
HOMESTRETCH TO THE FINAL TABLE
It was about 8:00 pm when Sonny Lee called all in with trip queens on the turn, only to see Fred Berger reveal the nut flush. Lee missed his outs to a full house, and busted in 19th place. The remaining players had reached the final two tables. Tom Macey (18th place) and Chris McCormack (17th) quickly busted as the short stacks, and then there was a relatively quiet period without much action.
At about 9:00 pm, David Pham raised under the gun, Nick Schulman reraised from the small blind, and Pham called. The flop came
, and Schulman check-raised all in, trying to take the pot right there with
. He didn't expect Pham to be holding
— good for two pair and a quick call. The
on the turn gave Schulman 12 outs to win the hand, but the river was the
, and Pham doubled up into second place, behind chipleader Cory Carroll. Schulman was knocked down to 61,500.
That hand was followed by a 15-minute break, and when they came back, Schulman tried the all-in move again, this time preflop with
. But Pham woke up with
, and the pocket tens held up on a board of
. Nick "TheTakeover" Schulman was out in 16th place.
The next ten minutes saw the departures of Phil Matthews (15th) and Pat Atchison (14th), followed half an hour later by Toshiki Goto (13th).
That's when Michelle Law, the last female in the tournament, was faced with a big decision. The board showed
on the turn, and she had
(second pair). Pham had bet 25,000, and she knew it was time to push or fold. She thought for several minutes before moving all in for 71,000, only to see Pham flip over
(top pair). Law was drawing to just five outs, and the river card was — the
! She made trip kings to win the pot and double up to 236,000. Pham was still in good shape with 591,000, but if his hand held up he would have moved into the chip lead.
Fifteen minutes later, Pham would lose another 120,000 or so when he flopped a set only to watch four diamonds appear on the board. Chipleader Cory Carroll bet 120,000 on the river, and Pham had to fold.
After ten more minutes, Gene Todd's
ran into Justin Pechie's
. Pechie flopped an ace, and Todd was out in 12th place. Shortly after another blind increase, Fred Berger flopped top pair on a 7-3-3 board, but he didn't have enough chips to scare off Steve Wong's gutshot straight draw with 6-4. A 5 hit on the river to send Berger home in 11th place on a bad beat.
The final ten players redrew for seats at the final table, and play continued until one more player busted. In the very first hand, with blinds at 4,000-8,000 (1,000 ante), Mark Wilds moved all in for 80,000 with A-3, but Paul Kitsos had him dominated with A-Q. A queen on the turn clinched the pot for Kitsos, and Wilds was out in 10th place. It happened so quickly that the tournament clock hadn't even been restarted after the break.
THE FINAL TABLISTS
At 11:15 pm, it was all over, and the final table was set. Here are the final nine players and their chip counts:
Seat 1 - Chad Brown - 136,000
Seat 2 - Vasile Buboi - 349,000
Seat 3 - Justin Pechie - 307,000
Seat 4 - Cory Carroll - 713,000
Seat 5 - Eric Davis - 272,000
Seat 6 - Steve Wong - 573,000
Seat 7 - Michelle Law - 192,000
Seat 8 - Paul Kitsos - 327,000
Seat 9 - David "The Dragon" Pham - 491,000
A few notes on the final tablists:
Seat 1. <B>Chad Brown[/B] is a professional actor who might be more famous as a professional poker player, with over $1.69 million in career poker earnings. He is a fixture on the tournament circuit, and won Bluff Magazine's 2006 Player of the Year for his consistent deep finishes in major tournaments. He was also the runner-up to Paul Wasicka at the recent NBC National Heads-Up Championship. As the short stack, he'll be at the mercy of the cards early.
Seat 2. Vasile Buboi has some small tournament wins in Vegas and Los Angeles, and the peak of his poker career was a 4th place finish in a $2,500 championship event at the Bicycle Casino in 2005. As the owner of an aerospace manufacturing company, he's probably too busy to play a lot of tournaments.
Seat 3. Justin Pechie finished 3rd at a WSOP final table last summer, and won a preliminary event at the L.A. Poker Classic in February. He has over $350,000 in career live tournament winnings, but he's in a tough spot, with a slightly-below-average stack and sitting out of position to the chip leader.
Seat 4. Cory Carroll doesn't have much of a live tournament record ($56,000 in career earnings), but this Canadian online player has reached multiple final tables in the PokerStars Million tournaments. He has the chips on his side and has played a strong tournament so far.
Seat 5. Eric Ray Davis is a local player from Henderson, Nevada, who lists his occupation as "rigger." This is his first cash in a championship event, but he did finish 2nd in a $1,000 no-limit hold'em event at Bellagio last spring, earning $26,435.
Seat 6. Steve Wong became just the 20th person to ever win over a million dollars in Bellagio tournaments — a feat he accomplished in the span of just two months late last year. That includes a second-place finish ($542,700) in the WPT Festa Al Lago last October. He finished 2006 ranked #14 in the Poker Player of the Year standings, and he starts the final table with plenty of chips and good position against the other big stacks.
Seat 7. Michelle Law is a local player and a regular in the Caesars Palace poker room. The only tournament cash on her record is a 6th-place finish at the $1,000 no-limit hold'em ladies event at the recent L.A. Poker Classic. Poker generally doesn't favor those with homefield advantage, but with only 192,000 in chips, she'll take every edge she can get.
Seat 8. Paul Kitsos doesn't have a long poker resume, but this New Yorker is a self-made man in the garment business. The highlight of his poker career was a 463rd-place finish in the WSOP Main Event.
Seat 9. David Pham is the most notable final tablist, currently ranked #10 in the Poker Player of the Year standings. Pham is a perennial on that list, and a victory here will move him into the #2 slot behind J.C. Tran. Pham has two WSOP bracelets, three WPT final tables, and over $5 million in career tournament earnings on his resume. He was a close second to Daniel Negreanu for the 2004 Player of the Year award.
Here are the final table prizes:
1st - $506,176
2nd - $260,736
3rd - $130,368
4th - $114,072
5th - $97,776
6th - $81,840
7th - $65,184
8th - $48,888
9th - $32,592
The final table is scheduled to begin at 2:00 pm PDT. Return to PokerNews.com for live hand-by-hand coverage of all the action, including photos and chip counts.