WSOP Birthplace to Change Hands Again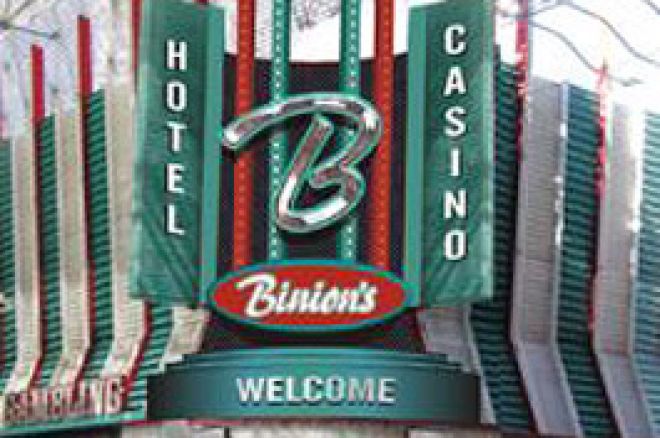 As the 38th WSOP battles onward, the place where it all started has been sold once again. On June 27th, MTR Gaming Group announced that they had signed a definitive agreement to sell Binion's Gambling Hall and Hotel for $32 million to TLC Casino Enterprises, owners of the Four Queens Hotel and Casino. MTR bought Binion's from Harrah's in 2004 for $20 million shortly after Harrah's purchased it from Becky Binion Behnen. Harrah's retained the rights to the WSOP.
It was once MTR's intention to restore Binion's to its past days of glory. "I don't know if we'll get back to where it was when Jack Binion (Benny's son) ran it, but we're going to try," said William Robinson, MTR Vice President. But as MTR continued to upgrade the facility, the Binion's property failed to show financial improvement and speculation grew about its pending sale. According to MTR's most recent SEC filings, Binion's net revenues were down 9 percent for the first quarter compared to last year. They also posted an increase in negative cash flow of $682,000 as compared to $609,000 in the first quarter of 2006.
MTR stated that the sale would allow them to refocus on their properties in West Virginia and Pennsylvania. Ted Arneault, MTR's President and CEO, further stated, "Terry Caudill has a proven track record in Downtown Las Vegas with the Four Queens, and we believe that Binion's and our employees will benefit from his stewardship."
Benny Binion bought the Eldorado Club in 1951, creating Binion's Horseshoe. In 1970, Binion hosted the first WSOP. The WSOP was held at Binion's, in its entirety, through 2004. In 2005, Harrah's moved the WSOP to the Rio, but under an agreement with the city of Las Vegas, played the final two days of the Main Event at Binion's. Australia's Joe Hachem was the last player to win a WSOP bracelet in the house that Benny built.