2007 WSOP Overview, June 6th — Schneider, Spegal Strike Bracelet Gold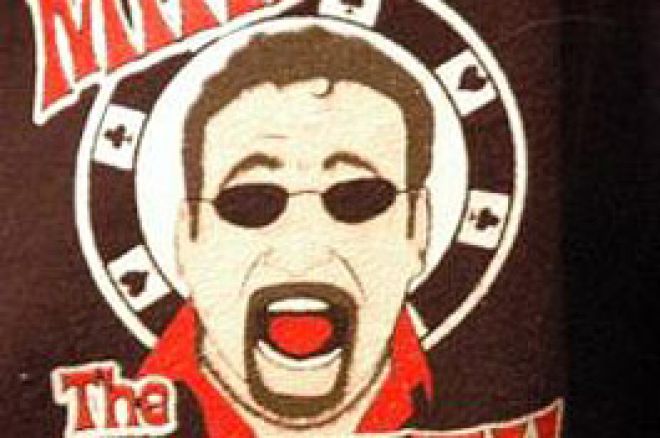 World Series of Poker® fans were treated to a hectic, star-stuffed Monday featuring a pair of new bracelet winners. Tom Schneider, veteran cash-game player and occasional poker-podcast co-host, never relinquished the commanding lead he took to the final table of Event #5, $2,500 Pot Limit Omaha & 7 Card Stud Hi / Lo despite staring at the likes of Chris 'Jesus' Ferguson, Annie Duke, John 'The Razor' Phan and David Benyamine. None of those four, however, provided the closest challenge, as the lesser-known Edmond 'Omaha Ed' Tonnellier came from having the table's shortest stack at the day's start to being the eventual runner-up; Duke placed third and Ferguson took fourth. Schneider picked up $214,347 for the win.
Over in Event #4, $1,500 Pot Limit Hold 'Em, another bracelet was up for grabs. Gavin Smith entered the day with a sizeable chip lead and sent several of the other players, including Eric 'Rizen' Lynch and Marco Traniello, to the rail, but Mike Spegal surged forward and into the lead with a big knockout of Jon Friedberg. Spegal and Smith battled heads-up for several dozen hands before Spegal finally prevailed, completing a flush on the event's final hand for the victory, worth $252,290 in addition to the WSOP gold.
Two bracelets were awarded, but that accounted for only a small portion of the WSOP action on the day. Events #6 ($1,500 Limit Hold 'Em) and #7 ($5,000 Pot Limit Omaha w/ rebuys) played down to final tables, with bracelets to be awarded in those events today. Events #8 ($1,000 NL w/ rebuys) and #9 ($1,500 Omaha 8 or Better) began play. In Event #6, Day One leader Tam 'Tommy' Hang found tougher sledding, and bowed out in 42nd (though that did make the money), while Gary Styczynski enjoyed a great Day Two, finishing on top with over 800,000 in chips. James Gorham, with 632,000, finished the day in second, with no other player coming to today's final table with over 400,000 in chips.
Event #7, a high-dollar Omaha tourney with re-buys allowed, naturally attracted a smaller, deeper-bankrolled field that was heavy on the star power. John Juanda amassed a huge stack of chips in the early going but gave most of them back in the last hours of play, with Omaha expert David 'Devilfish' Ulliott overtaking Eric Cajelais very late in the proceedings to lead the way to this event's final table, also scheduled later today. The star-packed final table also includes Juanda, Humberto Brenes, Burt Boutin and Larry Jonsson.
Event #8, the $1,000 NL w/ re-buys, featured relatively inexpensive re-buy action and lots of pros willing to have some fun in the early going. Cory 'UGOTPZD' Carroll and Layne Flack were two pros who caught the worst of the early wild action, making 19 and 12 re-buys, respectively; they were far from the only pros so inclined. By the time the chip purchases completed, the 844 players had combined to build a prize pool of $2,533,062, with first place worth $585,774. Well-known online star Sorel 'Imper1um' Mizzi led the first day's action with 240,000 chips, with Michael Binger, Amir Vahedi and Gavin Griffin in the next three spots.
Event #9 offered the most unusual 'non-poker' poker sidebar of the day, with the tourney beginning play in the new 'Poker Pavilion' that's adjacent to the Amazon Room, but technically outside the main Rio Convention Center. The Poker Pavilion proved more fragile than expected, rattling and shaking on a day when the desert breezes were strong, and tourney officials called a halt to play after numerous complaints, creating an extended break until all players could be seated inside. The air was calmer inside but the action remained frenzied, and the end of Day One saw Jordan 'iMsoLucky0' Morgan at the front of a tightly packed field.
In addition to the four events resuming play on Thursday, two more tourneys get underway. Event #10, $2,000 NL Hold 'Em, begins at noon PDT, while Event #11, $5,000 World Championship Seven Card Stud, is slated to start at 5pm.