2007 WSOP Overview, June 12th — Hellmuth Makes WSOP History with 11th Event Win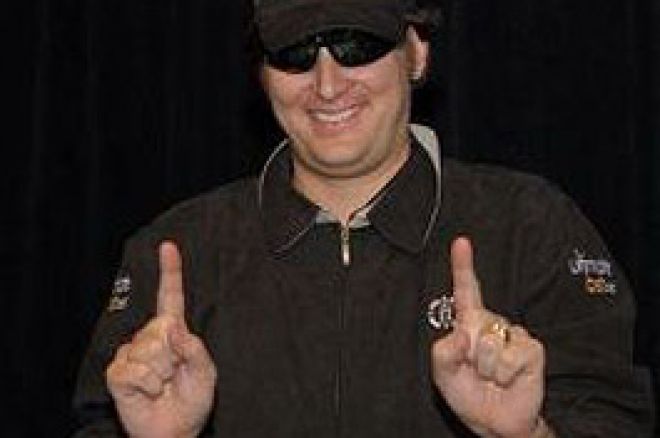 Phil Hellmuth's star shone bright on Monday evening, as he emerged from the sequestering of the private Bluff filming tent in the Amazon Room with his 11th WSOP bracelet, a new career mark. Hellmuth, who broke his year-old tie with Doyle Brunson and Johnny Chan at ten bracelets apiece, captured the title in Event #15, $1,500 No Limit Hold 'Em.
Hellmuth was in second place behind Rick Fuller at the start of the day, and he and Fuller dispatched most of the shorter stacks, including French star Fabrice Soulier, early in the action. Hellmuth then pulled ahead in the final table's middle stages, assuming a commanding lead over Fuller, Andy Philacheck and Morgan Machina that he rode to a runaway victory. Philacheck claimed the runner-up spot with Fuller in third. Hellmuth's victory meant $637,254 in addition to the coveted 11th bracelet.
Doyle Brunson was close to Hellmuth's achievement in more ways than one. Brunson began the second day of Event #18, $5,000 World Championship Limit Hold 'Em, in the top ten in chips and eyeing an 11th bracelet of his own. Brunson was still in the running when Hellmuth claimed his record-setting win, as play in this event was stopped temporarily so Brunson and Johnny Chan could attend Hellmuth's bracelet-presentation ceremony. Unfortunately for Brunson, his own Event #18 run was about to end, as he bowed out just short of the money bubble. William Thorsson began the day in the lead and finished the same way, heading a final table today that also includes Thor Hansen.
And there was another bracelet besides Hellmuth's awarded on the day. James Richburg, a 2006 bracelet winner, came through for the win in Event #16, $2,500 H.O.R.S.E. Richburg was closely behind Ali Eslami at the start of final-table play, and overcame middle-stage leader Walter Browne for the win. Chris Bjorin finished third and Tom Schneider was denied in his push to become the year's first double bracelet winner, finishing in fourth. Richburg pocketed $239,503 for the victory.
Repeat winners don't often occur in events that draw a thousand or more entrants, though Mary Jones made a deep run in defense of her $1,000 Ladies No Limit Hold 'Em (Event #17) title from last year. It finally took cracked aces to send Jones to the rail in 16th, those held by Frauke Ritter von Sporschill, who finished the day atop the leader board. Ritter von Sporschill heads a final table that also includes Vanesse Selbst and Team PokerStars member Katja Thater, with the final-table webcast (available at worldseriesofpoker.com) beginning at approximately 3:30pm PDT.
The popular $2,500 No Limit Hold 'Em Event #19 began on Monday with more than 1,000 players in the hunt, and they battled down to the 99-player money bubble before calling it a night. All the Day Two returnees are guaranteed to cash, with Lars Bonding in front of the overnight pack with 155,600 chips. The notable-heavy Top Ten for the first say also included Devin Porter, Greg 'FBT' Mueller, Bertrand Grospellier, Alex Outhred and Mike Matusow.
Also getting underway on Monday was Event #20, $2,000 Seven Card Stud High-Low Split (Eight-or-Better), with a list of the stars on hand even longer than the event's official name. Steve Weiss finished the day atop the board with 33,700 chips, though this one's an early logjam, with Jeff Madsen in third, Greg Raymer tied for fifth, and TiltBoy Perry Friedman perched in ninth.
Event #21, the popular $1,500 No Limit Hold 'Em Shootout (a format where each table plays as a sit-'n'-go with a single winner from each table moving on to the next level), began at 12:30pm. The field was expanded from 800 to 900 players due to demand, with qualifiers to Stage Two (and already in the money) including Barry Greenstein, Joe Sebok, Daniel Negreanu, Erik Seidel and Rob Hollink. More on this one overnight.