WSOP Updates - Event #1 – Billirakis Becomes Youngest-Ever Winner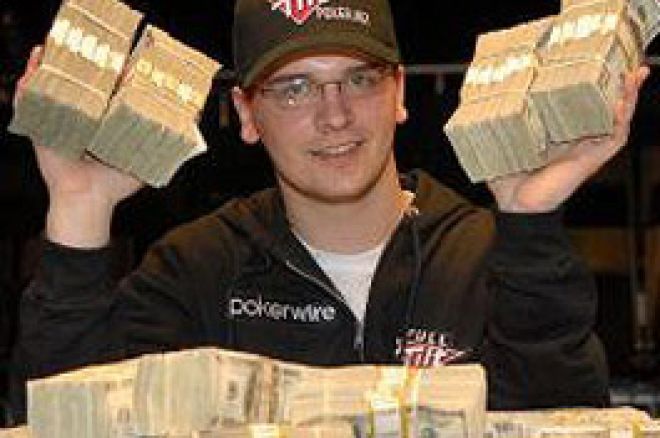 For the first time at this year's World Series of Poker, there were four events going on simultaneously. Two tournaments, Event #4 $1500 Pot Limit Hold 'Em and Event #5 $2500 Omaha Hold 'Em/Seven Card Stud Hi/Lo, began play, while Event #3, the massive $1500 No Limit Hold 'Em tournament, entered its second day of action already in the money and working towards the final table. Most of the attention, however, was focused on the first official bracelet event of the 2007 WSOP, Event #1 and the $5000 Mixed Game World Championship.
The new area for the World Series final tables is a tremendous improvement over the past couple of years. Seating has been expanded and — potentially to alleviate audience members from badgering the players' wait staff for service — a bar now also sits in the area. While the new amenities were welcomed by the large crowd that gathered, the nine players vying for the first bracelet of 2007 ignored them and headed to the table in this order:
Seat 1 – Musician and first-time WSOP player John Younger – 94,000
Seat 2 – North Carolina online poker legend Jon 'Pearljammer' Turner – 88,000
Seat 3 – 2002 WSOP bracelet winner Fred Berger – 942,000
Seat 4 – Poker veteran Roger McDow – 320,000
Seat 5 – Professional player Greg 'FBT' Mueller – 683,000
Seat 6 – 1998 WSOP bracelet winner/2007 WPT Championship runner-up Kirk Morrison – 512,000
Seat 7 – 21-year, 10-day-old (youngest final-table player ever) Steve Billirakis – 562,000
Seat 8 – 2006 WPT tournament champion Steve Paul-Ambrose – 771,000
Seat 9 – 25-year poker pro Tony George – 546,000
With the split nature of the event (a half hour of limit, a half hour of no-limit, alternating all the way), most of the action had been taking place during the no-limit segments, due to the ability to maximize the value of hands with unlimited betting. With the day's action beginning in the limit format, you might have thought that it would take a bit for action to get going. You would have been mistaken.
On the very first hand, the short-stacked John Younger displayed the 'win or go home' mentality he needed to have any hope for a bracelet. After a raise from Greg Mueller, Younger three-bet to 90,000 with only 4,000 in reserve. Fred Berger made it 120,000 to go and Mueller got out of the way before Younger pushed the rest of his chips into the center. He felt confident when he turned up his A-Q off; that confidence quickly disappeared when Berger tabled his Big Slick. When the board blanked off, Younger was the first victim of the final table, finishing ninth for $33,915.
While there were some tense moments, we wouldn't lose another player for over thirty hands. During the no-limit segment, with the blinds at 10,000/20,000 (no antes are used in the 'Mixed Game' format), Kirk Morrison initially raised to 55,000, only to have Jon Turner move all in over the top of him for 325,000 total. Berger made the call from the big blind, leaving Morrison with a tough decision. He finally decided to fight another day and folded, leaving Turner's A-K to battle Berger's pocket queens. After another uneventful board, Jon Turner was eliminated in eighth place and accepted $46,663 for his efforts.
That hand resulted in Berger taking over the chip lead from Mueller. After the switch back to limit (and blinds of 20,000/40,000 with betting levels of 40,000/80,000), Morrison was ready to risk his tournament life. After Berger pumped the pot to 80,000, Morrison popped it again to 120,000 from the button. Steve Paul-Ambrose made it four bets to go from the big blind and, after Berger mucked his hand, Morrison called, leaving himself with a lone 10,000 chip. Paul-Ambrose bet that 10,000 in the dark and the two saw a flop of
. Morrison immediately made the call and tabled pocket tens with a heart; Paul-Ambrose, just as quickly, turned up his pocket queens for the set. A third heart on the turn gave cause for Kirk to exclaim "Heart!" but the river didn't answer his prayer and Kirk Morrison left the Rio in seventh place, $63,591 richer.
On Hand 47 (and still playing limit), Roger McDow was the next to depart. After Mueller and Paul-Ambrose limped in, Berger raised to 80,000 out of the small blind, with McDow calling from the big blind for less (70,000). Both Greg and Steven made the call of Fred's raise, bringing the
flop to four players. Berger fired 40,000, Mueller called, Paul-Ambrose mucked and McDow had to feel ill with the action that he was getting. The
turn initiated a check from Berger, an 80,000 bet from Mueller and a call to see the
on the river. Berger and Mueller both checked and Berger showed pocket fours for Queens up. Mueller, however, had hit the ace on the flop (holding A-9 off-suit) for aces up and McDow silently mucked, ending his night in sixth place for $84,788.
It would take another thirty hands (and the complete play of the next no-limit portion) before another player would retire for the night. Back to playing limit at 30,000/60,000 and big bets of 60,000/120,000, Berger raised to 120,000 and saw the big blind, and Billirakis upped the betting to 180,000. Berger made the call and the two saw a flop of
, which brought a 60,000 bet from Billirakis. Berger felt he was good and moved the remainder of his stack to the center (100,000) and Billirakis called, showing A-Q. Berger's A-2 was no competition for Billirakis and, after an innocent
on the turn, Billirakis caught an unnecessary
on the river to take the hand and eliminate Fred Berger in fifth place, good for a $108,105 payday.
Mueller continued to set the pace for the 'Mixed Game World Championship,' but experienced a severe hit at the hands of a short-stacked Steve Paul-Ambrose. After back to-back losses to Billirakis, Paul-Ambrose re-raised Mueller's 120,000 bet to 180,000. Mueller took it to 240,000 and Paul-Ambrose called the bet for the remainder of his stack. Mueller's A-Q was behind Paul-Ambrose's pocket jacks and, when the board blanked for 'FBT,' Paul-Ambrose was momentarily back in the hunt.
It was a short-lived reprieve. Still playing limit (and just before the dinner break), Billirakis limped in from the small blind and Paul-Ambrose checked his option on the big blind. A
flop was met with a bet from Billirakis, a raise to 120,000, a three-bet and a call from Paul-Ambrose. The Ace of hearts on the turn brought a 120,000 bet from Billirakis and a raise for slightly more from Paul-Ambrose, which Billirakis called. His pocket aces (with a diamond) made the set against Paul-Ambrose's J-8 (pair of jacks, gutshot straight draw) and Paul-Ambrose was reduced to hitting one of three nines (the nine of diamonds would give Billirakis the nut flush instead) to take the hand. The turn card was a nine, which brought a roar from the crowd… until it was realized that it was indeed the nine of diamonds, giving Billirakis the nut flush over Paul-Ambrose's jack-high straight. Paul-Ambrose could take solace in his fourth-place finish and the $146,259 that came along with it.
After the dinner break, the remaining three players returned to the following chip stacks:
Seat 5 – Greg 'FBT' Mueller – 1,510,000
Seat 7 – Steve Billirakis – 2,270,000
Seat 9 – Tony George – 740,000
It didn't take long for the action to kick in during the next no-limit phase. With blinds at 20,000/40,000 on Hand 93, Mueller raised to 120,000 from the button only to have a short-stacked Tony George move all in over the top. Mueller quickly called and tabled Big Slick against George's pocket fives and we were off to the races. Mueller picked up some more outs when the flop came up
. George survived the turn
but, when the
spiked on the river, Mueller made a Broadway straight. As Mueller high-fived his supporters to the chants of "FBT! FBT! FBT!" a demoralized George strode away from the final table in third place, worth $218,329.
Heads up, it was nearly dead even:
Greg Mueller – 2,350,000
Steve Billirakis – 2,170,000
Billirakis, who stood to become the youngest player to ever win a World Series bracelet (at 21 years, 10 days, he was slightly younger than the 2006 WSOP Player of the Year, Jeff Madsen), admitted he didn't want to face Mueller heads-up and play limit because he doesn't normally play the game. Fortunately for him, there were still almost twenty minutes remaining in the no-limit segment.
Billirakis regained the chip lead from Mueller in the early going. Mueller, however, was able to chip his way back to almost even after the first fifteen hands of no-limit play. 'FBT,' as Steve feared, was able to gain ground during the next limit segment and, as they broke before the switch back to no-limit, the chip stacks stood as such:
Greg 'FBT' Mueller - 3,405,000
Steve Billirakis - 1,115,000
The two battled through the next no-limit segment, with Billirakis chipping away at the lead that Mueller had built. Fifty heads-up hands had passed in total and they headed back into the limit format. This time, however, it seemed that fortune was on Billirakis' side. With the blinds at 50,000/100,000 and limits of 100,000/200,000, Billirakis went on the offensive and the cards cooperated as he hit two successive full houses to seize the lead. On Hand 157 (the 63rd hand of heads-up), Billirakis and Mueller hooked up in a raising battle which ended with Mueller being all in. Billirakis' K-2 off-suit held a slight advantage over Mueller's
and, once the board blanked off for Mueller, the youngest champion ever in the history of the World Series was crowned in Steve Billirakis.
PLAYER – MONEY
1. Steve Billirakis – $536,287
2. Greg 'FBT' Mueller – $328,554
3. Tony George – $218,329
4. Steve Paul-Ambrose – $146,259
5. Fred Berger – $108,105
6. Roger McDow – $84,788
7. Kirk Morrison – $63,591
8. Jon 'Pearljammer' Turner – $46,633
9. John Younger – $33,915
As Billirakis accepted the first bracelet of this year's tournament, ESPN announcer Norman Chad conducted the post-tournament interview (which will be broadcast on ESPN on July 10th). Chad asked Billirakis about his confidence because Billirakis had stated he would win. Showing a bit of moxie for someone who just had become the youngest bracelet winner in WSOP, Steve responded, "What am I supposed to say? I think I'll come in second?" As the audience laughed, the bracelet tally has officially begun for this year's WSOP; Steve Billirakis wins the $5,000 Mixed Game World Championship.