WSOP Updates - Event #11, $5,000 Seven Card Stud - Chris Reslock Tops Ivey, Oppenheim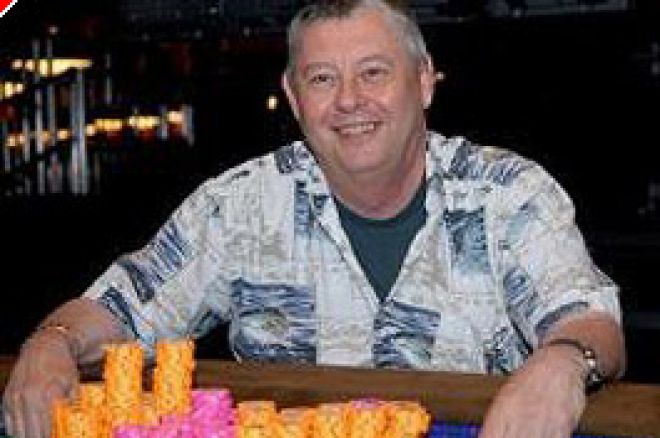 Event #11, Seven Card Stud World Championship, offered its final table on Friday with the last eight survivors of a star-studded field, all looking for WSOP gold and the $258,453 first prize. The lineup and chip stacks starting play:
Seat 1: Theo Jorgensen — 229,000
Seat 2: Marco Traniello — 30,000
Seat 3: Ted Lawson — 90,000
Seat 4: Phil Ivey — 322,000
Seat 5: Chris Reslock — 141,000
Seat 6: David Oppenheim — 609,000
Seat 7: Pat Pezzin — 234,000
Seat 8: Oriane Teyssiere — 195,000
It took only took ten hands to eliminate the short stacked Marco Traniello from the tournament. Traniello had nursed his chip stack to be one of the final eight players but Phil Ivey made his stay at the final table a short one. Traniello took away $19,458 for his second cash in a final table at this year's World Series.
The players shuttled chips around the table over the next fourteen hands. Chris Reslock went on the attack in the early going, looking to build his chip stack for future battles and David Oppenheim defended his chip lead by being just as aggressive. With the ante at 3K and the bring-in at 5K, Reslock continued to attack and had France's Oriane Teyssiere, the only woman at the final table, all in by fifth street. Reslock had trips by sixth street with (7-5) A-10-7-7, and Teyssiere couldn't complete her flush draw. Although she had a flush draw at fifth street, Oriane Teyssiere could not complete her flush, taking home $27,072 for her efforts. Reslock picked off Ted Lawson on the very next hand; Lawson was unable to beat Reslock's boat on the river and was out of the tournament in sixth place, earning $35,532.
The fast pace continued with Reslock and Oppenheim atop the field. However, 40 hands elapsed before the next knockout, again at Reslock's hands. Theo Jorgensen was all in on third street with (
)
for the flush draw and Reslock tabled his (
)
. Jorgensen didn't complete his flush but made two pair, tens and threes. Reslock, however, found three more hearts for the K-high flush and Jorgensen was out in fifth place, taking away $46,530.
25 hands later, Oppenheim dismissed Pat Pezzin, who made his third straight WSOP cash of 2007. Pezzin got his chips in the pot on third street with the best of it, showing his (J-J) 3, ahead of Oppenheim's (6-6) 10. Pezzin hit another three on fourth street, making jacks up. Oppenheim caught a six on his last card, making a set and administering the beat, knocking Pezzin out in fourth for $61,335.
With three players left the chip stacks were:
Phil Ivey — 580,000
Chris Reslock — 485,000
David Oppenheim — 710,000
Ivey won 16 of the next 33 hands while Reslock captured 12; that left Oppenheim in a dry run that proved terminal. Oppenheim found himself all in on fourth street on Hand 127 against Chris Reslock and couldn't top Reslock's two pair, sevens and deuces. Oppenheim collected $93,060 for his third-place showing.
Reslock firmly grabbed the chip lead and finished it off seven hands later. On Hand 134, Ivey completed the bet to 30K with an
showing and Reslock raised to 60K with only the
. Ivey three-bet to 90K and Reslock called. Ivey got a queen on fourth street, Reslock a ten, and two more bets went in. Fifth street (Ivey paired his eight, Reslock drew a king) brought another double bet for each player and, on sixth street, Ivey was all in with his paired eights, showing
in the pocket for two pair. Reslock topped him by showing
in the pocket for a set. No seven or eight came on seventh street for Ivey and Chris Reslock became the 2007 WSOP World Champion of Seven Card Stud. Reslock spoke about this win, and his WSOP Circuit win in his interview, which you can find in our Video Gallery.
PLAYERS — EARNINGS
1. Chris Reslock — $258,453
2. Phil Ivey — $143,820
3. David Oppenheim — $93,060
4. Pat Pezzin — $61,335
5. Theo Jorgensen — $46,530
6. Ted Lawson — $35, 532
7. Oriane Teyssiere — $27,072
8. Marco Traniello — $19,458