WSOP Updates - Event #14, $1,500 7CS - Keiner Tops Coburn in Stud Marathon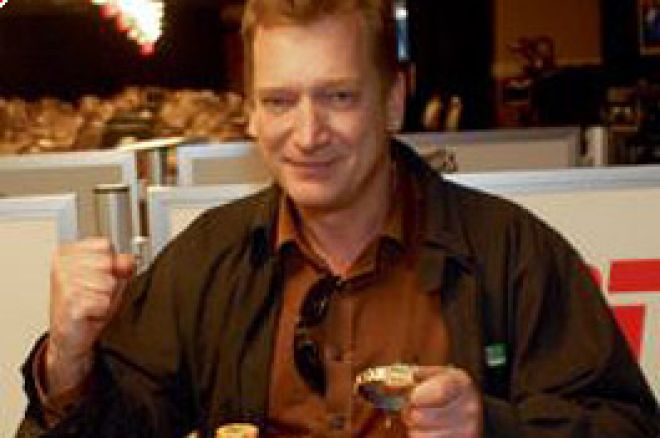 137 players of an original 385 returned on Saturday for the second and last day of Event #14, $1,500 Seven Card Stud, which promised to be a long and grueling affair. Before it was done the tournament staff would debate extending the event to a third day, but play went on and a winner was decided in the Sunday morning hours, with Michael 'The Doc' Keiner capturing the bracelet and $146,987 first prize.
The first three hours of the event cut the field down to 80 quickly. Michael Mizrachi was an early victim of the action, but two poker veterans got their Saturday off to a good start. The only woman to ever make a WSOP Main Event final table, Barbara Enright, and Barry Greenstein both were able to make early moves that pushed their names up the leader board, though Enright was eliminated later in the action. Another couple of hours of play trimmed the field to 40. While two-time Seven Card Stud bracelet winner Mel Judah and fellow bracelet holder Josh Arieh were both knocked out, former World Champion Greg 'Fossilman' Raymer surged, demonstrating solid Stud skills and making the final table.
The money bubble cracked a half hour after the dinner break when Steve Flicker's trip jacks fell victim to Matthew Kelly's quad queens. Inside the money, 2006 double bracelet winner Bill Chen exited in 36th place ($3,612). Paul Darden departed in 27th ($4,259), and Mimi Tran bowed out in 21st ($4,906).
Raymer and Greenstein continued to lead as the final table loomed. Raymer eliminated the deepest-running female, Theresa Viganola, in 17th place, and Barry Greenstein, used a set of nines to bounce Matt Grapenthien in 15th place. Ted Forrest exited soon after, finishing 14th.
As 2am passed, there were still thirteen players remaining, many showing the strains of twelve hours of play. As Varahram Vardjavand and Steve Richman were eliminated on consecutive hands (for 12th and 11th, respectively), Michael Keiner padded his lead, reaching 260,000 chips. When Keiner busted Matthew Kelly in ninth place, the final table was set, but the players had to decide whether to continue with play or suspend it until later on Sunday:
Seat 1: Michael 'The Doc' Keiner — 318,500
Seat 2: Nesbitt 'Nez' Coburn — 163,500
Seat 3: Steve Sung — 167,500
Seat 4: Greg 'Fossilman' Raymer — 116,500
Seat 5: Dale Phillips — 137,000
Seat 6: Larry Eubanks — 21,500
Seat 7: John Robertson — 82,500
Seat 8: Barry Greenstein — 177,500
The players decided to finish the event. As Barry Greenstein aptly put it, "They made a schedule for a reason. We should play this out. I'd like to play tomorrow (the $5,000 Limit Hold 'Em championship). I know the players are tired. I'm tired too, but I'd like to play it out." So started another four hours of play, bringing the total to 17 hours before the champion was determined.
Keiner continued his run when he made a boat, nines full of fours, over Larry Eubanks' kings up. Eubanks departed with eighth place and $11,053. Keiner neared the half-million mark in chips and looked to be the player to beat at the table.
Steve Sung surged when he ended the tournament of John Robertson and severely hurt Raymer in a single monster hand. Raymer led all the way on the hand with three queens and bet it as Sung builting a possible flush; on seventh street, Sung collected his fifth diamond to steal the hand from Raymer, at the same time ending the early morning for John Robertson in seventh place ($15,097). Raymer would leave a few hands later in sixth place, worth $19,680, at the hands of Barry Greenstein, but showed his championship class as he was asked for and gave an autograph to a happy fan.
Keiner next took out Dale Phillips in fifth place ($26,150) with Sung chasing. Greenstein was a victim of their success and was taken out by Nesbitt Coburn in fourth place for $33,698. Coburn surged and eventually sent Sung off in third place ($51,222), setting up the heads-up showdown with Keiner.
At 7am, ESPN wanted to record their heads-up match, but that would require the players to stop return later on Sunday. Coburn wanted to push on, as his late-tournament roll only left him about 100K behind Keiner. They drove on into the morning, but fatigue was beginning to take its toll; on two different occasions, Michael Keiner made winning hands on the river with a flush, but only checked them to Coburn.
Coburn grabbed a big pot early in the heads-up match to pull closer, but Keiner shook himself awake and went on the offensive. After a 200K pot went his way when he hit Broadway against Coburn's sixes, the end was in sight. At about eight in the morning and after more than 17 hours of play, Keiner was able to vanquish Coburn and, exhausted but elated, became the latest WSOP champion, triumphing in Event #14, $1,500 Seven Card Stud.
PLAYERS — EARNINGS
1. Michael Keiner — $146,987
2. Nesbitt Coburn — $80,876
3. Steve Sung — $51,222
4. Barry Greenstein — $33,698
5. Dale Phillips — $26,150
6. Greg Raymer — $19,680
7. John Robertson — $15,097
8. Larry Eubanks — $11,053
Photo: Image Masters