WSOP Updates – Event #16 — Richburg Tops Brown in $2,500 H.O.R.S.E. Finale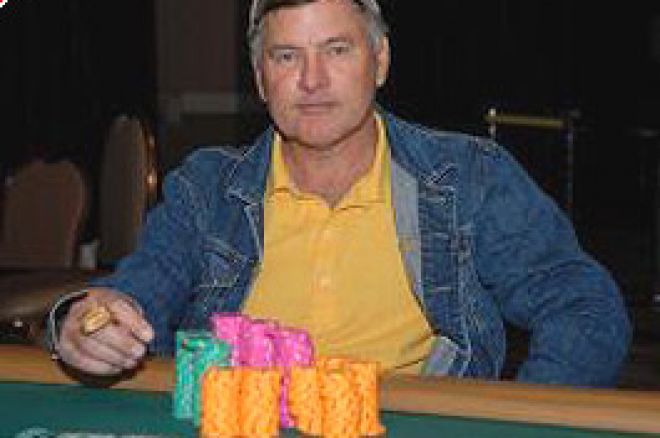 Monday's Day Two of Event #16, $2,500 H.O.R.S.E., event began with potentially a long night ahead of the players. With 20 runners coming to the felt, the plan was to play the table out to the bracelet.
Ali Eslami led as play began in the limit hold'em format. Michael DeMichele, John Gale, David Botton and Jason Sagle were eliminated in positions 17 through 20 and exited with $7,995 each. After Thayer Rasmussen fell in 16th during the Omaha Hi/Lo segment, a controversial moment occurred. Once all the cards had been dealt to the board, Ali Eslami bet 8K and was called by Matt Russell. As Harry Kazazian deliberated his hand, he moved chips in front of the button. Believing it to be a call, Eslami tabled his hand with a strong queen-high flush for the high and a competitive low. Kazazian claimed he had not made a play at all and the Tournament Director was called in. The TD determined that Kazazian's motion was a call and that Kazazian had to place 8K in the pot. It was important, as Eslami took the high and Russell and Kazazian split the low. Russell was eliminated a few hands later in 15th during the next Razz segment.
Eslami battled James Richburg throughout much of the two-table play for the chip lead. Darrell 'Gigabet' Dicken and Robert Mizrachi battled constantly against each other, with Mizrachi taking the edge in four consecutive hands. Eventually, Dicken was eliminated in tenth place and, with the departure of Alexandra Vuong in ninth, the final table was set, at about 7pm, as follows:
Seat 1: Ali Eslami — 507,000
Seat 2: Robert Mizrachi — 262,000
Seat 3: Herb Van Dyke — 130,000
Seat 4: Harry Kazazian — 85,000
Seat 5: James Richburg — 487,000
Seat 6: Tom Schneider — 20,500
Seat 7: Walter Browne — 207,500
Seat 8: Chris Bjorin — 227,000
2007 Omaha/Stud Hi/Lo bracelet winner Schneider came back from the brink by surviving several all-in showdowns and made a run at a second bracelet at this year's World Series. After the game switched back to Limit Hold 'Em, with blinds at 4K/8K and betting limits of 8K/16K, Kazazian was all in with J-10 against the pocket nines of Schneider and the A-K of Mizrachi; Schneider caught a nine on the turn to make a set and tripled up, knocking Kazazian out of the tournament in eighth place, worth $18,011.
From the 'it happens in live games too' files, Ali Eslami, Herb Van Dyke and Chris Bjorin capped a pot preflop and saw a J-8-6 flop. Each put in a bet and did the same on the
turn. When the river brought
, everyone checked it down. Eslami turned up Q-Q, Van Dyke showed K-K, but Bjorin offered A-A to take down the sizeable pot. Van Dyke wouldn't recover and was bounced later by Richburg's pair of kings, but still claimed seventh place and a $24,601 payday.
The next segments (Omaha and Razz) brought no knockouts. In the next Seven Card Stud segment. Mizrachi was eliminated by Bjorin in sixth place and added $32,069 to his bankroll.
After the dinner break, Bjorin and Richburg led the field:
Chris Bjorin — 527,000
James Richburg — 527,000
Walter Browne — 401,000
Tom Schneider — 304,000
Ali Eslami — 153,000
Eslami exited in the next hold'em segment. He lost a good portion of his stack to Richburg and, after getting all in with 5-4 on an A-10-3-5 board, was down to Richburg (with Q-10) once again. Eslami couldn't catch his nine-outer, and finished in fifth for $42,612.
Play moved through the next Omaha and razz segments without any knockouts. Then, in Seven Card Stud, Schneider's run at a second bracelet ended after he ran up against chip leader Richburg. On the knockout hand, though, Schneider could only muster a pair of eights and a busted open-ended draw. James Richburg's pair of kings easily took the pot and Schneider added to his breakout 2007 WSOP by finishing fourth and picking up $54,193.
Both Richburg and Browne then chipped away at Bjorin in the next few stages, finally eliminating Bjorin during limit play. After a K turn, with the board reading 8-6-2-K, Richburg pushed Brown out of the three-way pot and took on Bjorin alone. Bjorin was unable to pair his J-10 against Richburg's A-2 and finished in third, worth $83,467.
Richburg had a 2:1 edge over Browne, but Browne made up some ground in the next Omaha segment, before being crippled in Razz. On the final hand, Browne was all in with (5-2)-7 against Richburg's (4-2)-3. By seventh street, Richburg had made a perfect six (6-4-3-2-A) and all Browne could offer was a 10-low, giving 2006's Razz champion, James Richburg, the title in the 2007 World Series of Poker $2500 H.O.R.S.E. event. Follow the progression of this tournament in this event's blog.
PLAYERS — EARNINGS
1st: James Richburg — $239,503
2nd: Walter Browne — $131,790
3rd: Chris Bjorin — $83,467
4th: Tom Schneider — $54,913
5th: Ali Eslami — $42,612
6th: Robert Mizrachi — $32,069
7th: Herb Van Dyke — $24,601
8th: Harry Kazazian — $18,011