WSOP Updates – Event #17, Ladies $1,000 NLHE — WSOP Acadamy Grad Boyer Captures Title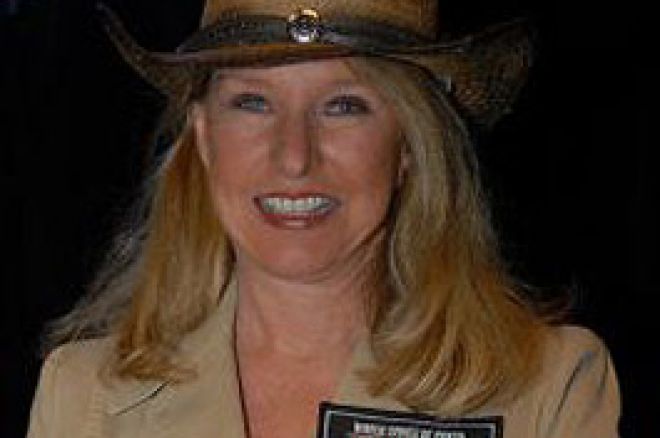 Nine women came to the Amazon Room at 3pm on Tuesday for the final table of Event #17, $1,000 Ladies' World Championship No Limit Hold 'Em. They were led by Frauke Ritter von Sporschill, with pros Vanessa Selbst and Katja Thater also in the mix. These last survivors of a record 1,286-player field came to the table in this order:
Frauke Ritter von Sporschill — 523,000
Mindy Trinidad — 444,000
Vanessa Selbst — 354,000
Katja Thater — 340,000
Sally Boyer — 326,000
Anne Heft — 277,000
Kathy Gliva — 145,000
Randi Calabro — 110,000
Julie Dang — 48,000
Action occurred in the Bluff Tent and was broadcast on the Internet through worldseriesofpoker.com. Gliva doubled up through Frauke Ritter von Sporschill when they both held Big Slick; Gliva's was
, however and, when three spades appeared on the board, Gliva was back in the game. Soon afterwards, a short-stacked Julie Dang left the event in ninth ($14,628) when Katja Thater bounced her with A-K against Dang's Q-J.
Randi Calabro dented Katja Thater's stack when Calabro found aces after Thater raised with fives and was priced in to call Calabro's all-in push. Thater stayed aggressive, however, and soon dominated the table and built a sizeable chip lead after a few hours of play.
Vanessa Selbst was one of the few players to attempt to derail Thater's drive at the table and it would contribute to her demise in eighth place. After doubling up Calabro, Selbst — perhaps tilting a little — moved all in with an
but found Thater willing to isolate with pocket sevens. The flop brought no help with
but a deuce on the turn opened some more outs for Selbst. None arrived on the river, though, and Selbst exited in eighth ($20,480) after coming to the final table in third place.
After being quiet early, Frauke Ritter von Sporschill suddenly sprang to life. She crippled Mindy Trinidad when her pocket treys stood up against Trinidad's
, then played the next several hands without opposition. Trinidad then went on a run, doubling up several times and making it to the dinner break. The dinner break also brought a new chip leader as Katja Thater made a 100K bet with pocket tens. Sally Anne Boyer, a recent graduate of the WSOP Ladies' Academy, found pocket kings and moved all in. Thater called, and when no ten arrived, Thater went from first to fifth of the remaining players and Boyer took over the chip lead.
After dinner, the pace picked up. Mindy Trinidad's run ended at the hands of Randi Calabro's pocket jacks when Trinidad attempted to steal with
. Trinidad flopped an open-ended straight draw but couldn't complete it, finishing in seventh place and taking home $28,086.
The bustouts increased as the blinds began to encroach on the players' stacks. Ritter von Sporschill made a move with A-6 off and ran into Anne Heft's pocket Jacks; with no help from the board, Ritter von Sporschill was gone in sixth place ($37,448). Then Katja Thater, who dominated the early play, moved in with A-10 and ran into Anne Heft's A-Q. Although the board brought a chance at a split pot, it didn't happen for Thater, who earned $49,151 for her fifth-place showing. Boyer eliminated Gliva in a classic race situation, Boyer's pocket fours against Gliva's
. No clubs, no ace and no king ended Gliva's run in fourth place ($70,216). Finally, in a battle of the blinds, Boyer moved in with pocket sixes and Calabro called from the big blind with A-Q. Boyer hit the jackpot on a 6-2-6 flop for quads, and Calabro, who admitted she lost her job because she was playing this final table, had $106,177 for her third place finish to help with her job search.
Heads up, Heft held a nearly 2:1 advantage over Boyer:
Anne Heft — 1.6M
Sally Anne Boyer — 985K
Boyer chipped away at Heft's lead to draw even, only to lose some of it back to Heft when her pocket sevens were clipped by Heft's A-5 and an ace hit the flop. Boyer swung the advantage back her way and took the chip lead when, holding K-8, she hit trip eights on the flop against Heft's Q-10. Boyer's good fortune would continue. After moving in with K-2, Boyer watched Heft call and table K-10. The 4-5-3 flop brought some hope, but the
turn was no help. Boyer, though, had her prayers answered on the river when a deuce hit, giving her the Ladies' World Championship, the special WSOP bracelet and a payday of $262,077.
PLAYERS — EARNINGS
1. Sally Anne Boyer — $262,077
2. Anne Heft — $166,177
3. Randi Calabro — $106,494
4. Kathleen Gliva — $70,216
5. Katja Thater — $49,151
6. Frauke Ritter von Sporschill — $37,448
7. Mindy Trinidad — $28,086
8. Vanessa Selbst — $20,480
9. Julie Dang — $14,628