WSOP Updates – Event #18, $5,000 LHE — Saro Getzoyan Wins Limit Championship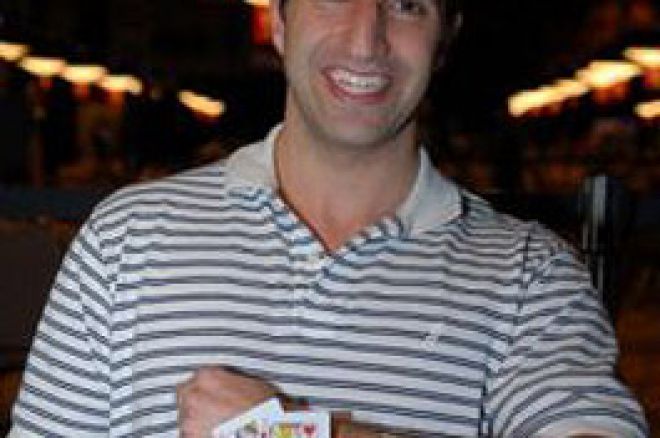 Day Three of the $5,000 Limit Hold'em (Event #18) tournament saw Saro Getzoyan crowned as new champion. Besting the remaining eight players and taking home the gold WSOP bracelet and the $333,379 first-place prize was Saro Getzoyan, coming from well behind at the start of the final table. The day started with William Thorsson in front with 585,000 chips, followed by Ray Dehkharghani (471,000), Geoff Sanford (333,000) and Tom Koral (325,000), with two-time WSOP winner Thor Hansen also present.
The fireworks here began early. Gabriel Nassif fell victim to Geoff Sanford when Sanford's two pair (aces and kings) survived Nassif's heart flush draw. Nassif took home $21,742 for his ninth-place finish.
The next player to hit the rail was Don Todd, again thanks to Sanford. Todd busted in eighth-place after running into Sanford's flopped set of threes. Todd earned $30,198 for his play.
The next bustout came only 13 minutes later. After having pocket aces cracked on the previous hand, Ray Dehkarghani exited when his K-9 was dominated by William Thorsson's K-Q and the board hit neither player. Dehkharghani earned $41,069 for his efforts.
The fifth-place finisher also saw a player bust-out after losing a tough hand. David Gee hit a cooler when his kings ran into Saro Getzoyan's aces, giving Getzoyan a huge 800,000 pot. Gee was eliminated on the next hand when he lost to Thor Hansen's set of tens.
Hansen's quest for WSOP bracelet #3 simply wasn't meant to be, though, as he busted in fourth-place. Like the two previous players to exit, Hansen suffered a major blow before departing when his sevens were topped by Sanford's jacks. It was all over for Hansen on the next hand when he lost to trip sevens. The always cheerful Hansen walked away with $93,008 for finishing fourth.
Sanford ended the day for the third-place finisher William Thorsson as well. Thorsson held pocket sixes but failed to improve against Sanford's turned set of fours. Sanford mopped up what was left of Thorsson's chips on the next hand and sent Thorsson to the rail with $136,493.
Down to two, Getzoyan held a decent lead with 1,580,000 chips to Geoff Sanford's 970,000. At one point, Getzoyan had Sanford on the ropes before Sanford caught a few hands to pull nearly even.
Unfortunately for Sanford, he didn't catch many good hands thereafter, and was busted when his middle pair of eights lost to Getzoyan's top pair of jacks. Sanford won $200,511 for finishing second, while Saro Getzoyan won the coveted gold bracelet and the first-place cash of $333,379. Watch our interview with Saro after his big win in our Video Gallery.
The final standings:
1. Saro Getzoyan $333,379
2. Geoff Sanford $200,511
3. William Thorsson $136,493
4. Thor Hansen $93,008
5. David Gee $68,850
6. Tom Koral $54,356
7. Raymond Dehkharghani $41,069
8. Don Todd $30,198
9. Gabriel Nassif $21,742