WSOP Updates – Event #23, $1,500 PLO — Chan Misses 11th; Clements Goes Wire to Wire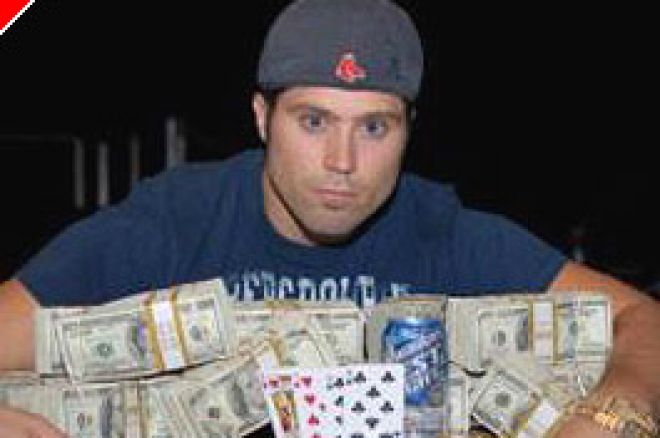 23 players returned on Friday to decide the winner of Event #23, $1,500 Pot Limit Omaha, the last of 576 players who began play on Thursday. Scott Clements held a healthy overnight lead, though attention was on Johnny Chan in fourth place, to see if he could win his 11th WSOP bracelet and tie Phil Hellmuth for the overall lead.
2007 bracelet winner Burt Boutin was dismissed at the outset (22nd), and Chan's hopes ended early as well. After a slow start, Chan moved his entire stack in after a flop of 8-2-2 and was called by Martin Davis. Chan could only show Q-J-9-5 against Davis's J-J-6-6 and, once the board blanked out, Chan exited in 20th. Davis soon followed, despite knocking out Chan, departing in 18th.
Over the next hour, the players battled for final-table seats. Day One front-runner Sam Abueid was taken out in 17th place and Ayaz Mahmood left in 15th. Hilbert Shirley was taken out by Eric 'Rizen' Lynch in 11th, and the last ten players consolidated to single table.
Soon after, Scott Clements busted two players on the same hand. After a flop of Q-10-8, Anthony MacCanello bet the pot and was re-raised by Clements. K.U. Davis put the rest of his chips in and MacCanello called. The players held:
Davis: A-J-J-10
MacCanello: A-A-K-4
Clements: A-K-J-9
Clements had flopped the straight, but still had to dodge the others' outs. When the turn and river blanked, Clements had eliminated both Davis (ninth) and McConnell (eighth) and opened a dominating lead.
Andy Black, who was quiet for much of the final table, was taken out by Will Durkee in seventh place ($22,408). The players went to dinner with Clements still dominating the chip count:
Scott Clements — 845,000
Will Durkee — 218,000
Mark Davis — 170,000
Eric Lynch — 149,000
Dau 'Tommy' Ly — 148,000
Jason Newburger — 117,000
Post-break, on Hand 68, Tommy Ly eliminated Mark Davis in sixth place when he hit quad tens. Durkee and Ly then took care of the short-stacked Newburger after checking down a board of A-A-J-J-4; Ly showed a jack for trips, and Newburger mucked, exiting in sixth for $38,133.
In the next 25 hands, the tournament would be decided. On Hand 90, Clements extended his lead when he bounced Durkee in fourth place. Tommy Vu left at Clements' hands four hands later in third place, and, on the very next hand, Clements bounced Lynch (another quiet final-table player) in the runner-up spot. Clements dominated the final table to win the bracelet and the $194,206 first-place prize.
PLAYERS — EARNINGS
1. Scott Clements — $194,206
2. Eric Lynch — $119,508
3. Dau 'Tommy' Vu — $78,624
4. Will Durkee — $52,285
5. Jason Newburger — $38,133
6, Mark Davis — $29,877
7. Andy Black — $22,408
8. Anthony MacCanello — $16,511
9. K.U. Davis — $11,794
We have four events going today. Check out our 'Live Reporting' section to follow along with all the action.