WSOP Updates – Event #25, $2,000 NLHE — Ben Ponzio Surges to Bracelet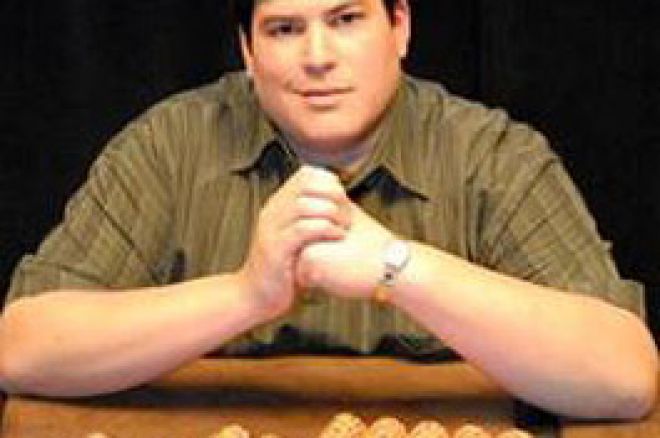 Ben Ponzio won $599,467, a Corum watch, and his first WSOP bracelet Sunday in Event 25, $2,000 No Limit Hold 'Em. A king-high hand gave him the win over David Hewitt, who took second place and $374,216.
The final table of nine — narrowed from a field of 1,800 over the previous two days — gathered at the Bluff Tent Sunday afternoon for the finals, where it was broadcast via web at WorldSeriesofPoker.com. All nine of the finalists were gunning for their first bracelet. Travis Rice was chip leader going into the finals, with the start-of-day chip counts and seat assignments as follows:
Seat 1: Evan Schwartz – 792,000
Seat 2: Justin Rollo – 772,000
Seat 3: Darryl Ronconi – 662,000
Seat 4: Adam Ross – 346,000
Seat 5: Ben Ponzio – 415,000
Seat 6: Danny Noam — 563,000
Seat 7: David Hewitt – 600,000
Seat 8: Ken Einiger – 1,039,000
Seat 9: Travis Rice – 1,284,000
Although his chip count was second-lowest going into the finals, Ponzio was lucky coming out of the gate, taking the first hand with pocket nines. 'Nine' wasn't so nice for Darryl Ronconi, however, as he exited the table on the ninth hand in ninth place when his pocket jacks fell to a Travic Rice queen that paired the flop.
Ken Einiger, known for his world blackjack championship, exited in eighth, 30 hands later, despite starting the day in second place. Einiger was well ahead when he called Evan Schwartz's all-in with A♦ Q♠ after the
, with Schwartz having pushed with
; the turn
was safe but the
river gave Schwartz the higher two pair and the knockout. Schwartz moved to 2,170,000 in chips on the hand and into the lead.
Adam Ross and Danny Noam fell next, Ross when he went all-in on an A-7 that didn't pull anything from the board, and Noam when his two pairs, eights and fours, fell short of Schwartz's tens and fours. Schwartz, though was bleeding chips after mixing it up in other pots.
David Hewitt's chip count dwindled significantly mid-day, but a showdown with Rice helped put him back in the game. Rice went all-in with
against Hewitt's
. The board delivered
, giving Hewitt the pair of sevens and sending Rice away in fifth.
Schwartz doubled through Justin Rollo in Hand 94, momentarily taking the lead, but after a few tough hands was eliminated himself. Schwartz went all-in from the small blind on
, against Rollo's
in the big blind. The board came up
and Rollo's pocket sixes prevailed, bouncing Schwartz from the table in Hand 109.
Rollo, Ponzio, and Hewitt were nearly tied in chips at this point. Rollo took hits from both opponents, then was finished in Hand 115 when Hewitt's king kicker topped Rollo's queen when the board missed both players.
Two hands later, it looked like the end was near. With betting along the way, the board provided
, and with all the chips in, the river
. Ponzio and Hewitt both showed K-7 for a split pot, and the match continued.
By Hand 131, Ponzio had built a sizeable lead, with 5.3 million to Hewitt's 1.2 million. Hand 149 decided it — Ponzio was the button with
and raised 250,000. Hewitt went all in on his
. The board arrived
, and Ponzio's king was good for the win.
Final Standings
1. Ben Ponzio — $599,467
2. David Hewitt — $374,216
3. Justin Rollo — $244,566
4. Evan Schwartz — $165,008
5. Travis Rice — $111,970
6. Danny Noam — $82,504
7. Adam Ross — $61,878
8. Ken Einiger — $45,672
9. Darryl Ronconi — $34,770