WSOP Updates – Event #26, $5,000 H.O.R.S.E. — Ralph Schwartz Tops Gazes for Bracelet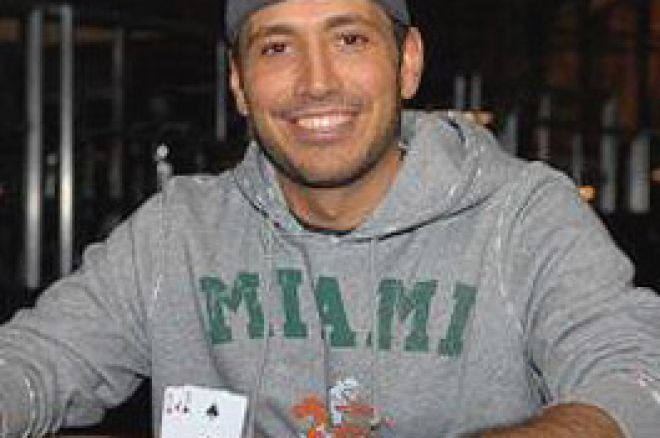 28-year-old New Yorker Ralph Schwartz overcame a tough field, a delayed start and a grueling Day Two to take down the $5,000 H.O.R.S.E Event (#26) and his first bracelet. Starting Day Three with the chip lead, Schwartz fended off tournament veterans such as Robert Mizrachi, Phil Ivey and 2007 WSOP bracelet winner Alex Kravchenko before finally besting pro Bill Gazes heads-up after eight hours of mixed-game play.
Day Two's play had brought the tournament down to two tables of six players, but lasted until 4am, as the limit format, high level of skill among the field, and the delayed start time all conspired to keep players at the felt well into the night. The star-studded field, which included Doyle Brunson, Daniel Negreanu, Chris 'Jesus' Ferguson, David Benyamine and Sam Grizzle was slowly whittled away until only the final twelve remained to start Day Three. Here's how those tables looked at the start of play:
Table 78
Seat 1: — Alex Kravchenko 166,500
Seat 2: — Greg Mascio 55,000
Seat 3: — Phil Ivey 152,500
Seat 4: — Jeff King 100,500
Seat 5: — Bill Gazes 76,000
Seat 6: — Rick Schwartz 56,000
Table 72
Seat 1: Thomas Schultz — 145,500
Seat 2: Jeff Campbell — 138,000
Seat 3: Ralph Schwartz — 350,000
Seat 4: Robert Mizrachi — 165,500
Seat 5: Yuebin Guo — 218,000
Seat 6: Alexander Jung — 297,500
It took less than twenty minutes of Hold'em for the first two players to fall, with Jeff King and Rick Schwartz finishing in 12th and 11th place respectively. Each took home $13,085 for their troubles. Greg Mascio would last almost an hour into the day with his very short stack before being crippled by Bill Gazes and busted by Phil Ivey on back-to-back hands of Omaha Hi/Lo. Mascio finished in tenth for $14,438.
After starting strong in Razz with a 2-3-4, Event #9 winner Alex Kravchenko paired all three on consecutive streets to go broke against Phil Ivey, busting in ninth place for $14,438 and setting the stage for the final table after little more than an hour of play. Ivey had driven from the middle of the pack to the chip leader as the final table began.
The final table looked like this once the players had been consolidated:
Seat 1: Jeff Campbell — 38,000
Seat 2: Alexander Jung — 314,000
Seat 3: Ralph Schwartz — 332,000
Seat 4: Robert Mizrachi — 382,000
Seat 5: Thom Schultz — 112,000
Seat 6: Yuebin Guo — 116,000
Seat 7: Phil Ivey — 481,000
Seat 8: Bill Gazes — 147,000
Ivey's aggressive, attacking style of play through the beginning of Day Three had tripled his stack in the first hour, with Robert Mizrachi in second and Ralph Schwartz in third. Jeff Campbell's short stack would not survive the first hand, when his Q-low in Razz was beaten by Schwartz's 9-low. Campbell earned $20,755.
Back and forth action for the next hour would see Guo all-in twice (surviving both) in the Stud Hi round, while Thom Schultz would be crippled by Bill Gazes but then crack Mizrachi's aces to double up on the very next hand. After a short break, players returned to the Stud Hi/Lo round where Schultz's run ended, as his busted straight draw also couldn't make a low against Ralph Schwartz and lost to Schwartz's two pair. Schultz finished in seventh place for $28,877.
Alex Jung was crippled in an Omaha Hi/Lo hand with Phil Ivey when Ivey scooped with a 7-high straight and a 6-5 low on a board of
. Jung would get all-in on the next hand with A-2-J-Q in the hole and bust when he could not make a low and Mizrachi flopped a straight to the 10. Jung finished in sixth place ($37,901).
After a short break, players returned to 20,000-40,000 Razz with a 5,000 ante and a 5,000 bring-in. Bill Gazes was on the short stack to begin this round.
Yuebin Guo — 570,000
Ralph Schwartz — 560,000
Phil Ivey — 460,000
Robert Mizrachi — 230,000
Bill Gazes — 90,000
Gazes made his move during the razz segment, and only eight hands and had passed Mizrachi and sent him to the rail. Gazes' 8-7-6 low finished off Mizrachi, sending Mizrachi home in fifth place ($49,632) and pushing Gazes up to 400,000 in chips. The high limits and extra bets in the stud formats made any hand perilous, as was proven when Ivey was crippled against Schwartz. Ivey folded after Schwartz paired his deuce on sixth street, giving him a board of
. Schwartz, who had called Ivey on every street until sixth, bet out when he paired his deuce and Ivey folded. Ivey was left with only 105,000 in chips after that hand. Ivey went to the rail only two hands later, all-in with a pair of sevens and a gutshot straight draw against Yuebin Guo's pair of queens. Neither hand improved and Ivey was busted in fourth ($65,424).
At the beginning of the next game (Stud Hi/Lo), Guo was the chipleader with 800,000, followed closely by Schwartz with 650,000 and Gazes hanging on with 320,000. The players jockeyed for position throughout the rest of the Stud 8 and Hold'em rounds, with Schwartz taking the chip lead from Guo to begin the round of Hold'em. Guo hit two bad hands to finish out that round and was eliminated on the first hand of Omaha Hi/Lo when Schwartz made a better two pair on the river. Guo's third-place finish was worth $99,264.
Schwartz began heads-up play with 1,300,000 in chips to Gazes' 550,000. The game resumed at Omaha Hi/Lo with blinds of 15,000/30,000 and limits of 30,000/60,000. The first hand of heads-up play saw Gazes lose with top two pair to Schwartz's flopped set of jacks, and shortly thereafter, on the seventh heads-up hand, Schwartz finished off his triumph.
On a flop of
, Schwartz raised the flop and was called by Gazes. Gazes checked the
on the turn and called all-in when Schwartz bet. The
on the river was unneeded as Schwartz tabled 2-3-5-8 for a turned 6-high straight and a 6-low for a scoop against Gazes' K-K-7-6 (a pair of kings and a 7-low). Gazes earned $153,408 for his second-place finish.
Ralph Schwartz netted $275,683 for his win, along with his first WSOP bracelet. When asked by Gazes if he wanted to play a heads-up match for 'real' money, Schwartz responded "Nah, after this, I think I'm gonna go party." And party he could, with his first WSOP bracelet, a new Quorum watch and a $275,683 first prize.
FINAL STANDINGS
1. Ralph Schwartz — $275,683
2. Bill Gazes — $153,408
3. Yuebin Guo — $99,264
4. Phil Ivey — $65,424
5. Robert Mizrachi — $49,632
6. Alexander Jung — $37,901
7. Thomas Schultz — $28,877
8. Jeff Campbell — $20,755