WSOP Updates – Event #27, $1,500 NLHE — David Williams Climbs Board, Hewitt Leads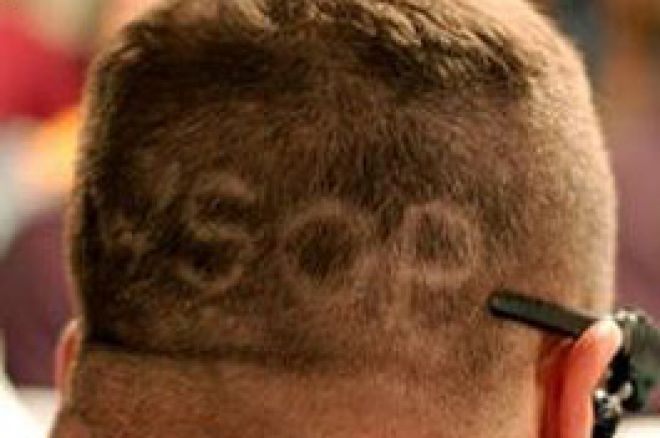 The Rio was packed to the rafters for Saturday's start of Event 27, $1500 No Limit Hold 'Em. An impressive 2315 entrants generated a $3,159,975 prize pool and overflowed the Amazon Room into the Player's Pavilion.
While the Player's Pavilion tent might have been a bit warm on this 107-degree day, David Williams was downright hot — most of the time. Williams cleared a nice pot early in the event when he bet 1,200 under the gun, which three players called. The flop —
— showed Williams betting another 2,500, which one player called. The
turn was checked by both. Then Williams threw down another 4,000 after the
on the river. Williams revealed
for the set, his opponent mucked, and Williams added to his stack. Just a few hands later Williams caught a full house on the flop for another healthy gain.
His luck didn't hold, though, on a run against Darren Kowalczik, who went all-in on A-Q against Williams' J-10 and spiked an ace on the river that landed Kowalczik the pot. Later in the day Williams commented, "I'm behind right now," then proceeded to double up his 14,675 stack on two pair, thanks to a
river card. About an hour later, a set of eights boosted his pile to 85,000. The cards cooled for a bit — a couple of hits diminished Williams' stack down to 38,000, but he surged again before the night was over, finishing with 84,700.
Many notables departed early, including Kirk Morrison, Shannon Elizabeth, Andy Bloch, Phil Hellmuth, Victor Ramdin, Paul Wolfe, Jason Strasser, Mark Vos, and Steve Dannenmann. Dannenmann, needing to take his place at the $2,000 No-Limit event, shoved all-in on
and was knocked out by a player holding A-8.
Chris 'Jesus' Ferguson was another player burning the candle at both ends, still alive in the H.O.R.S.E. event with a short stack of 3,000 as play in this one begin. He made headway in this event until Round 6 when he was knocked out on an all-in
. He had his opponent's
dominated until the river came up
, and he was eliminated.
Andy Black, Chad Brown, Michael Binger, Mark Seif, Vinny Vinh, Joe Bartholdi, Shannon Shorr, David 'The Dragon' Phan, Phil Gordon, and J.C. Tran all managed to stay alive a bit longer but were still out by the eighth round. Erica Schoenberg made an impressive start but was eliminated when she failed to complete an open-ended straight draw.
T.J. Cloutier collected a healthy stack of chips early on but was eliminated when his pocket nines couldn't hold up against a bigger stack's A-J hand when a jack flopped.
Bracelet holders Burt Boutin and Dan Schmiech were also in the field. Boutin was down to 24,400 and went all-in on A-Q, which paid off when the flop delivered his second ace, beating out two other players with 4-4 and 10-10, respectively. Boutin returns for another day of play with 69,500 in chips.
The money bubble finally burst shortly after midnight in Round 10 when the 2,315 players had been reduced to 198. Ray Taylor went all-in for 20,100 with pocket queens before the flop, but found himself sitting next to pocket aces, which held up through a useless board of
. Taylor bubbled in 199th for, unfortunately, no money. Henry Lau endured for one more hand and took home $3,476 for his efforts.
The next hour of play saw 62 more eliminations, leaving 135 to return for play on Sunday. For more information on eliminations and payouts, go to 'Prizepool and Payouts' under event #27 in the 'Live Reporting' section.
Late in the evening a spectacular all-in betting round by four players landed John White a hefty pot on a pair of kings and eliminated the other three players, including Alex Jacob. J.R. Richards accomplished the same feat earlier in the day when the river card landed him a full house and bounced three of his tablemates.
Young Cho set the pace as chip leader for most of the evening until some late hits put a dent in his pile. He finished the evening with 107,600, just outside the Top Ten, as Mike Hewitt closed strong to finish the day on top. The end-of-day leader board is as follows:
Mike Hewitt — 160,100
Jean Gaspard — 147,000
John Murphy — 144,700
Corey Hochman — 137,600
Benjamin Kang — 131,000
Mike Nargi — 129,300
Tim Sullivan — 127,500
Craig Issod — 126,600
Joseph Leho — 116,000
Luis Sanchez — 112,200
Besides those mentioned above, well-known players remaining in contention include Sabyl Cohen, Lee Watkinson, Nam Le and Casey Kastle. Play begins today at 2pm PDT. Keep up on the action by following today's Day Two 'Live Reporting' of Event #27, $1,500 No Limit Hold 'Em, at PokerNews.com.