WSOP Updates – Event #28, $3,000 NLHE — Shankar Pillai Tops Shak; Hellmuth Ties Cloutier Mark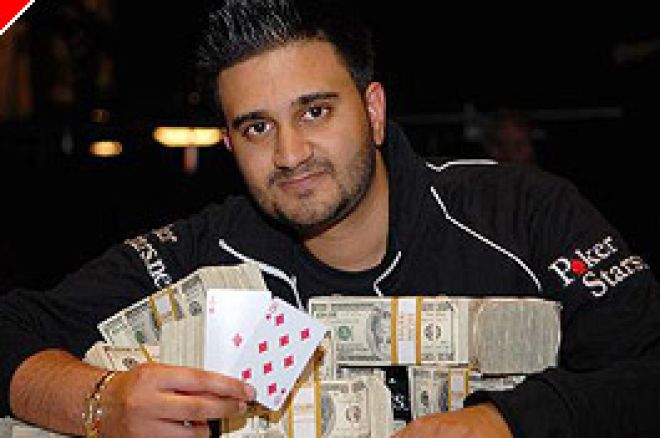 Shankar Pillai took the bracelet for Event #28, $3,000 No Limit Hold 'Em, as well as $527,829 and a Corum watch for his first-place finish. Pillai stared the day mid-field but progressively built his stack, becoming a frontrunner 60 hands into the event.
Dustin Holmes was the chip leader going into play, with the start-of-day chip counts and seat assignments as follows:
Seat 1: Phil Hellmuth — 213,000
Seat 2: Luke Vrable — 315,000
Seat 3: Ben Fineman — 272,000
Seat 4: Dustin Holmes — 1,076,000
Seat 5: Jason Song — 284,000
Seat 6: Brett Richey — 738,000
Seat 7: Daniel Corbin — 210,000
Seat 8: Shankar Pillai — 371,000
Seat 9: Perry Friedman — 723,000
Seat 10: Beth Shak — 740,000
The ten-person start was requested by ESPN to possible capture Phil Hellmuth's qualifying for the official 'final nine' on film, which, if Hellmuth was included, would match T.J. Cloutier's career mark. The bouncing of Luke Vrable in tenth place made Hellmuth's achievement official. Cloutier was introduced to the audience as his record was tied. An all-star audience was on hand for the event, including pros Mike Matusow, Erick Lindren, and Paul Wolfe, poker writer Michael Craig and Phil Ivey, who engaged in a series of running prop bets with Hellmuth early in the action.
Vrable's exit also eliminated an extended repeat of the Vrable-Hellmuth verbal sparring that marked Monday's play. Daniel Corbin was eliminated next when his K-9 missed the board and fell to Pillai's two pair.
Brett Richey went out after a three-way all in with Hellmuth and Beth Shak. With Hellmuth on the button, Richey raised early to 80,000. Shak moved all in, looking very excited, and Hellmuth jumped to his feet to proclaim "All in!" as well. Richey decided to call all in, and the cards were revealed: Hellmuth
, Richey
, and Shak
. The flop came
, giving a backdoor flush draw to Hellmuth, but then the turn
finished that, and the river
sent Richey out in eighth place with $42,227.
Perry Friedman exited in seventh after he went all-in on
against Hellmuth's
. The flop delivered
, then the turn
brought Hellmuth a seven-high straight and left Friedman drawing dead, despite the
river. Friedman won $57,063.
Hellmuth's run toward a possible 12th WSOP bracelet ended when he was eliminated in sixth place (worth $74,464). With Jason Song on the button, Hellmuth raised under the gun to 120,000 and Shak called. After a flop of
, Shak moved all in on
, and Hellmuth called for his last 305,000 on
. Hellmuth needed an ace, ten or the runner-runner straight, but after the turn
and river
was sent to the rail.
Ben Fineman went out in fifth place for $100,431 on a hand with Jason Song. Song held pocket nines and Fineman wasn't able to improve his Q-3 start.
Dustin Holmes remained a front runner until the final four, when he took several hits. Pillai bounced Holmes out in fourth place when he drew out a wheel straight beginning with A-2 against Holmes' A-4. Jason Song was in the back of the pack starting out, but survived to the final three before departing, finally finished (with $212,274) when his Q-5 failed to draw against Pillai's pocket aces.
Pillai then went heads-up with Beth Shak. Shak was in or near the lead much of the day, but Pillai would take this title in the end. In Hand #148, Pillai raised on the button to 180,000. Shak re-raised to 735,000, which Pillai called. The flop brought
and Shak moved all in for 1,575,000. Pillai took several minutes for consideration, then called. Shak held
for a pair of eights, king high. Pillai showed
for a pair of eights, ace high. The turn
brought no help, nor did the river
, and Shak was bounced in second place with $328,683, with Pillai then accepting the champion's share of $527,829 and the bracelet.
Final Standings and Payouts:
1. Shankar Pillai — $527,829
2. Beth Shak — $328,683
3. Jason Song — $212,274
4. Dustin Holmes — $141,516
5. Ben Fineman — $100,431
6. Phil Hellmuth, Jr. — $76,464
7. Perry Friedman — $57,063
8. Brett Richey — $42,227
9. Daniel Corbin — $30,814
10. Luke Vrable — $21,456