WSOP Updates – Event #29, $1,500 Razz — Katja Thater Wins First WSOP Bracelet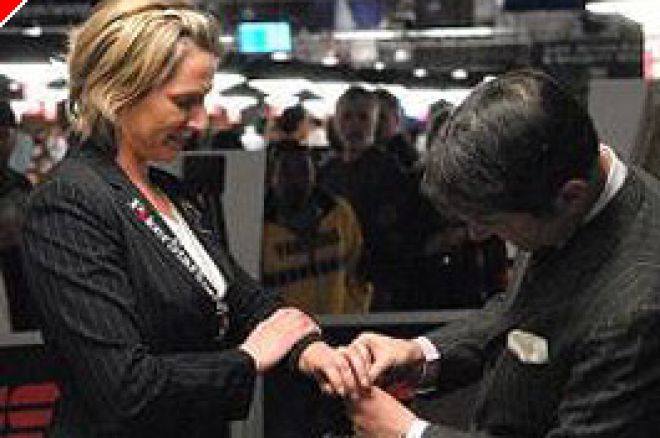 Katja Thater became the first woman to win an open event at the WSOP this year by outlasting seven other top-flight competitors in a grueling 13-hour finale to Event #29, $1,500 Razz. Thater was one of the few players at this final table without a WSOP bracelet, as Mark Vos, O'Neil Longson, Men 'The Master' Nguyen and Paul 'Eskimo' Clark had combined for thirteen previous World Series victories. Thater started the day firmly in the middle of the pack, with the starting seating assignments and chip counts as follows:
Seat 1: Denny Axel — 123,000
Seat 2: O'Neil Longson — 385,500
Seat 3: Larry St. Jean — 171,000
Seat 4: Mark Vos — 84,500
Seat 5: Men Nguyen — 35,000
Seat 6: Thomas Daubert — 54,500
Seat 7: Katja Thater — 117,500
Seat 8: Paul Clark — 88,500
Thater survived several all-in situations early, doubling up first through Eskimo Clark near the end of the first hour of play when her smooth 9-low was better than Clark's rough 9-low. With a (
)
, Thater called all-in on fourth and made her 9-low on fifth street with a wheel (a perfect 5-low) redraw when she caught the
. Bricks on sixth and seventh did not improve her hand, but her 9-5 low held up against Clark's 9-7 low when he also drew poorly on sixth and seventh streets to give him a final hand of
against Thater's
.
Thater doubled up again just a few hands later with a 7-low against Thomas Daubert's 8-low. That hand crippled Daubert momentarily, but he would triple up in the very next hand against Mark Vos and Men the Master when his 8-low was good against Vos' busted wheel draw. Vos began the hand with a 4-low through fourth street, but running aces on fifth and sixth, then a queen on seventh, left him second-best in the hand with a Q-low.
Thater's surge continued when just four hands after Daubert's triple-up, Thater eliminated both Daubert and Men the Master in the same hand. Thater made a risky move by re-raising on third street with a king as her door card, but took the chance to bust two short stacks with her nearly perfect undercards. When the dust settled, Thater's
would outdraw Nugyen's
and Daubert's
to eliminate both men. Thater took a chance and finished the hand with a 9-8-7-5-2, stronger than Daubert's 9-8-7-6-A and far superior to Nguyen's 10-9 low. Daubert finished in eighth for $10,473, and Nguyen in seventh for $14,197.
Action slowed down considerably after that hand, which busted both the day's beginning short stacks. Play held at six-handed for the next three hours of the tournament, until Mark Vos was eliminated in sixth ($18,386) when his 9-low was not strong enough to best Eskimo Clark's 8-low. Clark spent the early evening hours slowly chipping up, and by the time Vos was eliminated, Clark was the tournament chip leader.
No hand went to showdown in the hour after Vos was eliminated, clarifying the axiom that Razz (as with all Stud games) is a game of reading the board cards. Longson would double through Thater in the next hand dealt to completion, when his 6-4 bested Thater's 7-6 low. Thater reclaimed many of those chips only 15 minutes later when she eliminated Denny Axel in fifth ($24,204). On that hand, Thater's
topped Axel's
when Axel paired up on the last two streets.
The next hour would see O'Neil Longson and Larry St. Jean all-in a combined four times, surviving each. Instead, Eskimo Clark was eliminated in fourth, worth $31,186. Thater completed with a (
)
and Clark called with (
)
. Thater bet out on fourth street and Clark called. On fifth street, Clark improved to a
and bet out. Thater raised with
and Clark called all-in for his last 4,000 chips. Running pairs on sixth and seventh left Clark with a K-low, no threat to Thater's 10-low when she found the
on sixth street.
2005 Razz bracelet winner O'Neil Longson started the day with a dominant chip lead, but was eliminated in third ($46,457) by Thater barely 30 minutes after Clark was sent to the rail. Longson's elimination insured that Event #29 would crown yet another first-time bracelet winner at the 2007 WSOP. That occurred only a half hour later, as Thater busted Larry St. Jean for the win.
The final hand saw Thater finish with
to St. Jean's
. During the hand, Thater completed with a 9 as a door card from the bring-in, while St. Jean called with his 10 up and two wheel cards buried. Thater led out and was called on fourth and fifth streets, and St. Jean raised on sixth with an apparent made 8-low which was in fact a bluff, as he had paired his 5 on fifth street. Thater called on sixth, and then bet out on seventh after getting the 4. St. Jean made a rough 8-low (8-7-5-4-2) of his own on seventh and called all-in, but couldn't beat Thater's smooth 8 (8-5-4-3-2) as she took down her first WSOP bracelet.
St. Jean took home $73,311 for his runner-up finish, while Thater earned $132,653 and the champion's bracelet. You can watch our post match interview with Katja here.
Final Standings and Payouts:
1. Katja Thater — $132,653
2. Larry St. Jean — $73,311
3. O'Neil Longson — $46,547
4. Paul Clark — $31,186
5. Denny Axel — $24,204
6. Mark Vos — $18,386
7. Men Nguyen — $14,197
8. Thomas Daubert — $10,473