2007 WSOP Updates - Event #3 – O'Leary Overcomes Jacob for Title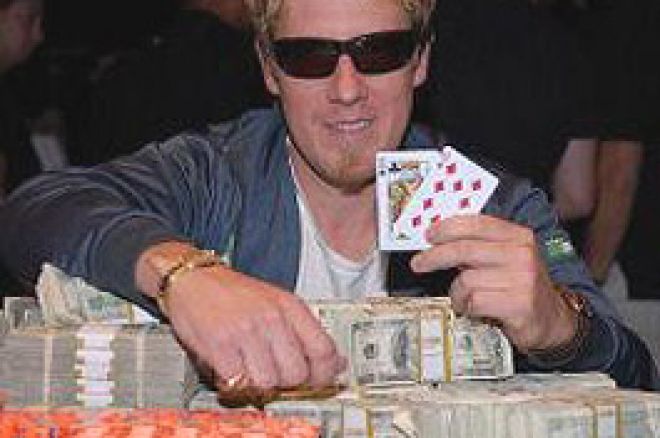 Nine men started play started on Monday at the final table of the $1,500 No Limit Hold 'Em (Event #3) tournament, the last survivors of with a record field for a non-Main Event at the WSOP. An amazing 2,998 runners had vied for the top prize of $727,012, and these last nine lined up to battle for the big prizes as follows:
Seat 1 — WSOP veteran Craig Crivello — 495,000
Seat 2 — California poker player Jeff Yoak — 965,000
Seat 3 — Chip leader, Alex Jacob — 3,100,000
Seat 4 — Germany's Andreas Krause — 490,000
Seat 5 — California pro, Paul Evans — 1,690,000
Seat 6 — Thad Smith — 555,000
Seat 7 — Ireland's Ciarin O'Leary — 610,000
Seat 8 — Matt Vengrin — 930,000
Seat 9 — Bart Hanson — 210,000
With over a third of the chips in play, 2006 USPC champion Alex Jacob was a heavy favorite to claim the victory, but there were still almost six million chips that he had to obtain to be able to capture his first World Series title.
After a half hour delay at the start of a soon-to-be-televised ESPN Final Table, play began. Within the first ten hands, with the blinds at 20K/40K with a 5K ante, both Bart Hanson (who drew out a flush against Craig Crivello) and Andreas Krause (who spiked a wheel on the river against Matt Vengrin) were able to double up and stay alive in the event.
Vengrin would be the first to go after a duel with Krause. Facing a raise from chip leader Jacob on Hand 9, Vengrin moved all-in over the top and was called by Jacob. Vengrin had the edge as he tabled his
against Jacob's K-Q off suit, but the board didn't help; a queen on the flop and no rescue on the turn and river eliminated Matt Vengrin in ninth place, worth $43,378.
Four hands later, Bart Hanson exited at Andreas Krause's hands. Hanson moved his stack of 355K into the center and Krause isolated him with an all-in, over-the-top reraise from the button, pushing the rest of the table out of the hand. Hanson, with his A-10 off, was behind Krause's pocket queens from the start and, once the board brought no saving ace, he headed to the cash-out cage in eighth, earning $55,246 for his efforts.
The bustout parade continued only three hands later. On Hand 16, Thad Smith found a hand he liked and moved all in from the cutoff position for 290K, only to have Craig Crivello re-create Krause's isolation move by going all in over the top of him from the small blind. Smith's K-Q off was behind Crivello's pocket fives and it got worse on the flop for Smith when it came down
, giving Crivello an insurmountable full house. After the
turn, Thad Smith was drawing dead and out of the tournament in seventh place, worth a consolation prize of $73,661.
With three players gone in the first sixteen hands, the leader board looked like this:
Seat 1: Craig Crivello - 835,000
Seat 2: Jeff Yoak - 815,000
Seat 3: Alex Jacob - 3,905,000
Seat 4: Andreas Krause - 1,270,000
Seat 5: Paul Evans - 1,730,000
Seat 7: Ciarin O'Leary - 380,000
Jacob still maintained his lead, but both Paul Evans and Andreas Krause seemed ready to mount serious challenges. Evans, though, would take a hit as Ciaran O'Leary doubled through him after the blinds went up to 40K/80K with a 10K ante. In fact, O'Leary doubled through twice against Evans, making Evans the short stack at the table. It was only justice, then, that the two tangled once again and Paul Evans was able to retrieve some chips with a double-up through O'Leary. With Jacob losing two big pots, doubling up Yoak and O'Leary on consecutive hands, O'Leary's active play soon jumbled the leader board, and he moved into the lead over Jacob.
On Hand 44, Andreas Krause departed. Krause, who had been sweated by professional Erica Schoenberg for part of Day Two, moved in from the button and was called by Paul Evans. Krause was in desperate shape with his K-10 against Evans'
and an ace on the flop virtually sealed his fate. A king on the river was too little, too late, and Andreas Krause left the tournament in sixth place and added $94,122 to his poker bankroll.
O'Leary began to push his edge against the table and was responsible for the next few eliminations at the final table. After raising from his small blind to 410K, O'Leary was challenged by a quiet Craig Crivello, who moved all in. O'Leary made a very difficult call with just an A-8 off, but it was good; Crivello could only muster an A-7 off against him. An eight on the flop and a blank turn had Craig Crivello drawing dead and out of the Amazon Room in fifth place, worth $128,907.
Six hands later, O'Leary bounced Jeff Yoak. O'Leary limped from the button and Yoak moved all in from the small blind. O'Leary once again called with only an A-6 off but, once again, it was good; Yoak could only table a K-Q off and, after an ace on the flop and blank turn, Jeff Yoak was dismissed from the event in fourth place, earning $184,152 for his three days of work.
With play now three-handed, O'Leary took control of the table. On Hand 56, Alex Jacob raised from the button to 300K and faced a reraise by Paul Evans to one million chips. Surprising both, O'Leary moved his monstrous chip stack all in. Jacob quietly mucked and Evans, after much deliberation, released his cards as well. That one pot was responsible for over two million chips added to O'Leary's stack.
The hand seemed to break O'Leary's opponents. On the very next hand, O'Leary limped from the small blind for 120K and Jacob checked his option, with O'Leary immediately checking in the dark. The dealer gave them a flop of
and, after Jacob fired 150K, O'Leary responded with a 600K pop. Jacob made the call after agonizing over it for several minutes and, on the
turn, O'Leary made an all-in push. Alex Jacob once again took his time making his decisions and, in the end, called with a 9-4 off for a pair of fours. O'Leary tabled his pocket sevens and, after a blank on the river, Alex Jacob was finished in third place, taking home $282,367.
Heads up, O'Leary' late dominance was evidenced by the chip stacks:
Ciarin O'Leary - 7,540,000
Paul Evans - 1,485,000
It only took two hands of heads-up play to determine the winner. After Evans limped from the button on Hand 59 and O'Leary checked the option, the two saw a rainbow flop of K-6-2. O'Leary checked over to Evans, who pushed 500K to the center of the table. O'Leary immediately moved all in and was just as quickly called by Evans. Evans turned up
for second pair but, amazingly, O'Leary once again had the dominant hand with
. A
turn opened some doors for Evans as it put two spades on the board but, once the
river appeared, Ciaran O'Leary was the champion of the $1,500 No Limit Hold 'Em event.
PLAYER — EARNINGS
Ciaran O'Leary — $727,012
Paul Evans — $450,150
Alex Jacob — $282,367
Jeff Yoak — $184,152
Craig Crivello — $128,907
Andreas Krause — $94,122
Thad Smith — $73,661
Bart Hanson — $55,246
Matt Vengrin — $43,378
O'Leary credited his fellow countryman, 1995 World Champion Dan Harrington, with teaching him patience at the tables, patience well rewarded with a World Series of Poker bracelet in the finale of the $1500 No Limit Hold 'Em event.