WSOP Updates – Event #31, $5,000 Heads-UP NLHE — Round of 64 Set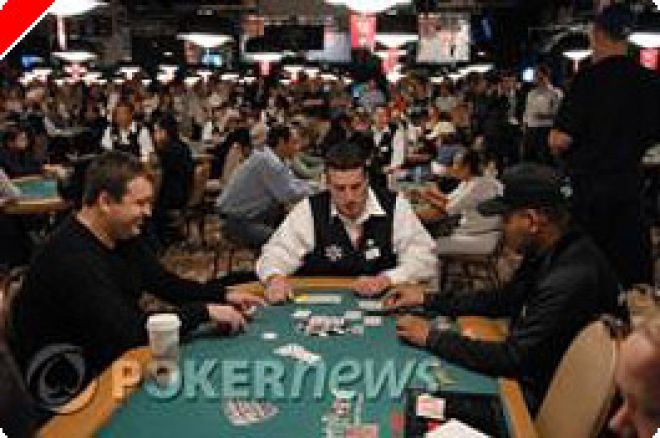 After a two-hour delay amid some confusion in bracketing players and assigning them to seats, Event #31, $5,000 Heads Up No Limit Hold 'Em, got underway on Tuesday. Players were bracketed for one-on-one play in matchups featuring 20-minute levels. Three rounds were played, reducing the field of 512 to 64. Players going into Round 4 on Wednesday will be in the money.
Some players received byes for the first round, the drawing for which was the reason for much of the initial delay. Among those receiving byes were Doyle Brunson, Todd Brunson, Scotty Nguyen, David 'The Dragon' Pham, Paul Wasicka, Jonathan Little, Chip Jett, Phil Laak, Andy Bloch, Greg Mueller, Barry Greenstein, Mike Sexton, Phil Gordon, Bill Gazes, Joe Cassidy, Carl Olson, Mark Seif, Tony G, Noah Boeken, Alex Jacob, Rob Hollink, Danny Alaei, Sam Farha, Doug Lee, Jamie Gold, Erich Froelich, Tex Barch, Michael Binger, Chad Brown, and Juha Helppi.
Mike 'The Mouth' Matusow might have summed it up best: "Any poker player knows winning this tourney is like winning the lottery." Matusow didn't have the lucky ticket —he went out in Round Two when his pocket tens lost to pocket kings.
Many big name players went down early on Tuesday. Burt Boutin was eliminated by George Danzer's king-high flush. Jon Turner went down to Jason Strasser. Howard Lederer lost to Dan Harrington after a slow-paced 'small-ball' match. 2004 Main Event Champion Greg Raymer was defeated by Mikael Thuritz. Michael Gracz went out courtesy of Fabrice Soulier. Gavin Smith lost to Pascal Perrault. Chris 'Jesus' Ferguson was busted by Justin Scott.
Some players survived the first two rounds only to be defeated in the third. Josh Arieh lost to Nath Pizzolatto in the third round when he missed a flush draw. Former Saturday Night Live comedian Norm MacDonald defeated Bertrand 'ElkY' Grospellier in Round 2, but was eliminated by Steve Drobushevich's trip threes in the third round. Todd Brunson lost in Round 3 when his A-5 on a short stack couldn't catch up to his opponent's two pair caught on the flop.
Eric 'E-Fro' Froehlich defeated Mike Sexton in Round 2. Froehlich built an early lead, claiming "I'm very lucky." He then pulled a bit of that luck on the winning hand. Sexton made two pair with his
on a flop of
, while Froehlich held
for top pair. The turn, though, produced
, giving Froehlich the higher two pair. Unfortunately, Froehlich's luck deserted him, as he lost in Round 3.
Not all the big names went home, though. Tony G will be returning for Wednesday's play after catching some key cards. In Round 2 he flopped two pair against Sammy Farha, and in Round 3 he filled a nine-high straight against David Williams' A-K.
Paul Wasicka, winner of the NBC National Heads-Up Championship, flopped a 9 to match his 10-9 hand and eliminate his third-round opponent.
Jennifer Tilly had a productive day, first defeating Tim West in Round 1 with high pair, then defeating Kenna James in Round 2. She defeated her opponent in the third round as well and will advance into the money Wednesday. Also in the third round, Joe Sebok won a 40,000 pot from Shawn Buchanan when he rivered a king to pair his K-10 start. Sebok finished off the short-stacked Buchanan soon after.
Thomas Wahlroos seemed destined to go home when he went all in on
against Patrik Antonius'
and the flop came
. The turn was kinder, though, bringing the
, and the river
gave Wahlroos the better two pair. A few hands later he again spiked an ace on the river, eliminating Antonius. Roland de Wolfe eliminated Doug Lee to advance to the fourth round, and Phil Gordon and Scotty Nguyen moved on as well.
The complete list of qualifiers for Day Two action is as follows:
Daniel Alaei
Charles 'Joe' Ambrogi
Nashaat Antonious
Aaron Been
Keith Block
Alex Bolotin
Philippe Boucher
Alex Brenes
Chad Brown
Shawn Chaconas
Robert Cheung
Jared Davis
Roland de Wolfe
Nathan Doudney
Shae Drobushevich
Jonas Etin
Ron Faltinsky
Layne Flack
Daniel Francis
Matthew Giannetti
Jason Glass
Phil Gordon
Craig Grey
Gavin Griffin
Tony G (Guoga)
Bart Hanson
John Hanson
Rob Hollink
Matt Humphrey
Casey Jarzabek
Peter Jetten
Michael Judge
Jean Kabbaj
Marc Karam
Matt Keikoan
Curt Kohlberg
Toto Leonidas
Eric Lynch
Sean McCabe
Kirk Morrison
Mark Muchnik
Nick Neirgarth
Scotty Nguyen
Kevin O'Donnell
Carl Olson
Roman Paradiso
Camel Petresco
Michael Pickett
Nathaniel Pizzolatto
Tong Puan
Jonah Rogers
Steve Sarrafzadeh
Walter Schafer
Dan Schreiber
Joe Sebok
Vanessa Selbst
Shannon Shorr
Kevin Song
Johannes Steindl
Jose Tavares
Jennifer Tilly
Thomas Wahlroos
Paul Wasicka
Kyle Wilson
Day Two of this event will bring three rounds with 40,000, 80,000, and 160,000 starting chips in each successive round. In the third round (Round 6, overall), the time of play will extend to 40 minutes per level.
Play will resume at 2pm PDT. Keep up with the action by following today's Final Table 'Live Reporting' of Event #31, $5,000 Heads Up No Limit Hold 'Em at PokerNews.com.