WSOP Updates – Event #32, $2,000 7CS — Lisandro Tops Frangos for 7-Stud Title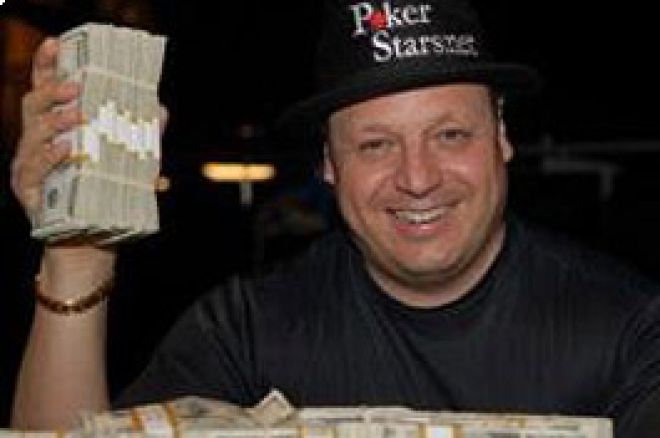 Event #32, $2,000 Seven Card Stud Event, returned on Thursday for an unexpected third day of play. With ESPN cameras at the final table, the last eight players began action at 1pm. Jeffrey Lisandro and Daniel Negreanu held down the top two spots and were the primary reason for the cameras, with the complete lineup as follows:
Seat 1: Daniel Negreanu — 164,500
Seat 2: Greg Pappas — 144,000
Seat 3: Nick Frangos — 90,500
Seat 4: David Brody — 46,000
Seat 5: Nesbitt Coburn — 150,000
Seat 6: Jeffrey Lisandro — 195,000
Seat 7: Severin Walser — 24,000
Seat 8: Farshad Cohen — 75,500
New Team PokerStars member Daniel Negreanu went after Lisandro in the first hand, scoring a flush and taking down 60,000 in chips from Lisandro to move into the lead. Negreanu looked to be the player on the move when he eliminated Cohen just four hands later after rivering a straight. Cohen earned $8,916 for finishing in eighth.
The very next hand saw the elimination of Cohen's fellow short stack David Brody in seventh, who busted at the hands of Greg Pappas' rivered straight. Brody collected $12,405 for his play.
A long stretch of six-handed play then ensured, lasting until Hand #42, when Greg Pappas' luck ran out as he came up against Nesbitt Coburn's K-high straight. Pappas collected $16,282 for his showing.
Negreanu's early surge went for naught as the cards turned. He soon busted in fifth when his jacks didn't hold up against Severin Walser's trip deuces, who by this time had escaped short-stack status to become a final-table factor. Negreanu pocketed $21,321 for his play.
Walser, though, would fall next when he ran into Day One chip leader Nick Frangos' full house of Aces over Kings. Walser finished in fourth place, earning $28,105. Frangos made it two in a row when he used two pair to bust Nesbitt Coburn in third, with Coburn collecting $42,643 for his finish.
Down to Frangos and Jeffrey Lisandro, who had remained active throughout despite not scoring the knockouts, both players moved their chips in at will. The last cards went Lisandro's way, who first crippled Frangos and then finished him off; on the last hand Frangos' jacks simply fell well short of Lisandro's trip aces in the last hand. Frangos earned $65,902 for finishing second, while Lisandro claimed the WSOP bracelet and the first-place cash of $118,426 with the triumph.
Final Standings and Payouts:
1. Jeffrey Lisandro $118,426
2. Nick Frangos $65,902
3. Nesbitt Coburn $42,643
4. Severin Walser $28,105
5. Daniel Negreanu $21,321
6. Greg Pappas $16,282
7. David Brody $12,405
8. Farshad Cohen $8,916