WSOP Updates – Event #33, $1,500 PLO — Qushqar Morad Leads Bjorin, Adams, Giang to Final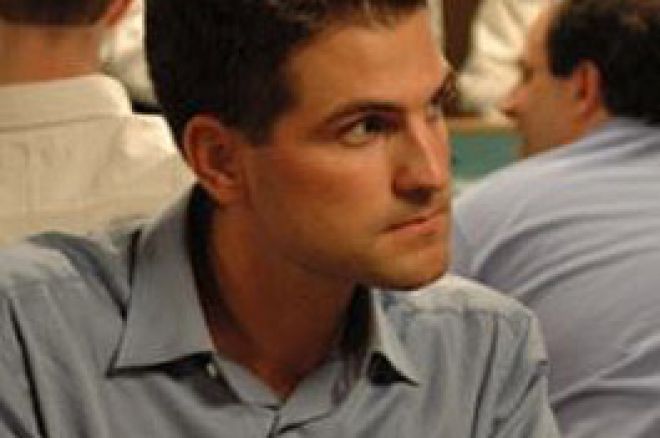 After a frenzied Day One that brought 293 initial buy-ins and 880 re-buys in the first levels, the pace of eliminations slowed considerably on Day Two of Event #33, Pot Limit Omaha with Rebuys, forcing an unplanned third day in this event. The starting 49 players battled down to a final table shortly after midnight, and the remaining nine players will return at 2pm today to vie for the bracelet.
It didn't appear the third day would be needed early on, as seven players were eliminated in the first hour of play, including Eli Elezra, Dewey Tomko and Jeff Madsen. Jacky Chitwood late arrival was the early story, though after his chips were blinded off for 90 minutes he rushed in and doubled up on the first hand, and managed to survive all the way to 20th and a cash finish.
As players neared the 27-player money bubble, controversy erupted around a color up. After returning from break, Erick Lindgren's stack was noticeably different from before, and tournament officials had to review the security tapes to make sure a recurrence of last year's Main Event $2-million-chip color-up incident had not occurred. A security-tape review determined that nothing was amiss: Lindgren had won a large pot immediately before going to break, and that, coupled with the subsequent color-up, led to the confusion.
36 players remained at that moment. In the next 90 minutes, the bubble burst, with Ram Vaswani, Mike Sexton and Johnny Chan exiting just outside the money. Chan finished in 32nd after making a strong run early in an attempt to match Phil Hellmuth's record of 11 career WSOP bracelets. Day 1 chip leader Matt Glantz also busted on the bubble after getting into a big hand with Chau Giang. Sexton was the unlucky bubble finisher, eliminated in 28th spot.
Five players were eliminated in the first fifteen minutes after the bubble burst, with Warren Wooldridge, David Williams, Andreas Krause, Eughan O'Dea and Rodeen Talebi all heading to the cashier's cage to collect $16,001. It would take less than 90 minutes of post-bubble play to go from three tables to two, as David 'Devilfish' Ulliott, Rick Ellerman, Chitwood and Julian Gardner all were eliminated in short order.
The decision was made by tournament staff early in the evening to add a Day Three to the event if a final table was not reached by 10pm, and once players were in the money, it appeared as though that time might be reached, but when 9pm rolled around and a break was at hand, play had only just consolidated to two tables, guaranteeing a third day of play. Once play condensed to two tables, these were the seating assignments and chip counts:
(TABLE 67)
1. Ralph Perry — 131,000
2. Len Ashby — 135,000
3. Hilbert Shirey — 280,000
4. Allen Cunningham — 28,000
5. Birinder 'Sonny' Nijran — 250,000
6. Jorge Arias — 75,000
7. Van Marcus — 171,000
8. Robert Fellner — 85,000
9. Chau Giang — 355,000
(TABLE 68)
1. Brandon Adams — 430,000
2. Varahram Vardjavand — 46,000
3. Brad Berman — 109,000
4. Alan Smurfit — 210,000
5. Dan Harmetz — 150,000
6. Qushqar Morad — 345,000
7. Chris Bjorin — 130,000
8. Erick Lindgren — 285,000
9. Michael Binger — 259,000
Soon after, a short-stacked Allen Cunningham moved all-in from early position in an attempt to double up, but was eliminated by Jorge Arias. Cunningham open-pushed with
, and was called by Arias with
. The board slightly improved Cunningham with
, but his pair of jacks was still beaten by Arias' pair of queens and Cunningham fell short in his quest for his second bracelet of 2007.
Varahram Vardjavand was eliminated soon after when his
couldn't beat Qushqar Morad's
on a board of
. After getting all the chips in pre-flop, Vardjavand flopped a flush draw, but running non-diamond kings left him with kings and eights, beaten by Morad's aces and kings. Vardjavand and Cunningham both picked up $17,685 for their play.
Bradley Berman (16th, $17,685) and Michael Binger (15th, $19,370) were eliminated shortly after returning from dinner break, among five players who exited in a quick group. Jorge Arias (14th, $19,370), Daniel Harmetz (13th, $19,370) and Ralph Perry (12th, $21,054) all soon joined them.
Once Len Ashby was eliminated in 11th place, players were re-seated for the final 10-handed table. Ashby's elimination hurt Erick Lindgren as well, as Chris Bjorin took down the huge pot with
when he turned a straight on a board of
. Lindgren's
for two pair was second best, leaving Ashby in a distant third with a worse two pair, on
, and out with $21,054 for his work.
Lindgren busted in tenth ($21,054) thirty minutes later to end play for the day. His
did not improve against Qushqar Morad's
. The board read
at the river, leaving nine players to resume the battle today.
Here are the nine players that will vie for the bracelet starting at 2pm PDT today, with seat assignments and chip counts:
Seat 1: Sunny Nijran — 195,000
Seat 2: Van Marcus — 220,000
Seat 3: Chau Giang — 360,000
Seat 4: Qushqar Morad — 995,000
Seat 5: Brandon Adams — 500,000
Seat 6: Robert Fellner — 210,000
Seat 7: Alan Smurfit — 95,000
Seat 8: Chris Bjorin — 605,000
Seat 9: Hilbert Shirey — 335,000
Visit Pokernews.com's 'Live Reporting' for the final table of Event #33, $1,500 Pot Limit Omaha (w/ Rebuys), beginning at 2pm PDT.