WSOP Updates – Event #34, $3,000 LHE — Borteh Holds Lead, Hellmuth Gets 61st Cash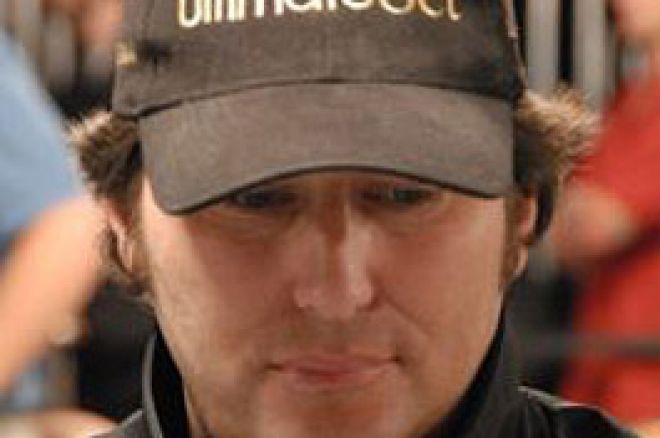 Thursday's long second day of play in Event #34, $3,000 Limit Hold 'Em saw the field shrink from 110 players to the final table of nine, all vying for the bracelet and the $225,483 first prize. Top stories going into the day were Phil Hellmuth chasing bracelet #12 with a healthy stack, and the crowds, as the start of Day Two was delayed due to the crush of players participating in one of six different events running on the day, including the more than 2,500 players in the $1,500 NLHE event.
After an hour's wait, play resumed, and 19 of the 110 Day One survivors busted out in the opening level. Barry Greenstein's day finished just in time for him to go across the room and join the just-started $5,000 Omaha Hi-Lo tourney. Annie Duke and David Plastik also departed early.
Phil Hellmuth took a hit early on when his pocket aces were cracked by Linda Ryke-Drucker's flopped a set of queens, with Hellmuth then berated by another player who rushed over from a different table to say, "Hey, are you Phil Hellmuth? Can I shake your hand?" The floor was called to remove the other player and return him to his seat.
David 'The Dragon' Pham began a run in the middle of the day that propelled him all the way to the final table, chipping up consistently with his trademark aggressive play. Pham began his run by turning trip queens against David Wong on a board of
. Pham showed
for trips, and Wong mucked. This moved Pham up to 64,000 in chips and kept him competitive for the rest of the night.
Bradley Libson's elimination on the bubble assured Hellmuth of another cash, his fourth of this year's WSOP and the 61st of his career, again extending his own record.
With a tough field remaining, including J.J. Liu, David Pham, Richard Brodie and Greg 'FBT' Mueller, Hellmuth had a tough climb toward a possible record 40th WSOP final table. Only two players, Linda Drucker and Joe Graziano, were eliminated between the bubble and the dinner break, and players returned from dinner to play down to the final nine.
Hellmuth's run ended shortly after the dinner break when he limped for 4,000 with
, then re-raised when Serena Liu made it 8,000 to go. Hellmuth only had another 1,000 chips behind, so Liu auto-called with
. The
flop gave Liu a set and sent Hellmuth into a tirade about luck. Neither of the remaining kings came on the turn or river, instead arriving
, and so ended Hellmuth's chance at bracelet #12. Hellmuth finished in 25th for $7,761.
By 1am the field had been winnowed to two tables, as Dean Tran (19th, $7,761) and Jeffrey Siegal (18th, $8,578) busted within moments of each other. Just before the tables condensed, David Pham dragged a huge pot against Vivek Rajkumar when the river
gave Pham the nuts. Action went wild after the
flop; Rajkumar bet, Pham raised, Rajkumar re-raised, and Pham called. The turn was the
, and the players three-bet it again. After the river
appeared, Rajkumar bet, Pham raised and Rajkumar just called. Rajkumar tabled
for the flopped straight but Pham turned over
for the rivered straight flush. As Pham dragged the monster pot, Rajkumar took advantage of the rewritten F-bomb rule to exclaim "No f*$%ing way! I flopped the nuts!"
The final two tables looked like this:
(Table 66)
1. J.J. Liu — 49,000
2. Petri Pollanen — 182,000
3. Alexander Borteh — 84,000
4. Don Grove — 75,000
5. OPEN
6. Michael Byrne — 85,000
7. Serena Liu — 59,000
8. Chad Brown — 127,000
9. Shawn Keller — 148,000
(Table 72)
1. Brandon Wong — 98,000
2. David Pham — 145,000
3. Max Pescatori — 64,000
4. Vivek Rajkumar — 93,000
5. Cliff Spiro — 19,000
6. Guy Kenworthy — 33,000
7. Marco Johnson — 140,000
8. Jonathan Tamayo — 245,000
9. Matthew Kelly — 70,000
Four players exited in the next 30 minutes: Cliff Spiro (17th, $8,578), Serena Liu (16th, $8,578), J.J. Liu (15th, $9,395) and the 'Italian Pirate,' Max Pescatori (14th, $9,395). They were soon followed by Don Grove (13th, $9,395), Guy Kenworthy (12th, $10,212) and Chad Brown (11th, $10,212), leaving the ten remaining players to battle for nearly two hours before the final nine-handed table was set. Jonathan Tamayo became the final-table bubble boy, busting when his
did not improve against David Pham's
. Tamayo finished in tenth, good for $10,212.
Vivek Rajkumar was the after-midnight story of the tourney, gaining chips and respect for his aggressive play. Rajkumar is trying to tie the record set by Steve Billirakis earlier this summer for the youngest WSOP bracelet winner. He will start final-table play today at 21 years, 10 days old, exactly the same age as Billirakis when he won the first mixed event of this series. In the ten days that Rajkumar has been able to participate in the World Series, he has played in six events and cashed in four of them: Event #22 ($5,000 NLHE), Event #25 ($2,000 NLHE), Event #28 ($3,000 NLHE), and this one. Meanwhile, start-of-day leader Alex Borteh played steady throughout, and still holds the lead heading into today's final table. Today's seat assignments and chip counts:
1. Vivek Rajkumar — 170,000
2. Petri Pollanen — 94,000
3. David Pham — 254,000
4. Marco Johnson — 66,000
5. Matthew Kelly — 97,000
6. Shawn Keller — 260,000
7. Brandon Wong — 216,000
8. Alex Borteh — 389,000
9. Michael Byrne — 231,000
Join PokerNews.com's 'Live Reporting' of Event #34, $3,000 Limit Hold 'Em. Final-table play begins at 2pm PDT today.