WSOP Updates – Event #35, $1,500 NLHE — Dirksen Grabs Another Day One Lead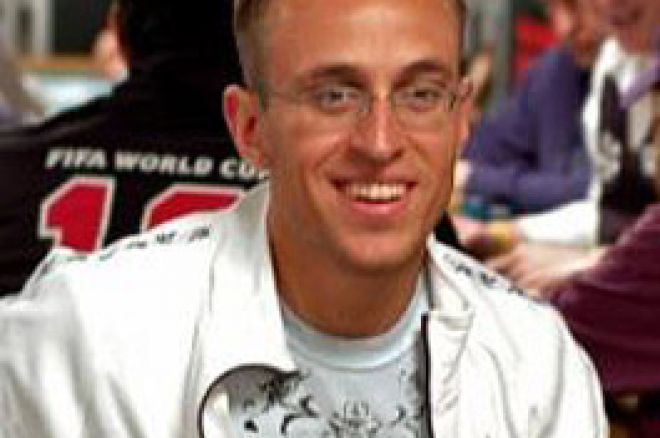 A sizeable field of 2,541 players overflowed both the Amazon Room and the Poker Pavilion for Thursday's start of Event #35, $1,500 No Limit Hold 'Em. Dustin Dirksen took a sizable Day One lead for the second time in this year's WSOP, with Phil Gordon and Jacobo Fernandez among the nearest competitors at night's end. The money bubble burst shortly after midnight at 270 players and after further eliminations, 147 players will return on Friday.
Sean Chen was the first player to reach 100,000 in chips after he called another player's pre-flop all-in of 30,000 with pocket nines. His opponent held A-Q and flopped a queen for the pair, but Chen caught runner-runner for a queen-high straight, taking the pot.
Nam Le also hit a large pot late in the day to fortify his stack. He was all in pre-flop with pocket tens against two other players who held pocket kings and pocket jacks, but caught the
on the flop to move to 60,000 in chips.
Early front-runner J.C. Alvarado surged at Tony Ma's expense. Ma, holding pocket kings, hit a set with the
flop, and the chips went in with Alvarado showing
for the flush draw and backdoor straight chance, which came up when the turn
and river
appeared and sent Ma to the rail.
Phil Gordon, sitting in sixth overnight, caught at least some good fortune in his climb up the board. After calling an opponent's all in with
after the
flop, his opponent showed pocket aces, leaving Gordon's nines needing help. That arrived with the turn king, and another king on the river gave Gordon the full house and the knockout.
Three-time bracelet winner Juan Juanda also remains in the running after an up and down day of play. His up-and-down day featured a key double-through against Shannon Elizabeth. On that hand, Juanda check-raised Elizabeth after the flop of
. After the turn
, Juanda pushed all in for 12,500. The river was the
. Elizabeth showed pocket kings for two pair, but Juanda flipped over
, taking the pot with trip queens.
Clonie Gowen also landed some decent pots to keep her in the running for Friday's play, moving from less than 6,000 to over 50,000 in a surge boosted by pocket aces.
Many big names, however, were eliminated early. T.J. Cloutier went out after he pushed all in with K-J but couldn't improve against his opponent's A-Q. Similar fates met Jennifer Tilly, Gavin Smith and Roland de Wolfe. John Esposito put Gene Todd out with pocket kings over Todd's unimproved A-10. Other players also exiting on Friday included J.J. Liu, James Van Alstyne, Phil Laak, Greg Raymer, Randy Holland, Danny Wong, Paul Wolfe, John Duthie, Erica Schoenberg, Tom McEvoy, Mark Binger, Chris Ferguson, Eugene Todd, and Juha Helppi.
The leaders at the end of Day One are as follows:
PLAYER — CHIPS
Dustin Dirksen — 220,000
Richard Washinsky — 169,300
Joseph Joffino — 138,800
Darren Glenn — 131,600
Steve Cohn — 130,100
Phil Gordon — 125,700
Jacobo Fernandez — 121,500
Tim Foley — 112,500
Fred Ruscetti — 110,600
Adam Jed — 108,000
Play will resume at 2pm PDT on Friday. For the latest news, visit PokerNews.com's 'Live Reporting' of Event #35, $1,500 No Limit Hold 'Em.