WSOP Updates – Event #35, $1,500 NLHE — Young, Dirksen, Esposito Head Final Table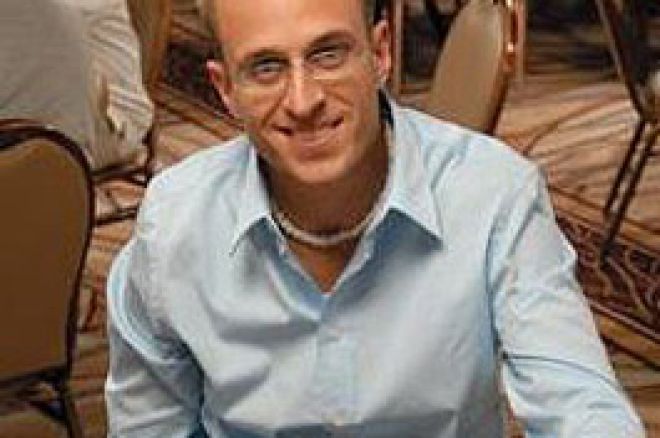 Event #35, $1,500 No Limit Hold 'Em, saw 147 players return from an original 2,541 for Friday's action. The 147 were trimmed to a final table of nine in a relatively short session, finishing up after only 11 hours of play. Dustin Dirksen started the day atop the field with 200,000 chips, and remained nearby when action concluded, firmly in second place with 1,680,000. Ryan Young emerged as the leader with 2,510,000 in chips when play ended and has the inside track on the $615,955 first prize.
Among the notable players who began Day Two action were Phil Gordon, Kathy Liebert, Nam Le, Clonie Gowen, Antonio Esfandiari, Dutch Boyd and John Juanda. Only Le remained alive at the end of the day, as he heads to the final table in search of his first WSOP bracelet.
The final table, which resumes play at 2pm PDT today, will be comprised of Le, 1999 Limit Hold 'Em Bracelet winner Joe Esposito, and a host of players at their first WSOP final table including chip leader Ryan Young, high-limit internet pro Dustin Dirksen, Raj Jain and Paul Cheung. Irish poker pro Michael Trimby, Darren Glenn and Joe Holmes are also newcomers to the sequestered final table, although Holmes has two WSOP cashes under his belt from previous years, in Stud and No Limit Hold 'Em.
Early eliminations were numerous as players needed to chip up or go home. Jamie Cohen and Shaun Linefsky both busted out on the first hand of Day Two. When the dust had settled after an hour of play, 100 players remained, including Phil Gordon, in the hunt for his first bracelet. Gordon started the day near the top of the field, playing his "A" game through the pain of a torn meniscus after falling down a flight of stairs earlier in the month while reading his Blackberry. Gordon's knee will require surgery, which he has elected to put off until after the Series.
In less than an hour, nearly 50 players were eliminated, but it took another ten hours to eliminate the final 90, including Joe Sebok, John Juanda, Antonio Esfandiari and Dutch Boyd, who all headed home before the dinner break.
Gordon lasted until 28th place in this event, crippled when Daniel Francis'
outflopped his pocket jacks. Gordon pushed pre-flop, Francis pushed over the top and chip leader Steve Cohn called with
. An ace on the flop and no one-outer on the turn or river left Gordon extremely short-stacked. He pushed all-in on the next hand with
, and Cohn turned a set with his pocket tens to send Gordon limping to the rail.
Play consolidated down to two tables shortly after Gordon's exit, with seating assignments as follows:
(Table 61)
Seat 1: Darren Glenn — 154,000
Seat 2: Daniel Francis — 125,000
Seat 3: David Mitchell-Lolis — 311,000
Seat 4: Raj Jain — 360,000
Seat 5: Ryan Young — 1,340,000
Seat 6: Joe Holmes — 366,000
Seat 7: James Boltin — 693,000
Seat 8: Nam Le — 360,000
Seat 9: Larry Goldstein — 160,000
(Table 62)
Seat 1: Sal Mangiafico — 300,000
Seat 2: Dustin Dirksen — 800,000
Seat 3: Paul Cheung — 570,000
Seat 4: Ken Adams — 340,000
Seat 5: Aaron Kanter — 165,000
Seat 6: Eddie Im — 323,000
Seat 7: Steve Cohn — 725,000
Seat 8: Michael Trimby — 260,000
Seat 9: John Esposito — 180,000
Still in the hunt at this point was Aaron Kanter, the 2005 WSOP Main Event final tablist. He pushed his short stack in soon after the consolidation, and busted in 18th when his
did not improve against Sal Mangiafico's dominating
. James Boltin and Larry Goldstein fell in successive hands, while Dustin Dirksen picked up steam late, crippling Steve Cohn on one of the early hands of two-table play. Dirksen then eliminated Mangiafico in 15th when he rivered two pair to come from behind with
on an A-high flop against Mangiafico's
.
Chip leader Ryan Young eliminated Daniel Francis when his
rivered a full house to send Francis's unimproved
to the rail. John Esposito provided the evening's coup de grace, finishing off the last two players of the night in one action-packed hand. Ken Adams, Eddie Im and Esposito were all-in pre-flop, Adams with
, Im with
and Esposito with
. The flop of
helped no one, nor did the
on the turn, except in keeping Esposito's jacks in front. The river
gave Esposito the full house and the double knockout. Adams started the hand with more chips than Im, so he was awarded the tenth-place finish, good for $30,150, while Im received the same pay for finishing 11th.
The final table, with seating assignments and chip counts:
Seat 1: Darren Glenn — 317,000
Seat 2: Nam Le — 446,000
Seat 3: John Esposito — 890,000
Seat 4: Joe Holmes — 413,000
Seat 5: Dustin Dirksen — 1,680,000
Seat 6: Paul Cheung — 552,000
Seat 7: Ryan Young — 2,501,000
Seat 8: Michael Trimby — 656,000
Seat 9: Raj Jain — 183,000
Join Pokernews.com's 'Live Reporting' of Event #35, $1,500 No Limit Hold 'Em. Final-table coverage begins at approximately 3pm PDT, one hour delayed due to this event's selection for broadcast over the Internet.