WSOP Updates – Event #36, $5,000 Omaha Hi-Lo — Guth Outlasts Stevanovski for Title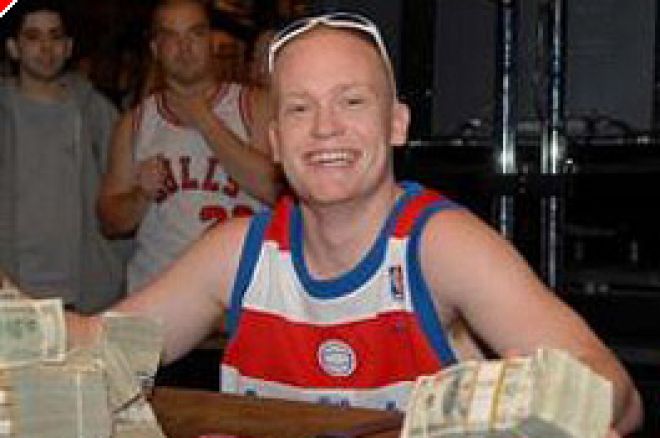 After three days of chops, splits and pushes, John 'Sir Scoopalot' Guth scooped his fair share of pots en route to his first World Series of Poker cash, his first WSOP final table, and his first WSOP bracelet in Event #36, $5,000 Omaha High/Low Split tournament. After a marathon Day Two that saw notables Todd Brunson, Annie Duke and Mike Matusow eliminated, these nine players settled in for the final table:
Seat 1: Max Reynaud — 529,000
Seat 2: Bart Hanson — 191,000
Seat 3: John Guth — 387,000
Seat 4: Randy Jensen — 283,000
Seat 5: Greg Jamison — 223,000
Seat 6: Michael Pollowitz — 189,000
Seat 7: David Flores — 450,000
Seat 8: Robert Stevanovski — 384,000
Seat 9: Jim Grove — 163,000
After a 13-hour Day Two, players were in no rush to be eliminated from the final table, and it took nearly an hour for the first to fall. Jim Grove started the day on the short stack, and was unable to make a move before David Flores eliminated him with a wheel on the turn when the board read
. Grove missed his flush draw on the river for the chop, and Flores sent him to the rail with the nut low and a baby straight. Grove finished in ninth place for $23,688.
The deliberate pace of play continued until Bart Hanson fell in eighth. Of the final nine, only Bart Hanson had made a WSOP final table before, in Event #3, $1,500 No Limit Hold 'Em, earlier this Series. Hanson also take eighth in the earlier event, though this departure netted him a $32,900 payday in his third overall cash of the year.
Michael Pollowitz' dreams of a gold bracelet were crushed just a few hands later when he tangled with Randy 'Dreamcrusher' Jensen. Jensen made top and bottom pair on the flop of
with a strong low redraw with his hand of A-4-J-7, and Pollowitz couldn't catch up with
-Q-Q-
. The turn brought the
, giving Pollowitz the nut flush draw, but a
on the river ended his hopes. Pollowitz finished in seventh for $44,744.
Jensen's own dreams were crushed after coming in second-best on several hands in a short span. First, he fell to John Guth's flopped full house when Guth's pair of pocket fours were good on a board of
. Jensen was crippled on the next hand when Stevanovski's flopped two pair was good enough to win on a board of
. A few hands later, Jensen committed all his remaining chips in a three-way hand after a flop of
. Guth and Greg Jameson checked down the side pot, and when the
brought Guth a rivered K-high straight, Jensen collected his sixth-place prize money of $59,220.
Shortly after, Robert Stevanovski drew out to counterfeit Greg Jameson's two pair with a better two pair on the river. Jameson hit a pair on the
flop, and bet. Stevanovski called him down, sending Jameson to the rail when the turn and river brought the
, giving Stevanovski aces and sevens with a queen kicker, holding A-Q. Jameson showed A-6, with the sixes counterfeited when the ace hit on the river, leaving Jameson with the worse kicker. Jameson collected $75,012 for his efforts.
Max Reynard began Day Three as the chip leader, but lost traction as the blinds increased. He was eliminated in fourth, less than an hour after Jameson's exit. In a three-way pot with Stevanovski and Guth, Reynard lost both halves when Stevanovski's 6-4-5-7 made both the wheel for the low and a 6-high straight for the high on a final board of
. Reynard's fourth-place finish was worth $101,332.
Stevanovski was the chip leader as play went three-handed, with a moderate advantage over Guth and Flores:
Robert Stevanovski — 1,250,000
John Guth — 845,000
David Flores — 700,000
Stevanovski's lead evaporated after just a few hands, when Flores took two consecutive pots off of him, and Guth later forced a huge laydown on the river when a wheel draw filled and he raised Stevanovski for the first time in that hand. Stevanovski folded his set of aces face up, and Guth claimed to have the wheel, but didn't show.
This started Guth's half-hour-long rush that claimed David Flores' tournament life. After losing several big pots to Guth, Flores got the last of his chips into the middle of the table against Stevanovski with Q-Q-7-3, running headfirst into Stevanovski's A-A-K-K. The board brought neither a Queen nor a low, and Flores was eliminated in third for $148,708.
Early in heads-up play, Guth amassed a 4:1 chip advantage over Stevanovski, but the experienced Stevanovski rallied to take the lead an hour into the heads-up match. This was Stevanovski's first WSOP final table, but not his first Omaha Hi-Lo cash. He finished 32nd in the $3,000 Omaha Hi-Lo event in 2006, and also cashed in two No Limit Hold 'Em WSOP events.
A mistake by Stevanovki brought the match back to even when he misread his hand and announced a straight on a board of
. Guth disgustedly tabled his set of nines, which he thought Stevanovski had cracked, only to realize that Stevanovski had misread his hand and held the 6-7 for a pair, not the 5-7 he needed for the straight. Fortunately for Guth, he had tabled his hand and not mucked it. It is a mark of the respect these players had for each other, as well as the inherent confusion in Omaha Hi-Lo, that no accusations of angle-shooting were made. It was obviously an honest mistake, and one that cost Stevanovski dearly as the hand pulled Guth back to nearly even.
Neither player could gain much advantage in the back and forth heads-up endgame, as the players dueled for three hours while the increasing blinds came into play. Guth started one final rally at 11pm, retaking the chip lead when his
rivered a flush (even though his low draw didn't get there) to crack Stevanovski's aces and jacks. The final board read
, and Guth's baby flush scooped the pot.
'Sir Scoopalot' lived up to the moniker, building a 6:1 chip lead on a hand where he showed Q-J-2-4 for the "nut-nut," the best possible high and low hand on a board of
. Guth's Q-high straight was the turned nut straight for the high, and his 8-4-3-2-A was the best possible low. This hand gave him a commanding chip lead, with 2,400,000 to 400,000 for Stevanovski.
Less than 30 minutes later, Guth's WSOP bracelet dreams came true, as he flopped a set of nines and turned a full house to scoop the final pot against Stevanovski. An incredulous Guth took time to show good sportsmanship and offer up a final handshake to Stevanovski before exclaiming "This is my bracelet!!?? This is my money??!! Are these my bricks??" Stevanovski collected $218,456 for his second-place finish. Guth hugged and high-fived his friends and picked up the bracelet. "Can I put this on?" he asked, forgetting for a moment that the bracelet was all his, and he could do whatever he wanted with it, because over three long days of play and three hours of back-and-forth heads-up play, he earned it, along with the $363,216 first-place prize money.
Final Standings and Payouts:
1. John Guth — $363,216
2. Robert Stevanovski — $218,456
3. David Flores — $148,708
4. Max Reynard — $101,332
5. Greg Jameson — $75,012
6. Randy Jensen — $59,220
7. Michael Pollowitz — $44,744
8. Bart Hanson — $32,900
9. Jim Grove — $23,688