WSOP Updates – Event #40 – Lisandro off his H.O.R.S.E., Among Leaders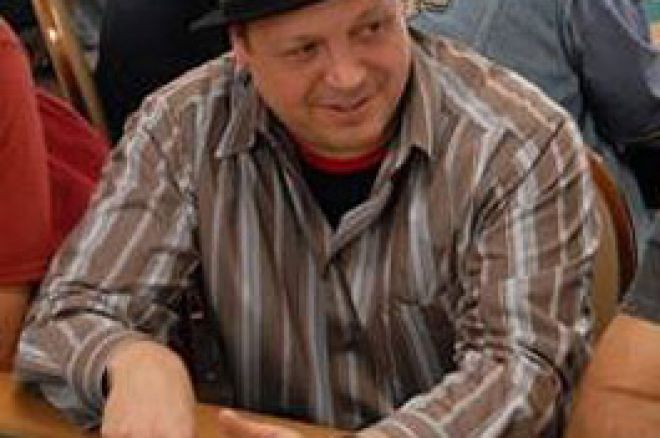 While the World Series of Poker's "Big Game" got underway with the start of the $50,000 H.O.R.S.E tournament, 620 players took to the felt to test their skills in a different kind of mixed game tournament in the $1,500 Mixed Hold'em Event #40.
Despite not having the elite status of the H.O.R.S.E tournament, the Mixed Hold'em event still managed to bring out some of the game's bigger names as J.C. Tran, Shannon Elizabeth, Joe Sebok, Young Phan, Eric Froehlich, James Van Alstyne, Noah Boeken, Phil Gordon, Nam Le, Humberto Brenes, Clonie Gowen, Jeffrey Lisandro, Thomas Walhroos and Juha Helppi all saw action on Day One.
There were some tough table match-ups early on in the day's play as Eric Froehlich, James Van Alstyne, Bryan Devonshire, and actress/poker player Shannon Elizabeth were all at one table, while Mimi Tran and Team Pokerstars player Bertrand "Elky" Grospellier battled it out at another.
One of the bigger stories of the day came courtesy of Mother Nature as the players stationed in the Poker Pavillion were forced to deal with strong winds that tested some players patience.
As the group played on throughout the day, a parade of well-known players made their exits. Hitting the rail on Day One were Shannon Elizabeth, Bryan Devonshire, Joe Sebok, Clonie Gowen, Juha Helppi, Rafe Furst, Jerry Buss, and brothers Nam and Allen Le.
Another big story of the day was the rapid narrowing of the field. One possible reason for this is the mixed game format as players showed little hesitation getting their chips in the middle during the No Limit portions of the tournament. Despite being the last event scheduled for the day, the 620-player field managed to reduce itself by 495 players by 2:45AM (PST).
The third and possibly most interesting story of the day was the play of 2007 WSOP bracelet winner Jeffery Lisandro. After catching several big hands including getting pocket Aces twice in one hour, Lisandro destroyed his opponents dreams of WSOP gold repeatedly and showed no mercy on his way to the top of the chip counts. The really interesting thing about Lisandro's day is he actually started the day in the $50,000 H.O.R.S.E. tournament, but was unlucky, and was out in time to sign up for this 5pm event.
Returning for today's Day Two are chipleader Peter Gould with 58,300 chips, Lisandro (50,500), Kevin Marcotte (39,900), Rostislav Tsodikov (38,800), John Monnette (36,400), Michael Graffeo (36,000), Christopher Stephan (35,900), Fabrice Soulier (34,600), Brian Eddy (32,900), and Joseph Michael (32,200).
Other big-name players left in the field include J.C. Tran, Phil Gordon, Paul "The Truth" Darden, and "Miami" John Cernuto.
Make sure to check back with Pokernews.com for all of the exciting Day Two action at 3:00PM (PST).