WSOP Updates – Event #42, $1,500 PLO H/L — Lukasz Dumanski Claims Omaha Bracelet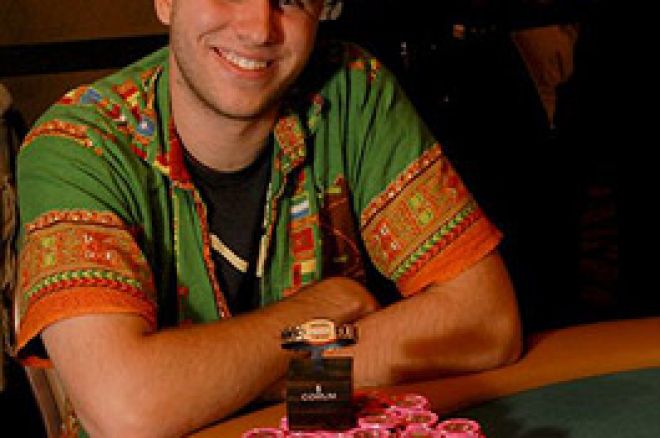 Event #42, $1,500 Pot Limit Omaha High/Low Split, brought eight hours of final-table play on an impromptu third day of the largest live PLO tournament in history. Lukasz Dumanski emerged victorious to claim his first WSOP bracelet, $227,454 in prize money and a Corum watch. The final table guaranteed that a first-time bracelet winner would be crowned, as none of the final nine players had ever won a World Series event before.
The starting chip counts and seating assignments looked like this:
Seat 1: Mark Wilds — 96,000
Seat 2: Dario Alioto — 61,000
Seat 3: George Danzer — 116,000
Seat 4: Thomas Hant — 114,000
Seat 5: Chad Brown — 390,000
Seat 6: David Bach — 502,000
Seat 7: Lukasz Dumanski — 358,000
Seat 8: James Tolley — 282,000
Seat 9: Gene Timberlake — 143,000
Short stack Dario Alioto wasted no time in making his move on the final table, taking three fourths of a pot with Gene Timberlake to nearly double up just minutes into the day. Alioto moved in over the top of Timberlake from the big blind with
. On the board of
, Alioto dragged the high half of the pot, splitting the low with Timberlake, who also made an 8-6-5-2-A low. Alioto crippled George Danzer on the very next hand, flopping top set with
against Danzer's
. Neither man had a low draw, so when the board arrived
, Alioto's jacks full of threes held up against Danzer's threes full of aces.
Danzer was eliminated shortly after when his
flopped top set yet was drawing thin against Thomas Hant's flopped wheel straight. The board came
, giving Hant a superfluous flush as he scooped the pot with
. Danzer finished in ninth place for $13,597.
Mark Wilds went to the rail next, finishing in eighth place ($18,755) for his third cash of the 2007 WSOP and 15th World Series cash overall. Again it was Dario Alioto doing the damage, as his countryman Max 'The Italian Pirate' Pescatori came over to sweat him. Wilds moved all-in pre-flop with
, and Alioto called with
. When the board was complete, it read
. With no possible low, Alioto scooped the pot and Wilds was eliminated.
Thomas Hant was next to fall, as his
was no good against Gene Timberlake's
, especially when the flop came down
. Timberlake's trip tens held up to the river, and Hant was sent home in seventh ($25,319).
Alioto's run came to an end a little more than three hours into final-table play. The Day One chip leader rode his strong play to his first WSOP cash and final table. Alioto busted in sixth ($33,759) when he ran queens into David Bach's kings on a J-high board. Alioto had no low draw with his
, and missed his outs on the board of
.
In a battle of the draws, Chad Brown was eliminated in fifth place by David Bach. After a flop of
, Brown called Bach's pot-sized bet, then pushed all-in when the turn brought the
. Bach agonized for several minutes before calling with
for a baby heart draw, an open-ended straight draw, a made two pair and a decent low draw. Brown was ahead slightly in the hand with
for a better two pair, but Bach hit the
on the river, one of his many outs, to eliminate the 2006 Player of the Year in fifth place for $43,606.
That hand gave David Bach the chip lead going into four-handed play, with Gene Timberlake significantly short-stacked.
David Bach — 915,000
Lukasz Dumanski — 555,000
James Tolley — 300,000
Gene Timberlake — 100,000
Timberlake would scoop the next hand he played to double through Bach, but would fall shortly afterwards when his
couldn't improve enough to beat Bach's
. Timberlake picked up and open-ended straight draw on the flop of
, but the
turn and the
river sent him home in fourth ($60,485).
James Tolley took over the chip lead short-handed by doubling through David Bach, but with the blinds high and the action furious, no chip lead was safe. Tolley lost a big pot to Lukasz Dumanski after folding to a 240,000 bet on a
flop, then tangled with Dumanski again on the very next hand, this time going all-in over the top of Dumanski pre-flop. David Bach had called Tolley's original raise to 120,000, but when Dumanski re-raised to 480,000 and Tolley pushed over the top, Bach released his hand, while Dumanski called with
. Tolley's
made top pair on the flop of
, but Dumanski had lots of outs to improve. He hit the
on the turn for a set of fives, and then caught the
on the river for a straight and a 7-low to beat Tolley's 8-low and send him to the cashier's cage in third ($91,900).
Heads-up play lasted ten minutes before Lukasz Dumanski put away David Bach for his first bracelet. Outchipped by more than 2:1, Bach put all his chips in the middle pre-flop with
. Dumanski turned over the cooler –
– for a better pocket pair and a better low draw. The flop came
, giving Dumanski a low draw and a flush draw to go with his overpair, and as the turn and river brought
, Bach's low was counterfeited and his high was no good as Dumanski scooped the pot and the $227,454 first-place prize. Bach finished second for $139,725. Dumanski recorded his third World Series of Poker cash, all in pot-limit Omaha events, and his first bracelet, triumphing over the largest live Omaha tourney in poker.
Final Standings and Payouts:
1. Lukasz Dumanski — $227,454
2. David Bach — $139,725
3. James Tolley — $91,000
4. Gene Timberlake — $60,485
5. Chad Brown — $43,606
6. Dario Alioto — $33,759
7. Thomas Hant — $25,319
8. Mark Wilds — $18,755
9. George Danzer — $13,597
pic:Image Masters