WSOP Updates – Event 43 – Ahmad Wins Limit Gold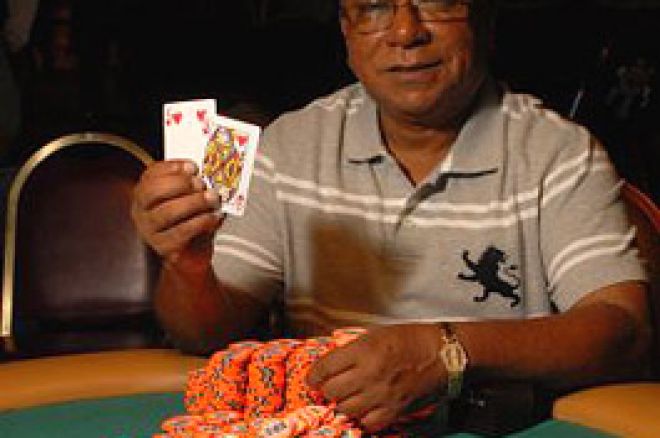 While most of the media and spectators focus was on the $50,000 H.O.R.S.E. final table, another 2007 World Series of Poker final table convened in the Rio, and although it wasn't packed with big-name players, plenty of action took place as the returning nine players hit the felt for the $2,000 Limit Hold'em Event #43 final table.
Having narrowed to 9 from a field of 472, players still had plenty of firepower at the final table. Wednesday's most dominating player, Tommy Rounds, lead the way. Online player William "BrettFavre" Jensen and 2006 WSOP final-table player Justin Pechie also were in the hunt.
Action got underway with a bang as the short-stacks did their best to improve their payouts by trying to double up. Hal Havlisch hit early in the action and doubled up via Michael Graffeo, while Robert Pacleb increased his stack thanks to Saif Ahmad. Gerald Kane, however, wasn't so lucky and busted in ninth place thanks to Tommy Rounds' pocket Fours. Kane collected $13,745 for his play.
Havlisch continued his streak and doubled through Graffeo a second time after hitting a Jack (Ace/Jack) to outdraw Graffeo's Ace/Queen. Soon after, short-stack Pechie took a monster pot from Joe Mandia and pretty much ended Mandia's WSOP dream. In the following hand, Jensen's rivered a Broadway straight, and eliminated Mandia who was left with a mere $18,899 for his efforts.
Securing another spot higher on the payout sheet, Pacleb made one last-ditch effort to stay alive and doubled through Jensen. Despite doubling, Pacleb's day ended soon as he battled fellow short-stack Havlisch. Pacleb's Ace/King got out-flopped by Havlisch's King/Queen after the flop brought Queen/Six/King. Pacleb needed an Ace to improve, but the turn and the river failed to oblige and Pacleb was out in seventh place. He took home $25,771 for his strong short-stack play.
After surviving three bustouts, ironically Havlisch ended his day at the hands of the same guy who doubled him up two times prior. Moving all-in with King/Jack, Havlisch was called by the big blind Graffeo with Ten/Nine. Graffeo hit trips on the flop, and sent Havlisch home with $34,365 for finishing in sixth place.
As action continued, Pechie tried to move to the top of the chip count, but he ran directly into Ahmad's turned pair of Aces. Pechie also had an Ace, but Ahmad had the bigger kicker with a Ten. Soon after, Pechie doubled through Tommy Rounds and once again kept himself in the running by doubling through Jensen.
Following the day's theme of doubling-up and then busting, Tommy Rounds hit the rail after momentarily increasing his stack via Graffeo. Ahmad played the role of grim reaper and took Rounds to the cleaners when he flopped a pair of Jacks. Rounds earned $43,811 for finishing fifth.
Despite managing to rebound from his earlier losses, Pechie was the next player to see his WSOP hopes dashed. Thinking he had the best of it with pocket Kings, Pechie got outflopped by Jensen, who flopped a straight. Pechie collected $59,274 for finishing in fourth place.
While Jenson and Ahmad cranked up the pressure, Graffeo did his best to hang on, but his day ended after he ran into Jensen's flopped pair of Fours. Graffeo couldn't connect, and earned $88,481 for coming in third.
Down to heads-up play, Ahmad and Jensen traded blows; but in the end, Ahmad took control as he grabbed the bigger pots on his way to victory. Ahmad rivered an Ace-high straight to beat Jensen's two pair to seal the victory. Ahmad earned $217,329 and a WSOP bracelet for finishing first; Jensen earned $133,151 for busting in second.
Pic:Image Masters