WSOP Updates - Event #6, $1,500 Limit Hold 'Em - Styczynski Triumphs in First WSOP Webcast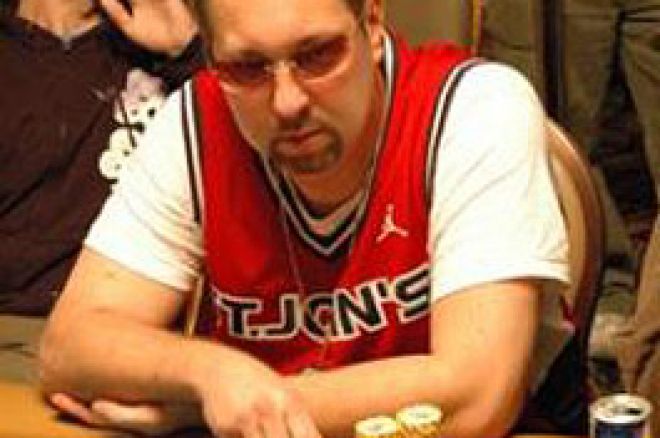 Nine men came to the Amazon Room on Wednesday to battle for WSOP gold in Event #6, the $1,500 Limit Hold 'Em event They were the last survivors of the 910 starters, and each eyed the $280,715 first-place prize. The nine (with chip counts entering play) were:
Seat 1 — Michael Banks — 134,000
Seat 2 — Varouzhan Gumroyan — 148,000
Seat 3 — James Gorham — 632,000
Seat 4 — Gary Styczynski — 817,000
Seat 5 — Hansu Chu — 389,000
Seat 6 — Pete O'Donnell — 55,000
Seat 7 — Soheil Shamseddin — 298,000
Seat 8 — Dariush Imani — 109,000
Seat 9 — James Holland — 163,000
The event also marked the first-ever 'almost live' webcast of a WSOP final table, as the event complete with hole-card camera shots, was available on a one-hour delay (to prevent any possibilities of improprieties). Harrah's will be doing this for a handful of the events at this year's World Series, with the full list of tournaments planned for webcast available at worldseriesofpoker.com.
Within the first hour of action, two players were eliminated. Dariush Imani was the first to go in ninth place ($16,148) when his pocket tens ran into pocket aces and received no help from the board. Soon afterwards, with the blinds at 10K/20K, and 20K/40K betting limits, Pete O'Donnell made a move with pocket sixes, only to have Varouzhan Gumroyan hold pocket tens against him. A ten on the flop sealed O'Donnell's fate and he was eliminated in eighth place, worth $22,359.
Michael Banks was the hard-luck story of the final table when he got all in against Gary Styczynski. Banks held A-Q and had Styczynski's K-Q dominated, but the flop of A-Q-J opened some doors for Styczynski. After a blank turn, a ten arrived on the river, giving the miracle straight to Styczynski and sending Banks home from the Rio with the seventh place prize of $30,433.
Action continued to be hectic as, forty-five minutes later, James Holland committed most of his chips on a flop of Q-9-7 against Varouzhan Gumroyan. He sent the rest to the center when another queen came on the turn and tabled pocket kings. Too late; Gumroyan called and showed A-Q for trip queens. Neither remaining king appeared, and Holland was out of the tournament in sixth place, earning $40,991.
Just before the blinds went up, two players were eliminated in rapid succession. On a board of 2-2-2-J, James Gorman held A-8 and found himself all in against Gary Styczynski J-4 boat. No ace or deuce came on the river to rescue Gorman and he was done for the night in fifth place ($53,412). Styczynski pulled the same feat on the next hand when, with Q-3, he completed a straight on a board of K-10-6-J-A, defeating the two pair (A-K) of Soheil Shamseddin. Shamseddin earned $75,771 for his fourth place efforts.
Third place was decided shortly after the blinds increased to 20K/40K. Hansu Chu put the remainder of his stack in with A-3 against Varouzhan Gumroyan and unhappily watched Gumroyan table A-10. Once the flop delivered a ten, Chu was drawing dead to running threes. When the turn card came
, Chu's elimination was confirmed, giving him third place and $114,278 away from the $1.2 million prize pool.
The start of heads-up play saw the players almost even:
Gary Styczynski - 1.375M
Varouzhan Gumroyan - 1.325M
Styczynski pressured Gumroyan on several occasions and, over the next half hour, pulled out to almost a 3.5:1 lead (2.1M vs. 650K). Gumroyan, however, went on a run where he was able to pull back to near even an hour later.
The pivotal hand came about two hours into heads-up play, with the blinds at 30K/60K. On a board of
, the two combatants pushed two bets to the center of the table and saw a
river. Gumroyan bet out 120K, only to see Styczynski take it to 240K. Gumroyan three-bet it to 360K and Styczynski made it 480K to go. Gumroyan called the bet and tabled his
, missing his flush draw but making Broadway. Styczynski, though, had
to win with the nut flush.
Gumroyan was unable to recover from the suckout. Approximately forty minutes later, he was all in on a flop of 10-9-5 with A-4. Styczynski had the open-ended straight draw with J-8 and, when a queen came on the turn, sewed up the $1500 Limit Hold 'Em bracelet and the first place prize of $280,715.
PLAYERS — EARNINGS
1. Gary Styczynski — $280,715
2. Varouzhan Gumroyan — $177,627
3. Hansu Chu — $114,278
4. Soheil Shamseddin — $75,771
5. James Gorham — $53,412
6. James Holland — $40,991
7. Michael Banks — $30,433
8. Pete O'Donnell — $22,359
9. Dariush Imani — $16,148