WSOP Updates - Event #7, $5,000 PLO w/ Rebuys - Boutin Overcomes Cajelais, Ulliott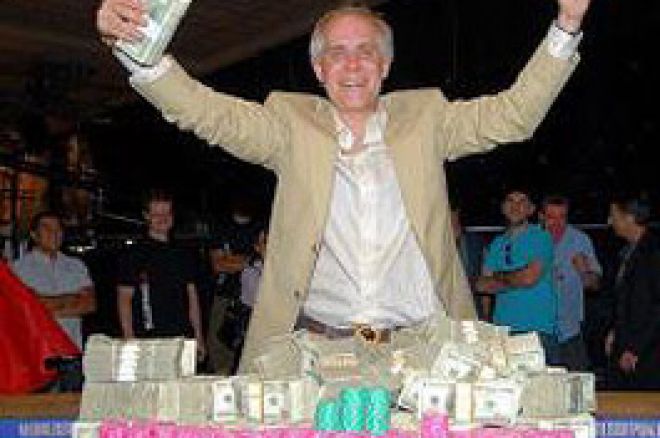 The stars were out at the final table of the $5,000 Pot Limit Omaha Hold 'Em (w/ rebuys). Two days of play had winnowed the field from 145 starters to the final nine players, each of whom had solid credentials and a legitimate shot at the gold World Series bracelet and $825,956 first-place prize. Here's how the nine began play:
Seat 1: Costa Rican pro Humberto 'The Shark' Brenes — 275,000
Seat 2: Triple WSOP bracelet winner John Juanda — 220,000
Seat 3: Day One chip leader, European pro Larry Jonsson — 900,000
Seat 4: High-stakes cash-game specialist Minh Ly — 240,000
Seat 5: 2001 WSOP bracelet winner Burt Boutin — 460,000
Seat 6: Eight-year WSOP veteran, Rob Keston — 335,000
Seat 7: 2006 WSOP Main Event 18th-place finisher, Sirous Jamshidi — 865,000
Seat 8: Noted pro Dave 'Devilfish' Ulliott — 1,300,000
Seat 9: Third-year WSOP player Erik Cajelais — 1,075,000
The players mixed it up immediately in the action-heavy Omaha format. On the second hand, Minh Ly made a 105K bet and Rob Keston moved in for the remainder of his 150K stack. Sirous Jamshidi then made it three-way action by popping it up to 300K. Ly made the call for the rest of his stack and we saw the three hands: Ly showed
, Keston held
and Jamshidi tabled
. Keston was in a tough situation, but the flop came
, giving Rob a flush draw, a gutshot straight draw and (momentarily) the mathematical edge in the hand. The turn and river blanked off for him, however, and Rob Keston was gone early in the event, taking $57,721 for his three day effort.
Over the next 14 hands, Erik Cajelais ground into the chip lead past 'Devilfish' Ulliott, but it was a short-lived stay atop the board. On Hand 16, Ulliott limped from the button and Cajelais completed his small blind, only to have Humberto Brenes raise the pot. Devilfish made the call, Cajelais folded and the flop brought
. Brenes pushed his final 100K into the center and was quickly called by Ulliott, who held pocket queens with a redraw to the flush; Brenes could offer only A-K-8-5 for a double gutshot draw with two overs. The board brought no help, and Humberto Brenes took his toy shark from the table in eighth place, along with $79,710.
It seemed no one wanted to tangle with Ulliott. Winning four of the next seven hands, he was able to build to over two million in chips, with no one else over the million mark. John Juanda fell next, despite working his way up from early short-stack status. When he found A-A-8-8, he reraised Erik Cajelais' 125K bet by moving all in. Cajelais called and showed K-Q-10-10, but Cajelais found fortune in a J-9-5 flop. While Juanda still led, Cajelais had landed an open-ended straight draw with a full wrap. A four hit the turn, but when the queen came on the river, Cajelais completed his straight and eliminated Juanda in seventh place, worth $107,196.
The hand moved Cajelais into second place behind Ulliott, and he captured the lead after Sirous Jamshidi doubled up through Devilfish. With the blinds at 30K/60K, Jamshidi used those chips to bounce Larry Jonsson. After Jamshidi raised the pot to 210K, Jonsson called and they saw an 8-7-5 flop. Jonsson immediately pushed all in and Jamshidi made the call with A-A-J-3. Jonsson held an open-ended draw with his 10-9-9-7 but, unlike Cajelais earlier, he was unable to complete his hand. Jonsson left the Amazon Room with a sixth-place showing in Event #7 worth $134,682. Jamshidi was also able to take a short-lived lead, though after some testy table exchanges, Ulliott surged back to the front.
Minh Ly went out on Hand 56. Ly, quiet through much of the final table, reraised Erik Cajelais' 200K bet with all of his chips (520K). Cajelais called and showed
to Ly's
and the
flop ended any drama. With a blank on the turn, Ly exited in fifth place with a $174,537 payday.
As the blinds went up to 40K/80K, the leader board looked like this:
Seat 5: Burt Boutin — 1.86M
Seat 7: Sirous Jamshidi — 890K
Seat 8: Dave "Devilfish" Ulliott — 895K
Seat 9: Erik Cajelais — 2.03M
The players battled almost thirty hands, shuttling chips between each other's stacks, before the next elimination would occur on Hand 85. Cajelais, playing the aggressive game he had been using since the start of the final table, raised to 240K and Sirous Jamshidi called from the big blind. On an
flop, Jamshidi moved all in for 410K and Cajelais made the call, tabling only a flush and backdoor straight draw with
; Jamshidi led with his pair of kings (K-K-7-5). An innocent ace came on the turn, but Jamshidi was not able to dodge the river as the
hit, giving Cajelais the pot and the chip lead and leaving Jamshidi to think of what might have been, although $230,833 richer.
The next knockout occurred just before the dinner break. Ulliott limped from the button, called a 240K raise from Cajelais in the small blind and the two saw a flop of
. Cajelais bet the pot and Devilfish moved all in over the top, which Cajelais called. This time, Cajelais had caught a pair holding A-J-10-8, but Ulliott held the slight edge with both a flush and an open-ended straight draw, holding
-10-9-
. When the turn and river brought blanks, David 'Devilfish' Ulliott was out in third place, earning $332,582 for three days in Las Vegas.
The two remaining players returned after the dinner break with the following stacks:
Burt Boutin — 2,455,000
Erik Cajelais — 3,215,000
From the start of heads-up play, the veteran Boutin took the play to the younger Cajelais. Boutin doubled up on the first hand after the dinner break, hitting a flush over Cajelais' set of eights, and kept the pressure on. Four hands later, on Hand 96, the end came for Erik Cajelais. After Boutin limped in for the big blind of 120K, Cajelais kicked it up another 240K. Boutin called and the flop came
. Cajelais moved in for the remainder of his stack and Boutin called. They tabled nearly identical hands; Boutin held A-Q-8-7 to Cajelais' A-Q-10-3 and both had flopped top pair, queen kicker. The turn card determined the champion when the
fell, giving Boutin two pair. After a blank on the river, Burt Boutin was the deserving champion of the hard-fought $5,000 Pot Limit Omaha event.
PLAYER — EARNINGS
1. Burt Boutin — $825,956
2. Erik Cajelais — $483,755
3. Dave 'Devilfish' Ulliott — $332,582
4. Sirous Jamshidi — $230,883
5. Minh Ly — $174,537
6. Larry Jonsson — $134,682
7. John Juanda — $107,196
8. Humberto Brenes — $79,710
9. Robin Keston — $57,721
Boutin's victory was unexpected — he hadn't even planned on playing in the tournament. It took some last-minute coaxing from a friend to convince the now two-time bracelet winner to enter one of the most challenging fields in recent World Series memory and, quite certainly, Boutin is now happy that he listened to his friend. He stands as the new champ of Event #7, $5000 Pot Limit Omaha Hold 'Em (w/ rebuys).